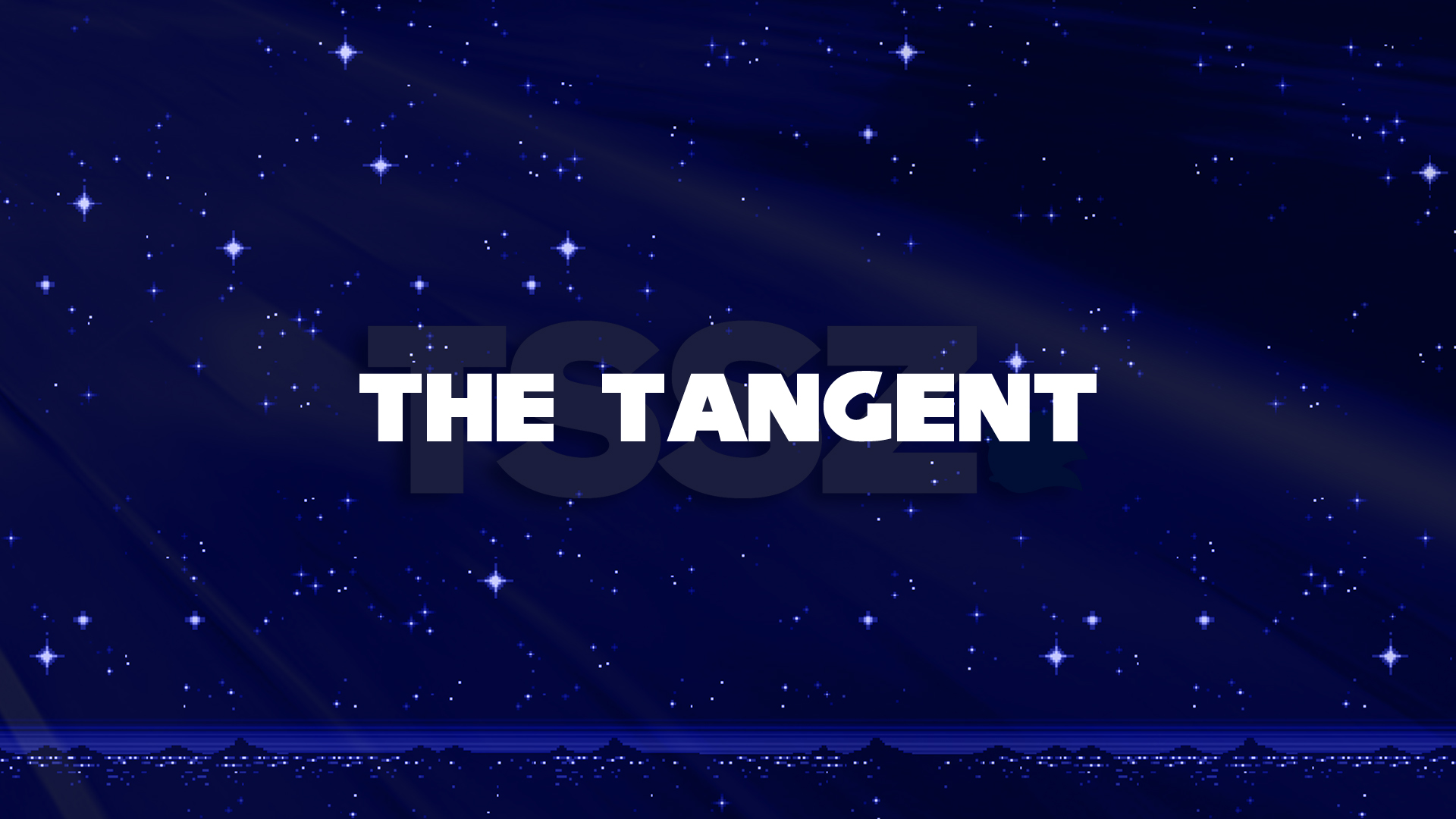 The Tangent: The Year in Review
On March 28th, 2008, the first true Tangent was posted, Were-Sonic Unleashed. In it I expressed a distaste for Fuzzy the Wonder Rat, known in some circles as Sonic the Werehog. The troubles of remakes were covered, and Sega's obsession with Sonic games always needing a catch. It was my first major article for the site, and it passed by quietly, only receiving a direct response less than a month ago when referenced by the most recent Tangent, "Is Average Enough?". So since things have come full-circle, I thought it would be fun to go back over the year's commentary, and review how it all turned out. There's been some wild shocks and utter disappointments this year, so sit back, relax, and let enlightenment pour over you like a cold, cold shower. This is The Tangent, only at TSSZ.
The Tangent takes on: Were-Sonic Unleashed
It's the beginning of the Tangent, and in it we faced the looming fears of the blue fuzz-monster not-yet-known as Sonic the Werehog, a name that curiously meshes with what many fans decided to call him prior to the official unveil. Despite the fact that a Werehog would more closely resemble a particular Sonic CD secret image, we knew very little about Sonic's mangy alter-ego. Certainly not about his elastic arms, or any involvement with an enemy named Dark Gaia. We weren't even sure it was Sonic to begin with. But we did know that the stages were divided into Day and Night, and the playability parallel echoed by the earliest promotional art was unquestionable. And so, Sega had a gimmick up their sleeve. A predictable gimmick, as I described him "trudging through levels at a slower pace, smashing through barricades Sonic can't pass through, a concept the series has been needlessly obsessing over since an echidna needed justification for unique routes on the Genesis." Continuing, "No doubt he'll be picking up hefty objects and hurling them around at assorted enemies as he wanders night-lit versions of the levels, frustrating the player with his weak mobility and aiming as hovering robots chew at him with turrets." Change turrets to stingers, and the blind guess was pretty close to the mark.
We'll talk about the presumed quality of the final product in relation to "Is Average Enough?", but I've found the consensus of the Werehog is "mediocre, and uninteresting." The gameplay is not particularly horrible, but the time would've been far better spent on the Sonic side, polishing out the framerate issues most notably. The developers have explained that the Werehog was created to get extra mileage out of their assets, in that creating a Werehog stage was much cheaper than a Sonic stage because of the vast set pieces the hedgehog form runs through in each one. This led to developer Dimps focusing primarily on the Werehog for the Wii and PS2 versions because of the additional platform limitations, resulting in lengthy stretches of time between unique Sonic stages. Ultimately, if Sega's going to presume a need for "more" than just Sonic, they need to start including an option to play as only Sonic, instead of forcing players to jump through hoops as another character or radically different gameplay structure before they can get back to the gameplay they expected.
The Tangent takes on: The Micromote
Featuring my favorite tag-line so far, "Shake to print money!" There isn't a lot I can say about this article, because my fears were unfounded. It's very likely a Wii Remote-like prototype, possibly code-named Newton, was at some point in active development. It may still be, in preparation for the Xbox 360's successor. And yet while all of the signs pointed to a "surprise" unveil at E3, it didn't happen. The expectation was so high, that the morning of Microsoft's press conference, Nintendo blew the lid off the MotionPlus early. The move was clearly an attempt at pre-empting talk about Microsoft's remote, and any possible questions about lacking accuracy in the Wii's motion tracking… and it was for naught. Microsoft made Nintendo panic at E3, that's something that probably got a few people pats on the back around the office.
Amusingly, while I described the concerns of a "me-too" micromote, I failed to foresee an issue with "Mii-too" Avatars. In the works for a while? Possibly. Fast-tracked as the popularity of Miis exploded? Unquestionably. Followed by some foot-in-mouth statements about how the Avatars were a unique idea before the Miis came along.
Celebrity Guitar Hero 'Debate'
I've got nothing to say, since I didn't write this one. Cursed Paul Street trying to cramp my style! Although I have to wonder how many FPS gamers he's talked to with a closing argument like that. Either way you read it, they love both their force feedback, and their emotional trauma.
The Tangent: A Hazy Future
One of those times when being right feels so wrong. Free Radical has been shuttered since the original article's publish, many of the employees being caught completely off-guard the day it happened, camping out in a nearby hotel until they could make sense of it. Not only was Haze a terrible stumble, but LucasArts pulled out of a publishing agreement after 20 months of work on Star Wars Battlefront III. TimeSplitters 4 was in-progress, but unable to find a publisher. Even if a larger developer like EA swooped in to "save" the company with comically-large bags of money, many of the employees were already let go, and some were hired away into a new company named Pumpkin Beach. There they get to start over from scratch, and hope things turn out better this time. A joy to be them, I bet.
A short aside, relating to the Warhawk comment: people have found evidence that Microsoft is planning to sell full Xbox 360 games over Live some time in the future. Not Xbox Live Arcade, not XNA Community Games, not Xbox Originals, but full Xbox 360 games. It will be entertaining to see how the brick-and-mortars react to that. Perhaps the reason it isn't already available is because of behind-the-scenes preparation to soften the blow.
The Tangent: The Lectures of Developers
Diablo III is still in the works, and Denis Dyack is still a poor sport. There hasn't been too much in the way of negative developer talk since the article was written, although the recent interview with Yoshi Okamoto by 1UP.com is candid and entertaining in a way few Japanese developer interviews are.
The Tangent: Is Average Enough?
This article was developed around my belief that Sonic Unleashed would be marked "average." I underestimated how much of the gaming press vilified the game, holding it to standards few other titles face. After all, games are rated on individual instalments, not as a loosely-tied series. Yet Sonic Unleashed faced a hatred hardly seen this generation, in some cases by reviewers who weren't even close to game completion at the times their reviews went live. And while it's not reasonable to expect every single game to be played start to finish for the sheer volume of reviews they have to output, generally a good-faith effort at basic completion is expected, and was not delivered in this case.
We've been left with an interesting reaction. The predictable hatred flood kicked things off nicely, but once the dust settled and the reviewers tired of screaming clever references to euthanizing hedgehogs, there's been a strong backlash of opinion that the game is actually decent. The werehog segments can be boring and are ultimately unnecessary, and the Sonic stages could use some framerate polish, something Sega might deliver with a future patch if they have any business sense at all. But once you have your hedgehog leveled up, and you no longer need to find medals or play through brawler stages, the Sonic levels really shine. Finding the fastest and smoothest paths through them evokes the feeling of finding a far-reaching line in Jet Set Radio, and you feel fantastic if you pull it off well. Some reviewers complained about the stage hazards requiring memorization and practice, acting as if racing and platforming games prior never required the tasks, and that their inclusion in a game hybridizing the two genres is shocking and unreasonable. Personally, while I recognize that the newer style of Sonic run-and-jump gameplay can easily not be to someone's taste, I was very disappointed by the shallowness of a number of reviews, designed to pull hits to their site and little else. There was a steadfast determination to not acknowledge the redeeming qualities, and the game was presumed a train wreck by some reviewers no matter the actual contents.
That wraps it up for the published Tangentry. For a bit of fun, here's a few Tangents that didn't make prime-time, and why:
The Tangent takes on: Mario Borrow
The rough draft of this one talked about abuse of popular gaming icons for promotion of a competitor's products. Inspired by the initial Banjo-Kazooie: Nuts and Bolts trailer featuring the Mario vehicle (which was promptly missiled into boxy bits, as parodied by Castle Vidcons), and officially-released LittleBigPlanet development artwork featuring costume concepts, including an unmistakable set of overalls, cap, and moustache. I planned to expand it to user-developed content, and how some developers turn a blind eye for as long as they can get away with.
Why didn't it go forward?
The subject seemed too defensive and unnecessary, since it was unlikely the LittleBigPlanet costume would happen in an official manner, and the Rare reference was mostly playful, not to mention ruthlessly swatted down by Nintendo's legal team. It's said Microsoft wasn't all that happy about it either, and that Rare snuck it through until it was too late to fix. Just today, however, the trailer for Merv Griffin's Crosswords by Oberon Media was posted online. You can answer direct questions about all sorts of games, including Starcraft, Metal Gear Solid, and Super Mario Bros. 3, in an Xbox Live Arcade title.
A future Tangent may still focus on the secondary aspect, or the concept of games lifting popular references for their own gain. There are several XNA Community Games already guilty of that, for instance.
The Tangent: Klonoa's Makeover
Were you aware that Namco seriously considered altering the lead character's look for the American release of Klonoa: Door to Phantomile for the Wii? There was an online survey asking people's preference of the alternate design, which could easily be likened to a brand new Sonic friend. I'm never a fan of extreme localization, and the Klonoa series has remained one of my favorites of all time, so I had a bit of vitriol ready for this subject.
Why didn't it go forward?
There wasn't enough to talk about. In a recent Nintendo Power, Namco stated that the response was overwhelmingly in favor of the original design. It's unclear why Namco was even considering Poochie Klonoa, but the danger is gone. And if you did like the design, there's always the possibility it may show up as an unlockable, along with some of the other US-exclusive features being added.
The Tangent: LittleBigPolicing
This Tangent was to cover the release of LittleBigPlanet, and the surprising steps they took at user content management, with unquestioned and unappealable deletions without review, and the removal of the ability to import image files, a feature they at one point swore was never in the game, even though it was proudly showcased at a prior trade show. The reasoning was obvious, but disappointing.
Why didn't it go forward?
While I hold a strong interest in LittleBigPlanet, I don't own a PS3, and the TSSZ budget doesn't have a line-item for free consoles for commentators. Yet, I'm working the refs on that one. And so I could only speak from what I collected online through second- and third-hand sources, making it a challenge to provide clear examples and evidence.
On a positive note, Media Molecule has changed the way reporting levels works now. The levels go down, but a moderator looks at them, and if they do have issues, you're contacted with what those issues are, you're allowed to modify the levels and they can be reposted from there. This is a much more reasonable step than blind deletion. And that lack of direct image importing? People pointed the PS Eye to a computer monitor to cheat this limitation, and a scrap of news I only recently noticed shows that the functionality is coming very soon. Presuming this feature doesn't lounge in update limbo forever, Media Molecule has fixed the issues I had, and I have to applaud them.
As this article comes to a close, I want to thank you for sticking with us throughout 2008. I don't know about you, but I can't wait to see what 2009 brings. I'm already angry as we speak.
This post was originally written by the author for TSSZ News.