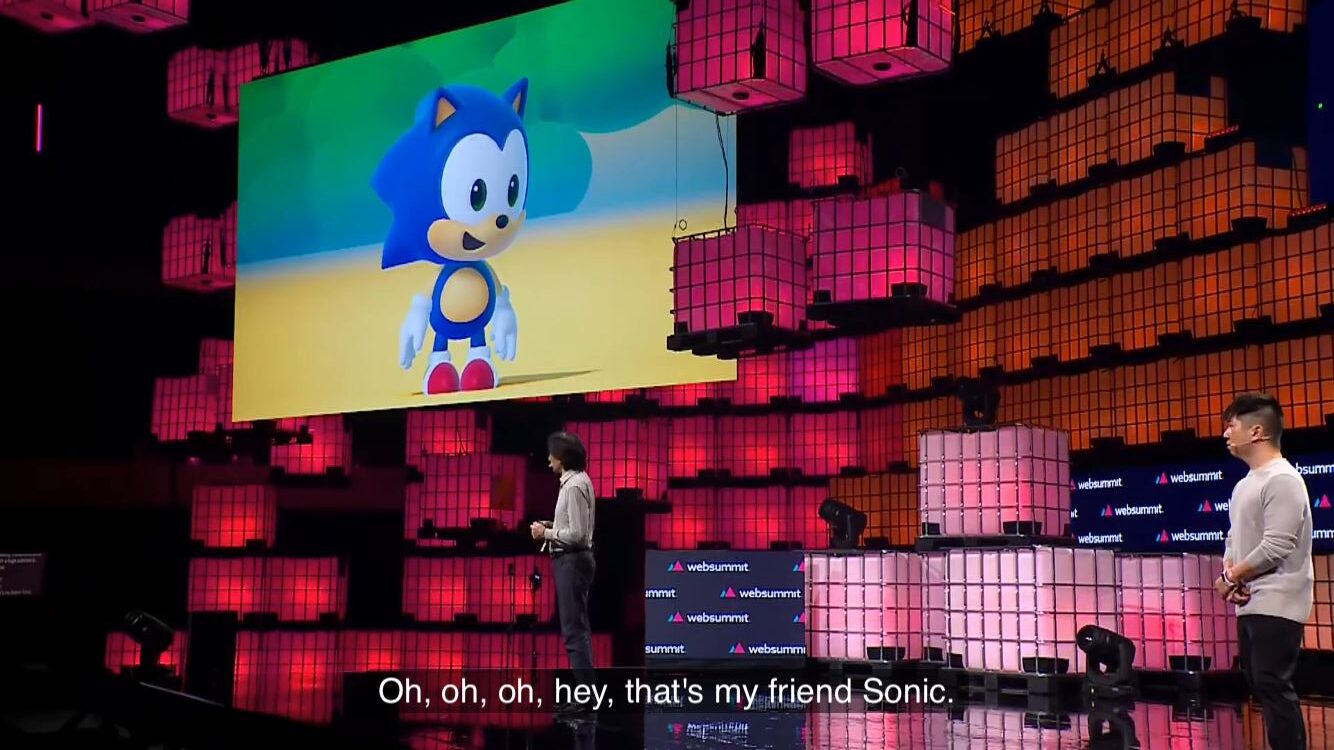 SEGA Talks Transmedia Plans, Look To Invest More In Virtual Characters
SEGA's forays into the world of virtual characters have seen a few notable activities, as they seek to widen their audience targeting to incorporate not just Gen Z but Gen Alpha too (that's those born after 2010 if you didn't know). In 2021 Sonic himself became a VTuber, but there's been more than just that going on over at SEGA of Japan. So much so, that the company had a centre stage presentation over in Lisbon, Portugal last week when it rocked up to take part in the latest Web Summit event.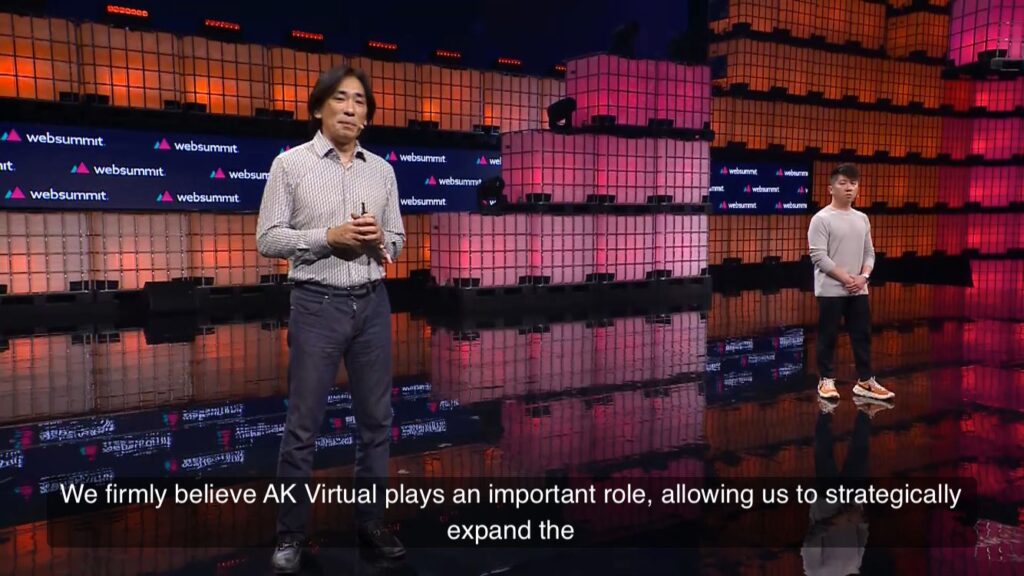 Well, sometimes you just can't escape that damn hedgehog. For reasons that I won't bore you with, I happened to be minding my own business at said Portuguese event having lunch (sheep cheese is horrible, folks). When I was surprised by someone on the big screen talking about characters 'just like Sonic'.
That person was Shuji Utsumi, COO of SEGA. Who was being joined on stage by SEGA's partner AKA Virtual – represented by their CEO Jia Shen. An Tokyo-based international organisation, with expertise in marketing and 3D animation and motion capture technology. AKA Virtual utilises both augmented reality (AR) and mixed reality (MR) to "enable Creators and Brands to interact with fans through 3D virtual characters".
Whilst refuting takeover rumours to outlets such as CNBC, Utsumi was there to speak to the assembled gathering to clarified SEGA's evolving digital media plan.
"SEGA has numerous IPs, IP means intellectual properties, and characters," Utsumi began. "To maximise IP values, we have implemented [a] transmedia strategy, which comprehensively approached the global fanbase through digital and physical channels."
Showcasing the 'SEGA Franchise' – the company's array of different video game franchises, which featured mainstays Sonic, Like A Dragon (oddly shown as Yakuza by SOJ), Total War, Persona, Company of Heroes and Football Manager. As well as other classic game series such as Crazy Taxi, Golden Axe, Jet Set Radio, Streets of Rage, Shinobi and Phantasy Star alongside perhaps more surprising additions: Two Point Hospital, Total War Warhammer (as it's own separate entry) and the newly acquired Angry Birds.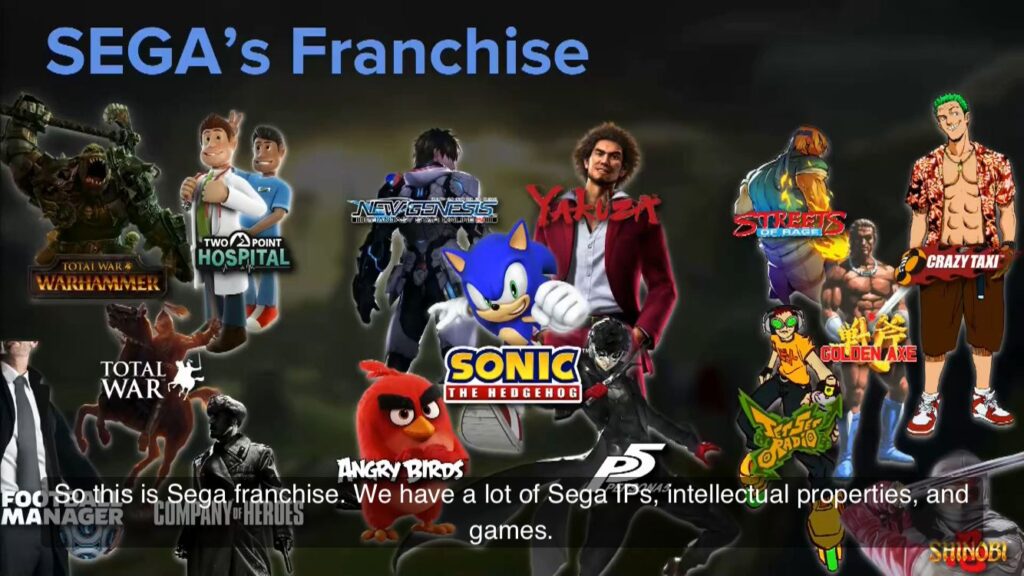 Utsumi showcased what the transmedia outlook had done for the Sonic brand. With its combined approach to games (Sonic Superstars), it's forays into movies and television (Sonic Prime). Collaborations such as those with LEGO and Roblox – the latter coming up several times as a big success story – and virtual characters.
"We have got a strong path to deliver our IPs to global mobile audiences and the attractive IPs and characters will strengthen our strategic position." Utsumi added, before moving onto its partnership with AKA Media. "We firmly believe AKA Virtual plays an important role, allowing us to strategically expand."
The company, which recently celebrated its second anniversary, previously secured investment from Sega Sammy Holdings Inc. back in Q3 2022.
Projects in recent months included a dynamic AR TikTok filter to promote Samba de Amigo: Party Central. Which was "designed to captivate younger audiences, particularly Gen Z users". Plus they are the force behind chibi-fied social shorts series Sonic and Friends .With this version of Sonic even making an appearance on screen to have his photo taken with Utsumi and Shen.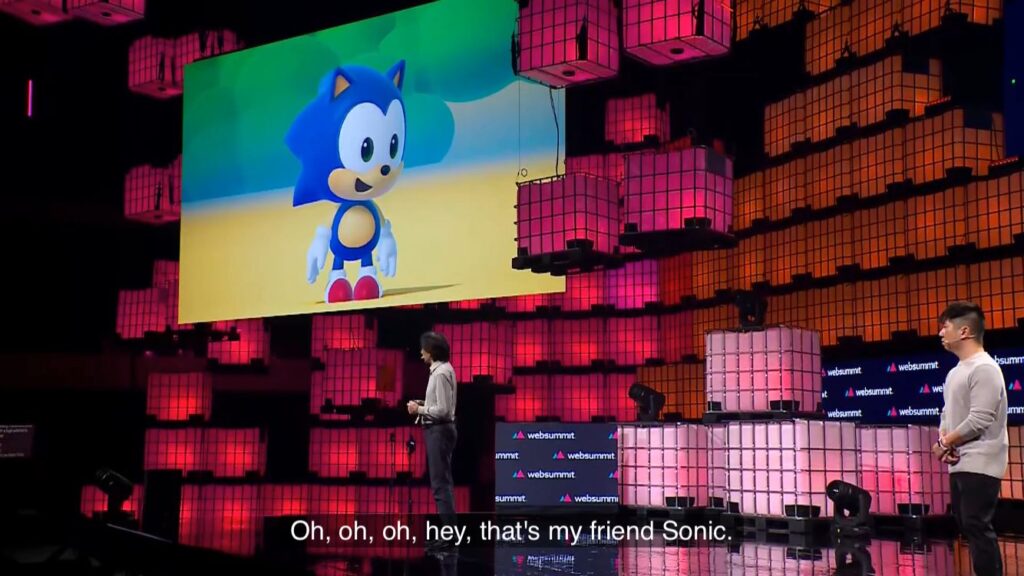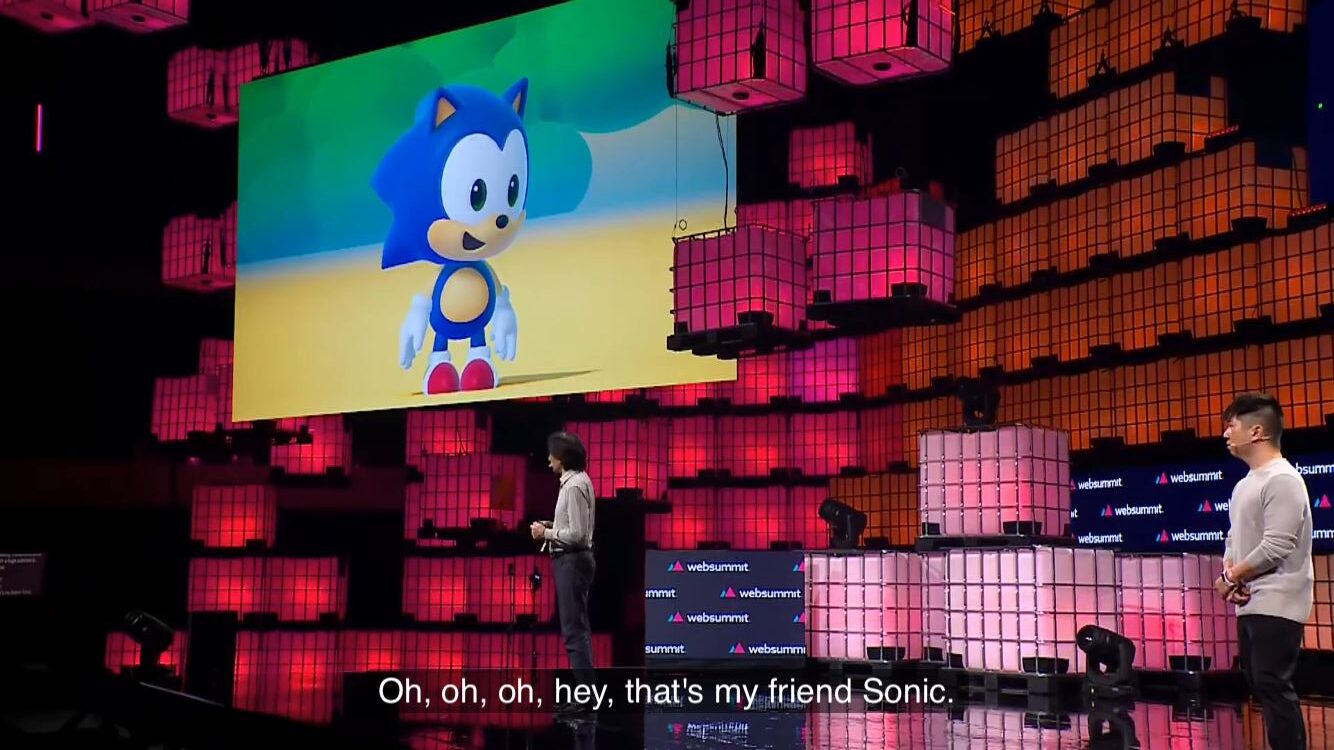 Shen went on to describe AKA Virtual's role in the what Utsumi described as the "next era of entertainment". Focusing on VTubers Shen explained the growth of the virtual YouTuber out of Japan to a worldwide phenomenon, to the point where it is now "very mainstream" back in Japan. Appearing everywhere from Shibuya Crossing to the local convenience store. Shen then cited two related Japanese IPOs that did not exist five years ago – but that are now seeing turnover in excess of $500 million (USD).
"The top earner earned $200,000 in one single stream. Almost half a million simultaneous viewers for one single stream, for one character. And the the top VTuber in 2022 made $4.9 million just as an individual character," a figure Shen pointed out was just through donations and didn't even touch any brand-related tie-ins or sponsorships.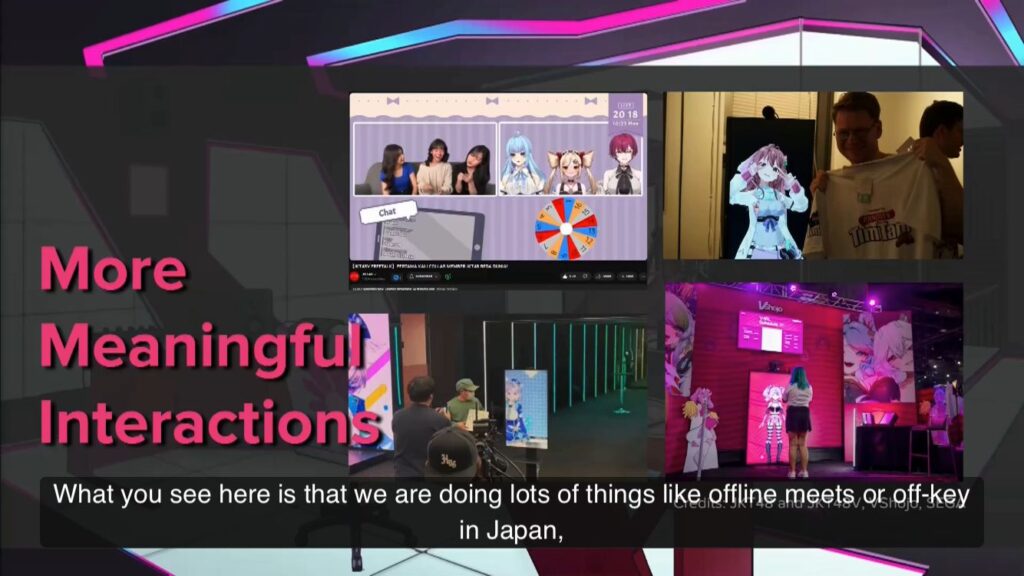 VTubers are a "dominant form of content". Something that SEGA, through AKA Virtual, are looking capitalise on with their franchises. Particularly when targeting younger audiences found on TikTok as well as Instagram.
"We see a world where these characters seamlessly inhabit the same spaces as real people, and influencers and creators," Shen told the crowd, before turning the conversation back to Sonic and Friends. Revealing that this version of the hedgehog is actually referred to as 'Qsonic'* and describing the results they'd seen with the series (nine million views) as "thrilling".

* You may think this was a script mistake that Shen for some reason read out, Q is next to S after all on QWERTY. Or perhaps it was a 'lost in translation' moment? But to confirm Shen seemed very comfortable speaking English and it was very deliberately and clearly said, appearing on the subtitles too. Not that those were 100% accurate… but, hey-ho.
"That's something that wasn't possible just a few years ago. Imagine if your favourite character could do an AMA or come on stage here… Using state-of-the-art technology like A.I., machine learning paired with motion capture and advanced 3D-real time, we are bringing these iconic characters to life. Our goal is to blur the lines between the medium and the character's lives and then be able to interact with the fans that they love."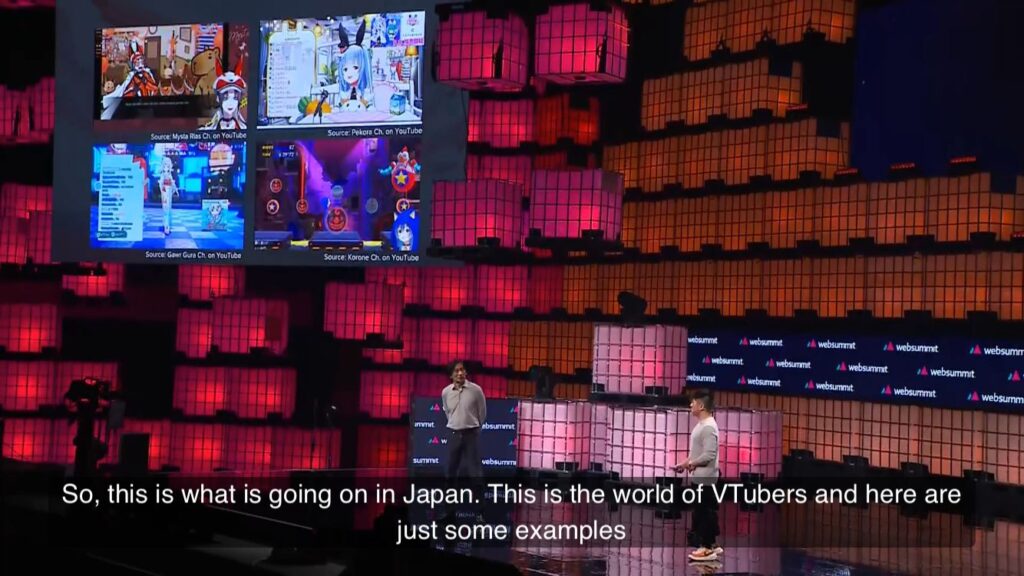 Utsumi the rounded off proceedings to say that the transmedia approach opened the door for SEGA to consider many different avenues such as working with AKA Digital. Offering an invitation for discussion with those in attendance who may have collaborative ideas. Notably confirming that SEGA's venture capital team are open to investing directly in such companies.
It remains to be seen what brands next get the transmedia treatment and what other virtual characters SEGA utilise. Although the acquisition of Angry Birds developer Rovio was specifically namechecked when discussing this. However, the way they were talking during the presentation, it would not surprise me if SEGA Sammy went the whole way. Buying AKA Digital's operation outright in the future to make it their virtual creations arm. That remains to be seen of course. But the money numbers discussed were big ones and SEGA clearly sees opportunities – in Japan at the very least.