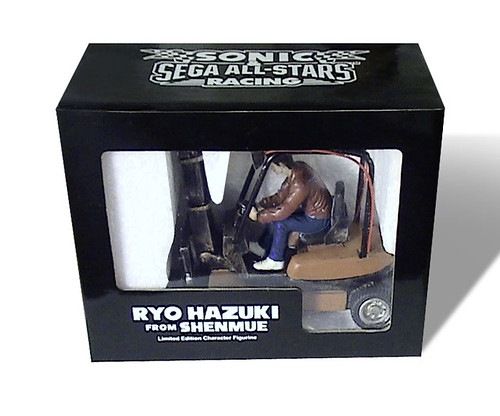 Win 1 Of 3 Ryo Hazuki Figurines
It's an ill wind that blows nobody any good… so the fact that I've managed to get my paws on some extra Ryo Hazuki/All-Stars Racing figurines means that I can do a competition for them here on Sonic Wrecks. (That kinda means that saif wind will blow you g… hmm, okay lets stop with that analogy.) Yes indeed, if you wanted one of those figures nows your chance. They may look a bit rough and ready, but hey, have you seen any Shenmue merchandise recently? Demand for these are off-the-hook, only 1000 of these – or should I say 999 as one I found to be completely annihilated – exist so better act fast!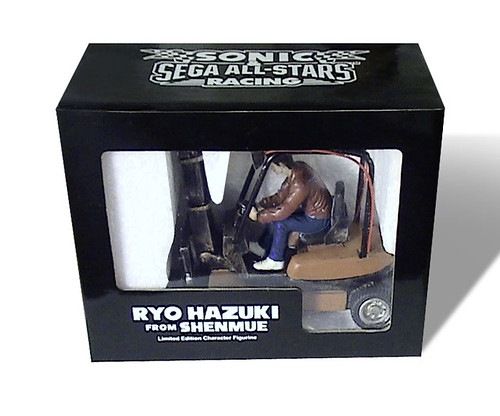 THE TASK
I'm going to bring a bit of a dash of irony to this one, now as you know SEGA fans want Shenmue III – you know it, I know it, everyone knows it. However being part of the SEGA community team I know it slightly more than others owing to the fact the fans do badger SEGA somewhat via the social media. Of course as this is the community team who are already passing the message along (repeatedly) and can really do no more all its really serving to do is bury any other message that is trying to be conveyed and making the team a bit fed up of getting pestered about it all the time. So what to do?
Well thats where the irony comes in folks! I want you to come up with the best excuse you can for why Shenmue III has not come to pass, now I'm not looking for a serious reason naturally – I don't want to hear about money or finance or anything like that. But a completely ridiculous (yet somehow inexplicably plausible) excuse that theoretically could reduce the amount of messages I get bombarded with. Seriously go nuts!
Example: "The reason why we've not had any Shenmue III is because Yu Suzuki became locked in a battle of wits as the Large Hadron Collider created a quantum singularity which pulled him into another dimension ruled by giant lizards."
"WHAT CAN I WIN, AAUK?"
The best three excuses will each win a limited edition Sonic & SEGA All-Stars Racing Ryo Hazuki figure.
HOW TO ENTER
Simply leave your Shenmue III excuse in a comment which you can write at the bottom of this page if you're reading the article seperately or simply click on comments at the top of the post. Please note: Comments are moderated so will not appear immediately, this does not mean your entry has not been recieved.
THE RULES
Entries must be received before 12:00 UK Time on May 30th. Any comment received afterwards will not be counted.
The contest is open Worldwide, yes even Puerto Rico and Quebec.
One entry per person.
Entrants must include their email address in the required comment field. (NB: You've GOT to do this for the comment to even be allowed, so don't panic if you think you forgot it.)
Going "why don't SEGA just make Shenmue III" isn't an excuse, its spam and won't be counted.
All decisions are final.
Abusive comments will not be approved and your entry will be invalidated. Sonic Wrecks retains the right to refuse any entry.
Winners will be individually contacted by email and asked to supply name and address for postage, refusal to supply or failure to reply to the email will result in the prize not being sent.
Good luck!