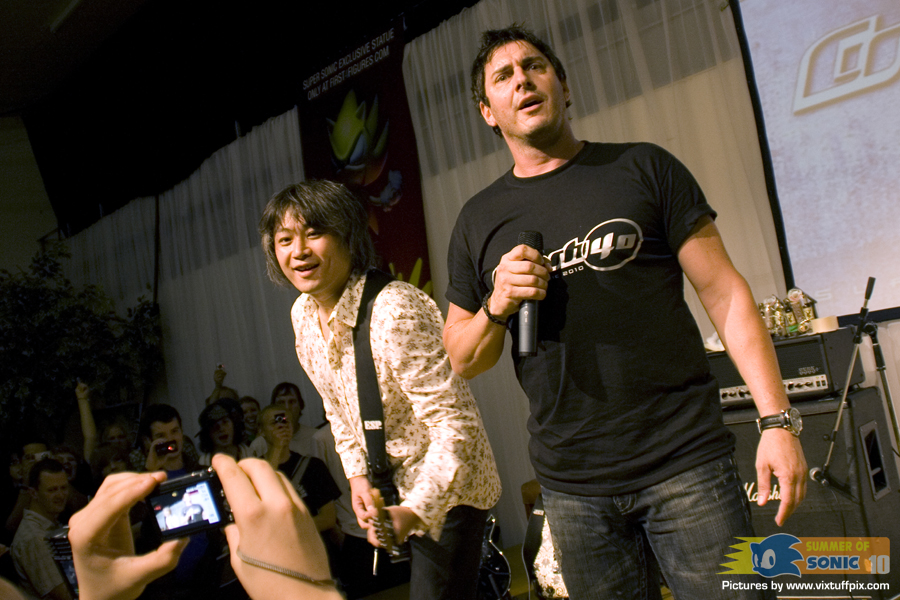 Review: Crush 40 Live in Tokyo
Last weekend, the band behind Sonic's most well-known songs, Crush 40 hit Tokyo's trendiest district, Shibuya for two nights only. The intimate basement venue, Stage Guilty, was packed with around 300 fans both nights. This marked the second time the band has performed together in Japan – the last time they performed was almost three years ago at Tokyo Game Show 2008. Guitarist Jun Senoue and vocalist Johnny Gioeli have been writing songs for SEGA for 13 years now, and Saturday's performance was quite the round up of their career so far.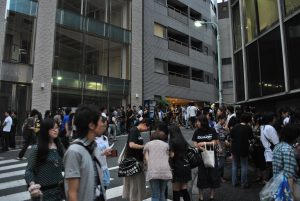 Fans were queuing up outside the venue as early as 2pm even though their tickets were reserved and the venue itself didn't open its doors until 6pm. The audience was predominantly made up of Japanese fans in their 20s, with an even split between male and female fans. Many were rocking Crush 40 T-shirts that they'd already picked up alongside their tickets, while others were fitted with Sonic tees and even some home-made Sonic attire with Sonic plushes clasped in hand. Many of them weren't just there for Saturday night – a great deal of them were coming back for more on Sunday.
After a half-hour wait, Crush 40 appeared on stage. Jun and Johnny were joined by their bassist Takeshi Taneda and drummer Toru Kawamura. Their opening blew the fans away with an unexpected "Sonic Boom" performance. Their set lasted 90 minutes and they played 21 songs in total including their new charity single for the Japanese Relief Fund "Song of Hope" and a pair of songs from one of Johnny's earlier bands, Hardline.
This gig was, not just figuratively but literally, one hot gig. As in, so hot the air conditioner broke down and an umbrella was brought in at the end of the show to deflect the water that was pouring out of it. As Johnny himself put it, the atmosphere was "tight, close and sweaty – like we're all on the train" (perhaps a comparison best understood when you're stuck on a busy train in Japan in the summer heat). Everyone, most of all Crush 40 themselves, were drenched in sweat by the end of the show.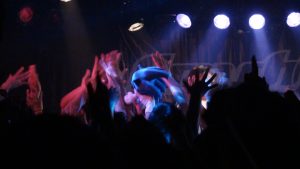 Johnny and Jun had a great on-stage relationship with each other throughout the night, enjoying their performance every bit as much as their screaming fans. Jun was often in a zen-like trance with his guitars while Johnny was getting the audience involved between each song. The crowd was very responsive to Johnny's banter despite him not speaking a lick of Japanese. Johnny was self-deprecating about his Japanese, fully aware that it didn't go further than slightly off greetings. He assured the fans that the next time he came to Japan he'd be fluent in four more words of Japanese.
Main Set
1. Sonic Boom (Pastiche cover)
2. Free
3. I Am… All of Me
4. With Me
5. Seven Rings in Hand
6. Un-gravitify
7. Love Leads the Way (Hardline song)
8. Revvin' Up
9. Fire Woman
10. Song of Hope (charity song for Japanese Relief Fund)
11. Everything (Hardline song)
12. All Hail Shadow
13. Never Turn Back
14. Into The Wind
15. Watch Me Fly…
16. Open Your Heart
17. Sonic Heroes
18. His World
19. Knight of the Wind
Encore Set
1. What I'm Made of…
2. Live & Learn
After the show, Jun and Johnny waited outside to meet and greet every last fan. Some hugged the very, very sweaty Johnny despite his warnings not to and some brought "omiyage" (regional Japanese souvenirs – usually food) for Jun.
The merchandise was already in short supply by the end of the first night. The most popular item was the black T-shirt with a list of songs on the back. There were also two white T-shirts – one with "Crush Forty Rules" on the front and the other with the Crush 40 logo and a pack of pin buttons and tote bags for good measure.
It seemed that at the very least the first night's performance was filmed in an official capacity close-up from both sides of the stage as well as from the small balcony above. The only video officially available of the performance so far is "Live & Learn" from their encore, which you can find on Crush 40's official YouTube channel.
Stay tuned to TSSZ for an interview with Jun Senoue next week.
This post was originally written by the author for TSSZ News.