The Mystery That Is 'The Station' To Welcome VR Support Later This Year
In space no one can hear you scream, and if no one can hear you scream then no one's going to come to help you. Not until after you've been missing for some considerable time. In first-person sci-fi mystery The Station you take on the role of such an investigator. Who has been sent out by the company Axiom to find out what happened to the crew of the Espial Space Station, a research vessel orbiting a planet where an intelligent alien species has been discovered.
Sadly, the discovery of alien life was tainted by the discovery that they are in the middle of a planet-wide war and plans to reach out and contact them went by the wayside with the reveal of their bloodthirsty nature. So what has happened to the crew? Unfortunately, just after the revelation of the alien's nature the stealth capabilities failed, and communication with the crew was lost. Surely they were safe in the Espial though, stealth shield technology or not; but if so why have they not contacted the home base? It's up to you to discover if the crew still alive, locate them if so and if not then discover who or what is responsible for their loss.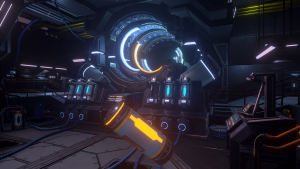 The Station is developed by Canadian group of the same name, with veterans of working on the likes of Destiny, League of Legends, and BioShock Infinite. Whist the title is already available outside of virtual reality (VR), the developers have today revealed that The Station will be coming to PlayStation VR, HTC Vive and Oculus Rift in Q3 of 2018.
"A new Free Explore mode is available today that gives players complete access to the Espial, making it possible to wander the dark halls of the station at their own pace. Without doors to unlock or puzzles to solve, the facility exhibits a more contemplative nature that lends itself well to taking of the Progressive Sci-Fi theme. VR will enhance Free Explore mode, allowing players to truly take in the sights." The Station say in a press release, which also confirms the future roll-out of Spanish, Russian, French, Italian, German and Portuguese language packs to PC and then console later in the year.
"The Station's in-game Augmented Reality UI feels even better in VR. This system provides a visual representation of conversations, correspondence, and a map at all times. When opening the menu, a single button press deploys the menu, which hovers in physical space and can be left there as long as players want."
You can see the title's initial launch trailer here.
This news post was originally written by the author for VRFocus.com.