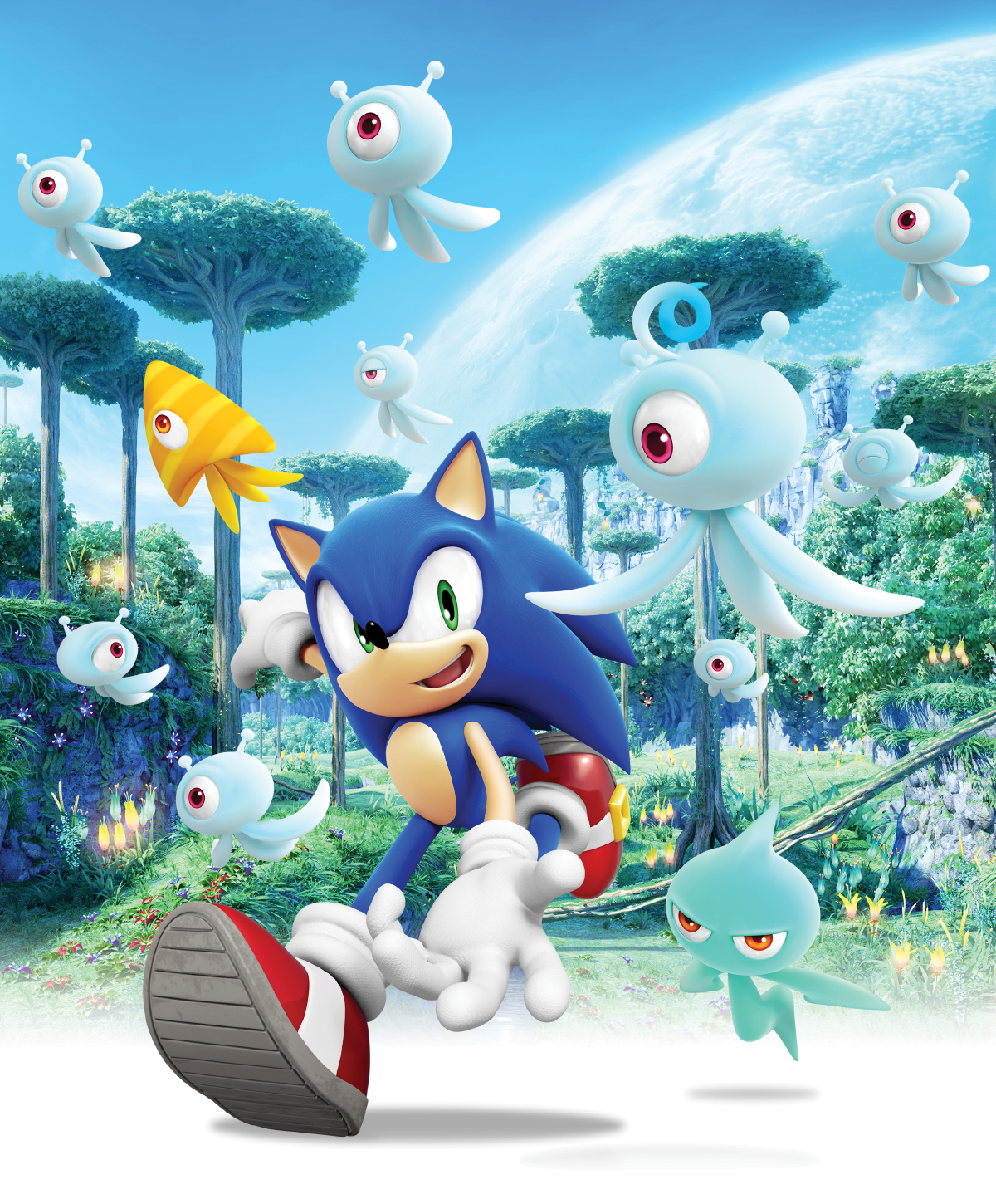 Sonic Colours Soundtrack Coming Westward On iTunes
Awesome news out via the Sonic City Blognik. TSS might have told you all about the Sonic Colours OST is getting a digital release in Japan, but what I can confirm today is that it will also be reaching western shores. That's right folks a Sonic soundtrack is FINALLY coming out in the West… albeit digitally.
Yes, no physical CD but as of today (and already up in the case of America) Wavemaster have finally been able to do what seemed impossible and get Vivid Sound x Hybrid Colors up for sale via the Apple iTunes Store in North America, EU AND Japan.
All the tracks are included in the listings which are split up across three volumes – the three discs in the physical copy – and does include opening theme "Reach For The Stars" and closing song "Speak With Your Heart" by Cash Cash. Speaking of cash, you'll probably want to know how much these cost?
Individual tracks will be $1.29 / £0.99 whilst you can buy each individual disc/volume for $9.99 / £7.99
We the fanbase have been after this with the soundtracks for a VERY long time and now that we've had this first one who knows what else might start finding its way onto iTunes, this is great news(!)
There was a press release not on the Blognik which I've attached below
The Complete Sonic Colors™ Original Soundtrack
"Vivid Sound x Hybrid Colors" available for digital download!

"Vivid Sound x Hybrid Colors", the Sonic Colors original soundtrack, will be available to download via digital distribution on the Apple iTunes Store in North America, EU & Japan from January 26th 2011.

This album features all 82 tracks from the game, including the opening theme "Reach For The Stars" with vocals by Cash Cash, a pop-rock band from New Jersey, USA, and "Speak With Your Heart", the distinctive ending theme.

Orchestral themes recorded in Amsterdam and in-game music are also featured, showcasing an exciting hybrid of analog and electronic tracks.

"Vivid Sound x Hybrid Colors" allows the listener to enjoy music tracks which illustrate the speed and colorful sound reminiscent of the "Color Power" action from the game.

| | |
| --- | --- |
| Product Name | SONIC COLORS ORIGINAL SOUNDTRACKViViD SOUND x HYBRiD COLORS Vol. 1 ~ Vol. 3 |
| Release date | Jan 26th 2011 (TBC) |
| Copyright | ©SEGA |
| Distributor | Wave Master Inc. |
| Official Website | www.sega.com/soniccolours |

iTunes Price (all tax inc):

<per track>

US – 1.29USD

UK – 0.99GBP

<per disc/album>

US – 9.99USD

UK – 7.99GBP

【Vol. 1】
01. Reach For The Stars – Opening Theme –
02. Theme of Sonic Colors – Title ver.
03. Tropical Resort – Act 1
04. Area – Tropical Resort
05. Cutscene – Robots & Wisps
06. Tropical Resort – Act 2
07. Color Power – Cyan Laser
08. Tropical Resort – Act 3
09. Stage Clear
10. Cutscene – Dr. Eggman Appears
11. Cutscene – Ferris Wheel Boss Appears
12. vs. Rotatatron & Refreshinator
13. Cutscene – Yacker's Plea
14. Cutscene – Robot's Lost & Found
15. World Map
16. Sweet Mountain – Act 1
17. Area – Sweet Mountain
18. Sweet Mountain – Act 2
19. Color Power – Yellow Drill
20. Sweet Mountain – Act 3
21. Cutscene – Sugar Armada Appears
22. vs. Captain Jelly & Admiral Jelly
23. Boss Stage Clear
24. Result Screen
25. Save Screen

【Vol. 2】
01. Sonic Colors – Jingle
02. Theme of Sonic Colors
03. Starlight Carnival – Act 1
04. Area – Starlight Carnival
05. Color Power – Green Hover
06. Starlight Carnival – Act 2
07. Color Power – Purple Frenzy
08. Starlight Carnival – Act 3
09. Cutscene – S01 Frigate Appears
10. vs. Orcan & Skullian
11. Area – Planet Wisp
12. Planet Wisp – Act 1
13. Cutscene – Wisp's Homeworld
14. Color Power – Orange Rocket
15. Planet Wisp – Act 2
16. Color Power – Pink Spikes
17. Planet Wisp – Act 3
18. Game Land – Title Screen
19. Game Land 1
20. Game Land 2
21. Game Land 3
22. Game Land – Color Power
23. Game Land 4
24. Game Land 5
25. Game Land 6
26. Game Land 7
27. Game Land – Stage Clear
28. Game Land – Result Screen
29. Game Over

【Vol. 3】
01. Reach For The Stars – Short ver.
02. Option Screen
03. Aquarium Park – Act 1
04. Area – Aquarium Park
05. Aquarium Park – Act 2
06. Color Power – Yellow Drill Underwater ver.
07. Aquarium Park – Act 3
08. Out of Breath
09. Area – Asteroid Coaster
10. Asteroid Coaster – Act 1
11. Asteroid Coaster – Act 2
12. Color Power – Purple Frenzy
13. Cutscene – Nega-Wisp Factory
14. Asteroid Coaster – Act 3
15. Cutscene – Free from Nega-Wisp Factory
16. Cutscene – Broken Chains
17. Cutscene – Finally go home?
18. Area – Terminal Velocity
19. Cutscene – Hyper-go-on Surge
20. Cutscene – The failed plan
21. Terminal Velocity – Act 1
22. Cutscene – The Nega-Mother Wisp
23. vs. Nega-Wisp Armor – Phase 1
24. vs. Nega-Wisp Armor – Phase 2
25. Cutscene – The Core
26. Terminal Velocity – Act 2
27. Cutscene – Yacker's Goodbye
28. Speak With Your Heart – Ending Theme –