Sonic & Black Knight Info/Scans from Game Master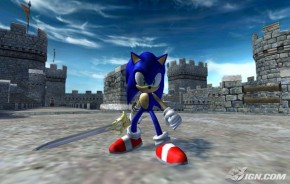 SBK makes Game Master's top 10 most wanted list.
Now that Sonic Unleashed has been unleashed on store shelves for the Wii, PS2, and 360, Black Knight slowly comes closer and closer to it's release.  In Game Master's newest issue, Sonic & the Black Knight becomes the 2nd most wanted game on their top 10 most wanted list. These scans are quite small, so here is everything they have written.
Page 1 – GM's Most Wanted Games –
2 – Sonic and the Black Knight
What is it? A thrilling dash through the King Arthur stories with added 'hog appeal'.
Why we want it? Sonic the Hedgehog wielding a sword? This we have to see. Could be even better than Unleashed!
Screenshot's from top left –
1. Link isn't looking himself these days, is he? What, you mean that's Sonic? What's going on? Help…
2. Careful with that thing Blue, you'll have someone's eye out. Sonic's handy with a sword but he can still move just as fast.
3. Whoa! Sonic's enemies are just as handy with swords as he is. Here he's been filleted by an awesome forward slash. he should have seen it coming…
4(page 2). The sun rises as Sonic crashed another castle. it's hard work being a sword-swinging hero, you know…
Need to know
What is it?
The second Story Book spin-off to hit the Wii as Sonic des King Arthur.
Facts
– Use the Wiimote to wield a hefty blade – a first for Sonic
– Complete missions to unlock bonus content
– Help villagers to improve your standing as a knight
From the people who made…
Sonic and the Secret Rings 80%
Phantasy Star Universe 84%
Are you sitting comfortably children? Right then, we can begin. Once upon a time there was a hero named Sonic. But he was no ordinary hero, he was a hedgehog. But he was no ordinary hedgehog; he was bright blue with trainers and that. Trust us, he was much cooler than he sounds. Anyway, one day Sonic found himself…
Thats the beauty of Sega's speedy hero, you could pretty much end the above sentence any way you choose and no-one would bat an eye li. One of gaming's most unlikely heroes Sonic is equally at home in an apocalyptic industrial landscape as he is in a colourful fantasy world. And that's exactly what Sega's Wii-exclusive spin-off series of Story Book Adventures is all about. it worked wonders with Sonic and the Secret Rings, a migraine inducingly colourful reimagining of the Arabian Nights stories with an added lick of speed.
War-hog
Sonic and the Black Knight is the second game in the series, plucking its themes from an equally rich and well loved story by plonking our hero into the court of King Arthur. Yep, Sonic's been summoned to a reimagined Camelot to do battle with the evil Black Knight. To do so he'll be using his trademark speed, but the only way to really defeat a medieval ne'er do-well is with a hefty blade. Thus for the first time in his 17-year-history Sonic will wield a weapon.
Unlike in The Secret Rings Sonic's movement is now controlled with the nunchuk leaving the remote free for sword-swinging duties. The game plays an awful lot like Sonic Unleashed with a focus on speedily traversing pretty landscapes with a mix of 3D and 2D platforming. The difference is, of course, the sword.
Frequently Sonic has to slow down and slash his way through errant knights and obstacles. Better yet the blade can also be used to scale and descend sheer walls with style.
Ringing it
There's also an emphasis on collecting items and impressing townsfolk. Doing this will unlock hidden content and gain Sir Sonic followers. The more followers he gains the more effective a knight he'll become, which in turn allows him to level up and access new abilities – much as he did in The Secret Rings.
There are issues we'd like to se addressed, mind. For instance, constantly curbing your speed to hack through enemies could make the pace feel a bit stuttery. Why not give Sonic a running attack to keep things moving? Also the old criticism of it being too on-rails applies- though this has been admirably sidestepped in Sonic Unleashed.
Still in its early stages, Sonic and the Black Knight is shaping up to be a thrilling tale of swashbuckling adventure powered by a jet engine. It's another clever sidestepping of the traditional formula that adds something refreshingly different. Aside from the gorgeous Zelda-like visuals it looks to be fast, varied and, with emphasis on simple mission-based play, rewarding and fun. Following The Secret Rings was always going to be tough, but it looks like Sega might pull it off.
With the Arabian Nights and Camelot taken care of, we're already starting to wonder where the Story Book series will take Sonic next. Sonic in Wonderland, perhaps. Or Sonic and the Beanstalk even. How about Sonic in space? Now there's a thought… GM
Crossing bow
In the game's first stage Sonic uses massive crossbow emplacements to form rope bridges. Of course, being Sonic he grinds down them. Flash git. These are just a hint of the in-game objects that will aid his progress we reckon.
Page 3 Screenshots from left to right 1 – 4
1 –
With a slash of his sword Sonic can access new areas using these emplacements. At points he can select which route to take by hitting different crossbows.
2 –
Whhheeeeeee! Sonic can't do anything without looking effortlessly stylish – we're jealous. If that were us we'd hit the wall at the end and break every bone in our bodies.
3 –
Ah what a beautiful day! Sonic games have rarely looked this pretty – and it's even better in motion. here Sonic races across some green pastures in search of some action.
4 –
Is Sonic faster than lightning? Look's like we're going to find out. This darker level looks ace. Expect dark castles, forests, swamps and more.
Leap hog
Sonic's just as nimble off the ground as he is on it. He can leap around like nobody's business and, as ever, he'll need to use a variety of gadgets and gizmos to progress. Even better, he can use his cold steel blade to get around by plunging it into walls. Handy things swords…
Screenshots from left to right 1-3
1 –
Plunging the sword into walls allows Sonic to descend to safety, climb up and even sideways.
2 –
It looks as though Sonic will be able to use certain bits of scenery to reach hard-to-reach sections.
3 –
Super speed and sidestepping might just see Sonic through theres woodland booby traps.
Text under Sonic art –
Sonic tools up with a sword and gauntlet for his latest adventure.
Page 4 screenshots top to bottom 1-2
1 –
Sonic arruves at the castle gates sword in hand. The graphical style reminds us of Zelda – here's hoping it plays half as well.
2 –
Have at you! Sonic is fearless in the face of danger, which is perhaps foolish considering his lack of chainmail and helmet.

Slash it up
Despite never having handled a blade before Sonic is no slouch in theswashbuckling department. Combat starts out simply, but expect him to learn some flashy new abilities as the hedgehog's prowess as a knight grows.
Screenshots from top to bottom 1-5
1 –
Sonic's learnt from the Zelda games. Here's a sweeping sword strike.
2 –
A nifty flying kick. mid-air sword strikes are also possible.
3 –
Using the nunchuk Sonic can block enemy attacks before countering.
4 –
Sonic's trademark homing attack now creates an ultra fast, forward lunge.
5 –
Sonic can smash stuff up – he even cuts through stone.
Ride to hell
In this sequence Sonic boards through treacherous enemy territory. Instead of plumping for the scenic route he chooses to fight off a squad of crack knights armed with gauntlets…
Screenshots left to right 1-3
1 –
All aboard! It doesn't look like great weather for sightseeing. Just as well because we'd rather ruck.
2 –
Uh-oh, more of 'em. Sonic readies his sword for the onslaught as his enemies leap into action.
3 –
Take that you cur! Timing is the key to dispatching enemies quickly and effectively.
Bottom pic on Page 4 –
Sonic –
He might be in strange surroundings but Sonic is still his cheeky wise-cracking self. Most of his familiar moves remain too, but some have been retooled to use his sword.
The knight –
Knights are supposed to be chivorous, but these fellas are anything but. We've seen several different baddies and are hoping for some mythical creatures too.
The setting –
Don't expect an accurate retelling of the Arthurian legend. After all, The Secret Rings managed to shoehorn dinosaurds into the Arabian Nights.
Text under pic –
Death from above: It's nice to see that Sonic has retained some of his trademark moves. The trusty old Sonic spin attack is made all the more deadly by his flashing blade.
GM Verdict
GM Loves –
+ The graphical style
+ Using the sword to get around
+ A 'different' Sonic game
GM Hates –
– That the Wiimote isn't always the most reliable way of recreating sword-based combat.
Most wanted rating 4/5
Combining the speed and thrills of Unleashed with the RPG elements of Chronicles and the best bits of Arthurian legend this could be something special!
Can't wait?
Most like: Sonic and the Secret Rings 80%
Out sooner: Sonic Unleashed, Nov
All of that from Shadzter.
Check out the following links to veiw the scans!
Scan 1
Scan 2
Scan 3
Scan 4
Stay tuned for more Sonic & the Black Knight posts in the future here on TSSZ news.