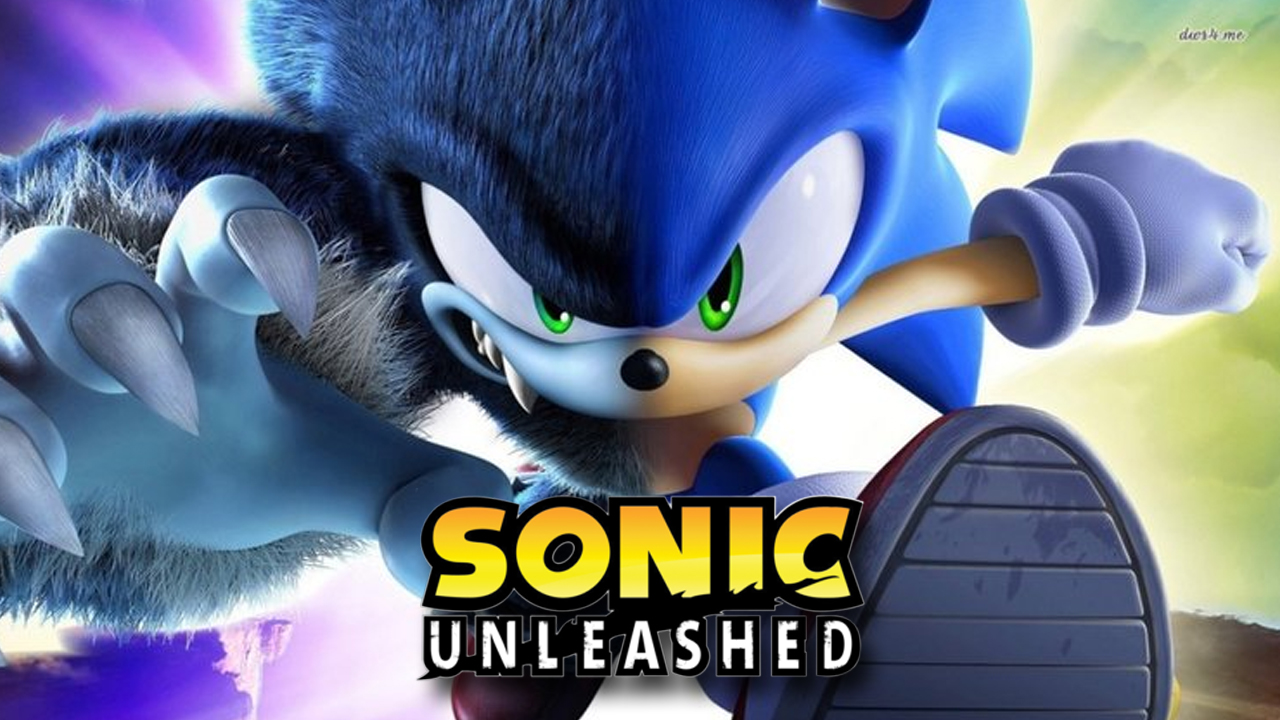 Sonic Unleashed Hands-On Impressions
You can all relax. Sonic Unleashed is good. I know, I've played it.
Yesterday Sega held a Sonic Unleashed community day in London. Several members of the Sonic community were invited down, travel expenses paid and I was lucky enough to be included in the group. Luckily this time there are no horror stories of me on a three hour drive from London to Leeds getting caught in heavy rain (Summer of Sonic) or even snow (Eurogamer Expo). Nope, save in the knowledge that Sega would be paying I decided to take the train which was a much better option.
Arriving at Sega HQ was a strange experience. I've spent most of my life being a Sonic fan and obsessively following the Sega brand through all the ups and downs. So to be on a street walking towards a huge building with the Sega logo perched at the top was quite a moving experience. Arriving in the lobby of Sega's HQ was surreal. The first thing you notice is a giant Sonic statue, a swish lounge area and a poster for House of the Dead Overkill. I just about managed to utter to the receptionist what my business was and I was lead into a room with another Sonic statue but more importantly, several 360 demo pods all playing the finished version of Sonic Unleashed. I met quite a few new people during the day and remembered a few faces from Summer of Sonic. Two other people had made the trip down from Leeds including Black Knight art contest winner
Violet
and
Vger
from
Emerald Coast
. Kevin Eva, aka
ArchangelUK
was the man running the proceedings and when everyone finally arrived (
DreadKnux
being as fashionably late as always despite living closer than most) began to demo the game on his shiny black Elite 360.
The opening cut scene has been leaked on the internet already but believe me when I say it looks even more stunning on a huge HD TV. The group was in agreement with me that this is defiantly the best opening to any Sonic game ever. However CG cut scenes mean nothing if the game plays like ass. Fortunately that doesn't seem to be the case at all. Kevin showed off the training area and then the first act proper of Windmill Isle which is the Greece level that's been on show most often. The hub world got a bit of a showing as well and while not a huge sprawling location the hub for Apotos had enough charm to be interesting, full of cartoon style humans to talk to and Moon or Sun emblems to collect. The humans were actually really well designed and fit in much better with the locations and Sonic than the realistic style humans of Sonic 06. The different emblems help unlock stages later on.
Kevin wrapped up by showing off the Apotos level by night. Yep, it was Werehog time. One thing he was very quick to stress was that the Werehog can run. Hold down the right trigger and the Werehog gallops about the level on all fours much faster than his walking pace. Apparently journalists earlier in the day were under the misconception that the Werehog could only travel at a snails pace thanks to some early trailers. Kevin had much delight in showing off some of the Werehog's fighting moves. As well as the usual slashing of his stretchy arms the Werehog can also pick up smaller enemies, one in each hand and smash them together several times. He can even throw them at other enemies. More moves can be purchased by collecting EXP, the yellow crystals you might have in trailers or other videos.
Content that we had enough knowledge to not get lost we were unleashed (pardon the pun) on the 360 demo pods so we could get stuck into the game ourselves. I opted to start off from scratch as I'd seen the Apotos level played by some truly horrible players and wanted to know if it was as difficult to navigate as some people made it look. You'll be glad to know all the cut scenes can be skipped so I was blasting through the training stage in no time and arrived at the first hub. An interesting note, in the main hub with humans Sonic actually walks at a slower pace than his action stage self making him much easier to navigate in small spaces. You then enter the level select area and Sonic is back up to full speed with all his moves available. In later levels there are mini challenges to do to either collect rings or more Sun and Moon emblems.
I entered the first level and it was "Here we…. go!". First off Sonic's speed is immense. You thought the Mach Speed sections in Sonic 06 were fast? They don't have a patch on this. Sonic's infinitely easier to control as well. The quickstep takes some time to get used to but is invaluable for avoiding obstacles such as walls or spikes. The homing attack being a different button from jump is a stroke of genius as it makes the move infinitely more reliable. The green target recital helps as well. The transitions from 3D to 2D and back again are seamless and defiantly keep you thinking on your feet. It's not just a case of push forwards or right to win either. In the 3D Sections Sonic can be tripped up by steps loosing him momentum unless jumped over. A trick ring in mid-air is usually a good hint to jump. The 2D sections contain some of the more traditional platforming elements. My only complaint with this is that Sonic is a little more sluggish when jumping forwards than I'm used to in recent 2D Sonic games such as the Rush series. This lead to a few people, myself included, misjudging a few jumps and falling off a platform into a gap forcing us to backtrack a little back to the jump. The quick time events are mainly in place to help you shave off seconds of time by propelling you onto a faster route. Talking with Kevin he assures me that should you fail a QTE you shouldn't be penalized by death. The only things like that to kill you would be the jump pads that first appeared in Sonic Adventure. Rather than pressing 'jump' this time they requite you to hit a different button each time. Fail that and it's certain doom but I never saw it in action, it being a gimmick included in a later level where you'd expect the difficulty to increase anyway.
Overall when I his the goal ring I breathed a heavy sigh of relief. Gone were all my reservations about how tricky Sonic might be to control at full speed and I didn't even fall through the floor once. I can absolutely guarantee you that the daytime levels blow anything from any recent Sonic game out of the water. I'd need to play much more to say more than that but should the quality maintain then Unleashed could contain the best 3D action stages in Sonic's history. I'm that serious.
This brings us to the night time part of Apotos where the Werehog comes out to play. You're given a bit of time in the hub to familiarize yourself with the platforming controls. The most important things to take note of is the double jump that you won't get far without and the ledge grab in which the Werehog use his impossibly stretchy arms to pull himself up. This is where the shock of the playthrough came from. The Werehog isn't actually bad to play, in fact he's quite fun! So I only played one level and it was with the Werehogs most basic set list of moves but there was enough variation in platforming and smashing things to bits to keep my interest. Enemies are dispatched fairly easily at first with only the 'boss' monsters needed to be pounded for any serious length of time before falling. Other monsters can be picked up with the 'b' button which on the larger foes starts a QTE move sequence. Nail the buttons right and the Werehog will perform a super damaging context sensitive attack. Fail and not only is he thrown to the ground loosing precious life but the enemy actually gains some of theirs back. You are never forced to do this so it's up to you in a risk vs reward scenario. If things get too much and you need a special move to take down some troublesome monsters, providing you've been collecting enough of the dark orbs that come from fallen foes to fill your special move bar you can trigger an Unleashed mode signaled by a howl. All your moves are now double the damage for however long it takes the unleashed bar to be reduced to zero. Just the thing should you be about to die.
My only concern with the Werehog sections are the amount of time they take to complete. Sonic's daytime levels can be zipped through in about 4-5 minutes in a first play through. The night time levels can be upwards of 10 minutes. So while the game is split 50/50 between day and night the amount of time you spend playing as the Werehog could actually be more than than Sonic in the blue spiky form we all know and love. Not that this is different in many recent Sonic games anyway. All the way back from Sonic Adventure to Heroes and even Sonic 06 we've been forced to play in a variety of other play styles from a variety of different characters including, shooting, treasure hunting and even fishing. At least this time even if the play style is different it's still Sonic on the inside and the gameplay is infinitely more fun and fleshed out than even Silvers slow, inaccurate physics based gameplay which took up more than a third of Sonic 06.
Wondering around the floor I spied that people were much further on in the game than myself. I managed to take a look at the Tornado mini-game. As the Werehog you have to save Tails from a monster attack after which he offers to fly you to a different continent; travel obviously made much more difficult recently thanks to the world being split into seven pieces by Doctor Eggman. Rid all preconceptions that the Tornado mini-game could be anything like the one found in Sonic Adventure because this is a different beast altogether. Tails fly's the contraption while Sonic stands on top firing a gun turret. The section is on rails and as each enemy appears on screen they have a different controller button appear underneath them with a timer decreasing around that. The idea is to press the button highlighted under an enemy for Sonic to shoot it. Should you not get a shot off in time, unless your very lucky, it will result in fire being returned and you getting hit. Towards the end of the level Eggman attacks in a huge flying ship named the Egg Cauldron. You're still being attacked from all sides but in intervals the front of the Cauldron with open up prompting you to rapidly press a random button to shoot the weak spot taking life from the boss. Do this enough times and you damage the ship enough for Eggman to call it a day and flee.
Speaking of Eggman I also spied DreadKnux take on the rotund dictator at the end of the Mazuri level. Eggman attacked in a contraption he called the Egg Beetle, Egg-mobile included and all! The boss resembles a giant beetle (well what else would it look like!?) and it scampers away from Sonic along a winding walkway. The trick is to avoid mines and other attacks with the quick step then either homing attack or boost when the pincers at the front open just before Eggman tries to attack with them. Easily the most fun thing to do is to boost into him as it send the Egg Beetle into an out of control spiral backwards smashing through trees and canopies. The boss even goes 2D where missiles have to be avoided in a fashion similar to the end of Angel island act 2. Mines then have to be jumped over and Eggman will attack from the background leaving himself open to be hit once more. I tried desperately to count how many hits the boss took to defeat hoping it would be the magic 8. Unfortunately I got so drawn into the action that I lost count! It was close to 8 if it wasn't that exactly.
There so much more to talk about but I'm very conscious that this article is becoming a very long read. Sometimes it's the little touches that make the game look so fun; checkpoints act as speed traps showing you just how fast you're going, people in the hub worlds react to being 'accidently' attacked, there's wildlife in the stages just going about their business, Sun and Moon medals being hidden in sight but without the necessary skill upgrade to collect them yet, missions from the town people that involve finishing a level under a certain time, idle animations of Sonic and his bigger, furry alter ego entertain way more than in recent games and Sonic even has a 'crawl' button while useful for getting under small gaps at speed in action stages is hilarious to see used in the hub world. Chip even manages to avoid being a Tails clone and is genuinely entertaining in cut scenes. In one he has an out of body experience and in another tries to console the Werehog when even Amy Rose doesn't recognize him. Chip's English voice is quite a lot more deeper than the squeaky Japanese one but it still fits.
Overall I'm very excited to play the game fro start to finish. It's not Sonic as you remember him from the Genesis days but it's a hyperactive and energetic Sonic in a bright cartoon world a million miles away from the grays and apocalyptic gloom of Sonic 06. Two years ago that game made me question why I was still a Sonic fan. Unleashed re-affirms why I am and after being teased for a few hours I truly relish the opportunity to sit down at home and gorge myself in the gameplay. Best 3D Sonic ever? We'll see…
The day wrapped up with two things. First, a competition for a PS3! The goal was to run through the Windmill Isle training level in the fastest time possible. I'm happy to report with a time of 55 seconds I came a respectable third place. The winner was Svend, DreadKnux himself in a time of 42.4 seconds. I messed up and not only missed a spring that I had to backtrack to but also didn't sidestep in time to avoid some spikes on a runway. Svend had both obstacles scouted and with a little luck in dispatching some robots super quick he got to the finishing line as fast as… well, probably Sonic himself. No matter though, I already own a PS3 so at least it went to someone who was PS3-less.
Finally I'd just like to thank ArchangelUK for inviting me along and how great it was to meet some of the TSS crew and others. The community day was greatness and should anything like this happen again I'd love to be a part of it. So cheers ArchangelUK and I still owe you that drink!
This post was originally written by the author for TSSZ News.