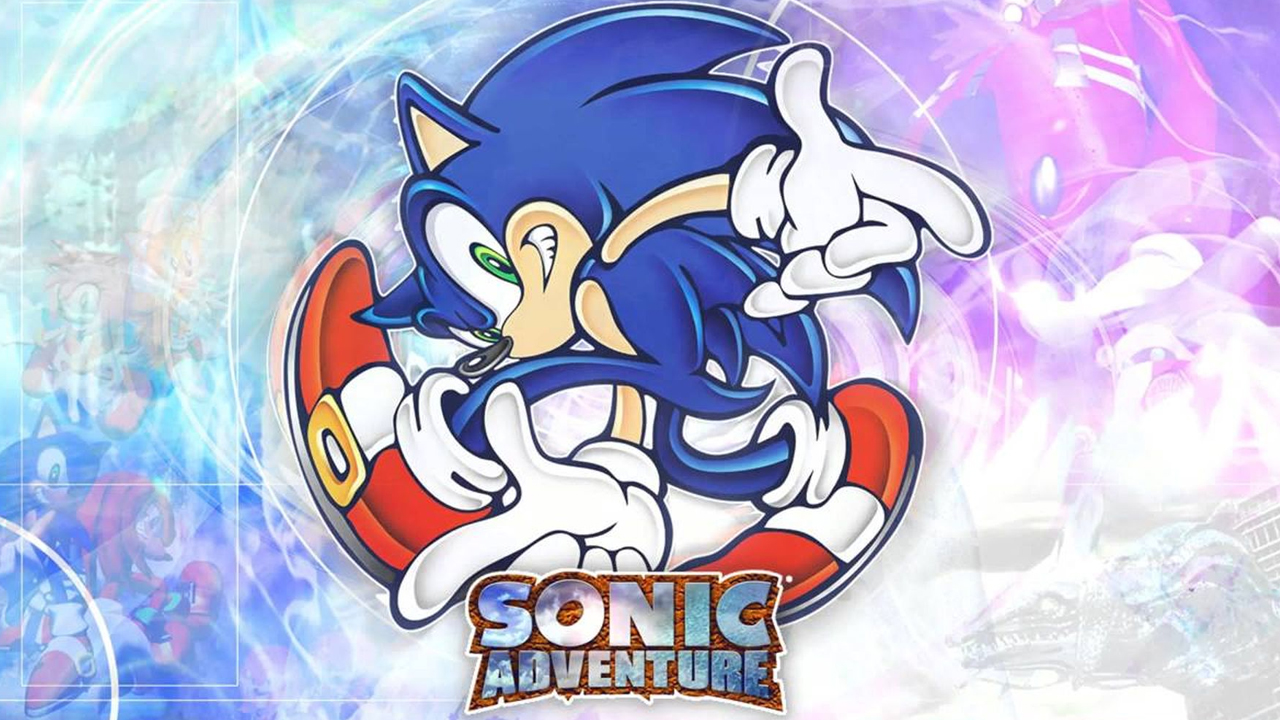 Sega's Sonic Adventure Press Release in its Entirety
LOS ANGELES (May 13, 1999) – Sega® of America announced today that Sonic the Hedgehog™ will be making his debut on Sega Dreamcast™ — "the ultimate gaming machine" — in "Sonic Adventure™." The a high-speed thrill ride will set the famous blue character loose in a fantastic new 3D adventure at blazing speeds up to 60 frames per second. With breathtaking graphics, six playable characters, full 360 degree movement in expansive 3D worlds and even "mini-games" to discover, "Sonic Adventure" shows gamers the future of videogames today, using the power of Sega Dreamcast.
"Sonic Adventure" creates dazzling graphics and lush environments where gamers can explore endless 3D areas, uncover hidden characters and battle surprisingly complex enemies. Gamers learn to expect the unexpected in "Sonic Adventure" and can find themselves fleeing from a killer whale on a sparkling Tropical beach, sandboarding through mysterious ruins, speeding through a shimmering city freeway filled with loop-de-loops and flying through perilous tornadoes. The sky's the limit in "Sonic Adventure."
The story behind "Sonic Adventure" unfolds as Sonic learns that the wicked Dr. Robotnik, aka "Dr. Eggman," is out to control a deadly liquid life form called Chaos, a destructive creature, which grows in strength as it absorbs the precious Chaos Emeralds. Dr. Robotnik's plan is to gather all the emeralds and feed them to Chaos in hopes that the creature will destroy a peaceful local town. Gamers must play as Sonic and his pals to explore the seemingly endless worlds in order to solve puzzles, racing against the clock to defeat Dr. Robotnik.
Producer Yuji Naka and his Sonic team are taking Sonic and his friends to a new level. Gamers can now play as any one of six characters including Sonic, Tails, Knuckles, Amy, Big or E-102 GAMMA. These characters can now climb, fly, hover, snowboard, shoot and for the first time, talk — whatever it takes to stop their nemesis, Dr. Robotnik. Each character has their own special skills to maneuver through the boundless levels. Characters include:
Sonic the Hedgehog
Sonic the Hedgehog can now do what no other video game character has done in the past. Created in full 360 degree 3D, he breaks the old 'one-game, one-genre' mold that has tied down other titles. To keep up with the blazing of speed of Dreamcast, new supersonic shoes and longer legs were designed. In addition, Sonic now battles with longer quills and sharp green eyes for seeing into the deep 3D worlds found in the title. Armed with all new moves, including the hyper-fast "Light Speed Dash," Sonic is up to the challenge. Sonic also premieres his "Homing Attack" in the game, which allows players to target and attack a specific enemy in just one move.
Miles "Tails" Prower
Miles "Tails" Prower, a sly fox, has a unique problem — he has two tails. But it's those tails that make him special, by giving him the ability to fly. In "Sonic Adventure" Tails isn't just Sonic's sidekick, he becomes a fully-realized character with his own storyline and a lust for racing.
Knuckles the Echnida
As long as he can remember, Knuckles, a hard-headed echidna, acted as the Guardian of the Master Emerald. One day the emerald was struck by a bolt of lightening. When the dust cleared, the Master Emerald had been blasted into seven smaller gems, and a bizarre liquid jelly-like monster was standing where the scattered stones should have been. Players must use Knuckles' spiked hands to climb, dig and claw their way to find the emeralds, fight the monster and team with Sonic to battle Dr. Robotnik's evil robots along the way.
Amy Rose
One of the nicest girls a guy like Sonic could ever hope to meet, Amy never had a bad thought about anyone… until now. When an innocent bird possessing a Chaos Emerald gets captured by Dr. Robotnik's evil henchman, Amy takes it on herself to save him. After defeating the bad guys, Amy learns of others trapped in Dr. Robotnik's lair. Now, Amy sets her sites on freeing the captive birds and taking out as many of Dr. Robotnik's robots as she can using her hammer as a weapon. Choosing the Amy character will also allow players to encounter one of the numerous "mini-games" in "Sonic Adventure," which expands the gaming experience.
Big the Cat
Sonic Team created two new characters specifically for "Sonic Adventure". Big is a giant cat with a love for fishing. Never one to cause trouble, Big finds himself in harm's way when the body of his good friend Frog body is taken over by one of the Chaos Emeralds Dr. Robotnik so desperately wants. Big must find his friend and save him from the clutches of the mad scientist.
E-102 GAMMA
The second of two new characters in "Sonic Adventure," E-102 GAMMA joins a legion of sniper robots designed by Dr. Robotnik to help collect Chaos Emeralds and to protect their master at any cost. The highly-advanced machines are formidable foes with eye lasers and sniper pistols. However, Dr. Robotnik doesn't know about a crucial flaw in E-102 GAMMA's programming that actually allows the robot to think for itself, leading to a surprising turn of events.
"Sonic fans have never seen Sonic like this before – running at an amazing frames rate and achieving speeds never before seen in a console game," said Bernard Stolar, president and chief operating officer of Sega of America. "Sonic is a prime example of what is possible on Sega Dreamcast…and no other system."
"Sonic Adventure" also features gameplay through the Artificial Life (A- Life) component. Using the Visual Memory Unit (VMU), gamers can create A-Lifes which are little creatures that gamers can name, nurture and grow in the game. Once the A-Lifes have been downloaded into the VMU, gamers can exchange information about them with other Dreamcast gamers and play additional games on the VMU. Gamers can teach their A-Life to swim and run and then see how their A-Life performs in a mini race or swimming competition. "Sonic Adventure" also features hidden "mini-games" along the way, which challenge players in varying ways to gain strength or clues to stop Dr. Robotnik. Gamers take advantage of Amy's hammer in "Hedgehog Hammer," utilize Sonic's speed in the "Pin-Ball" and test their own reflexes in bowling and snowboarding.
"Sonic Adventure" will be available at the launch of Sega Dreamcast in the United States on September 9, 1999.
Sega of America is the arm of Tokyo, Japan-based Sega Enterprises, Ltd., responsible for the development, marketing and distribution of Sega videogame systems and videogames in the Americas. Sega Enterprise, Ltd. is a nearly $3.0 billion company recognized as the industry leader in interactive digital entertainment media, and is the only company that offers interactive entertainment experiences both inside and outside the home. Sega of America's World Wide Web site is located at http://www.sega.com.
This post was originally written by the author for TSSZ News.