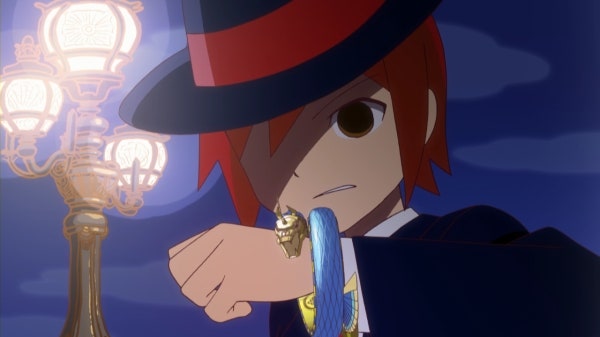 Rhythm Thief Previews Its Moves In ONM
If you are looking forward to Rhythm Thief, you're in luck. New details have emerged for SEGA's music-thievery game for the 3DS. In the latest issue of the UK gaming mag Official Nintendo Magazine (also known as ONM), it features Rhythm Thief in one of its preview slots. And it has unearthed some interesting information about the game.
Three characters have already been confirmed:
Raphael – the main character (you know, the guy in the image). By day, a normal boy. By night, he becomes the mysterious art thief Phantom R, stealing items to help unravel the mystery of his father's disappearance
Marie – a young girl Raphael meets early in the game. She has a trusty violin which she keeps at all times, and might be connected to the disappearance of Raphael's dad
Fondue – Raphael's pet dog. Often to be found barking in French and helps Raphael whenever he needs it
And story-wise, it basically revolves around Raphael trying to uncover the secret of his dad's disappearance. Along with breaking into the Louvre. And a shady character trying to resurrect Napoleon. Yes, that Napoleon. Can't argue that the story isn't original.
The article also discusses some of the gameplay too, with the game split into "rhythm" sections (akin to Elite Beat Agents or Rhythm Paradise) and "exploration" sections (much like the Professor Layton exploration sections – with some possible puzzles too). There's a lot of potential things to enjoy about it, with the game using both the 3DS touch screen and its Gyro sensor too. Along with its art style that is very Layton-esque, this could very well be one of the biggest games of 2012. As ONM itself said:
"We reckon this might just be the first great cult 3DS game of 2012."
Online information could not be found thus far, but the full preview article can be found in the February 2012 issue of ONM (issue #78 – the one with Kid Icarus Uprising as its main feature), pages 56 and 57, out now.
Oh, and any game that can have a character own Michelangelo's David is definitely worth keeping an eye open for.