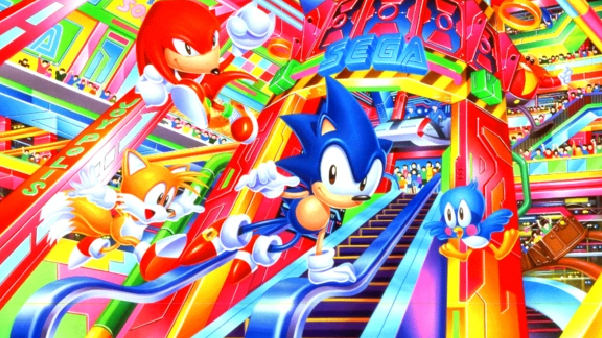 JD Harding Returns to the Sonic Corner
New info has come in about JD's decision to return updating TSC. I E-Mailed him about it; this is what he said:
Sonic Scene: Why did you return after deciding to pursue making professional music?
JD Harding: Nearly two months back I had planned on returning. It was only a temporary leave of absence.
SS: How are you going to juggle updating and making your own music into your schedule?
JD: I juggle several things together. I have my websites, plus I'm a wizard on MobiusMUCK, music, writing. I can handle all of it. I don't like not being busy.
JD has also said that the new server won't be ready until next weekend, just so you know.
The original story follows below.
---
I really can't believe this. JD Harding has started to update The Sonic Corner again! Here was his May 22nd update:
The wait has finally ended. I'm reopening The Sonic Corner once again, and I am again TSC's webmaster. If you already know my e-mail address, you can begin sending your MIDI files to me at any time. I'll upload the rest of this site later, such as Contact information, file submissions, and the new Sonic midi search.
June 25th:
Maybe you're wondering why I stopped maintaining this site in the first place. Well I had some work I needed to finish concerning my own music, which are also in MIDI format, just like the files hosted on this site. I'm working in professional music, and I own another site where I keep all of the music I've created, plus remixes of video game music, and Sonic the Hedgehog music. You can visit my music site here!
BUT last Wednesday, he announced that he would be moving to DCArchives and Gamepost:
Sorry I haven't updated this site in so long, but a lot of things have been happening. It's time that I tell you what's been going on with TSC.
The first thing that's happened occured last weekend. Dreamcast Archives webmaster contacted me through e-mail, and made a proposition for TSC to move to their server. This weekend they will be moving to Gamepost, and will be hosted on a Gamepost server with unlimited bandwidth speeds. They'll also have a domain name there, which will be www.dcarchives.net.
What does this have to do with TSC? Well TSC will also be moving to a Gamepost server also. It will be a subsite in conjunction with DCArchives, and will have the domain sonic.dcarchives.net. This changes nothing though, but opens the door for more things, including more frequent updates and a major site expansion. Though the expansion will start off small, it will grow bigger in time.
I have some new things lined up, and planned out for TSC. I believe TSC will be moving either this weekend, or next week. During the time updates to this site will be at a bare minimal. I'm redesigning the entire site even as I write this update. There will be a lot of new things for TSC, and I hope all of my visitors will enjoy the new site. It will download faster than this one, just check out www.Gamepost.com to see the speed difference. 😉
TSSZ will be there when it opens this week.
This post was originally written for TSSZ News.