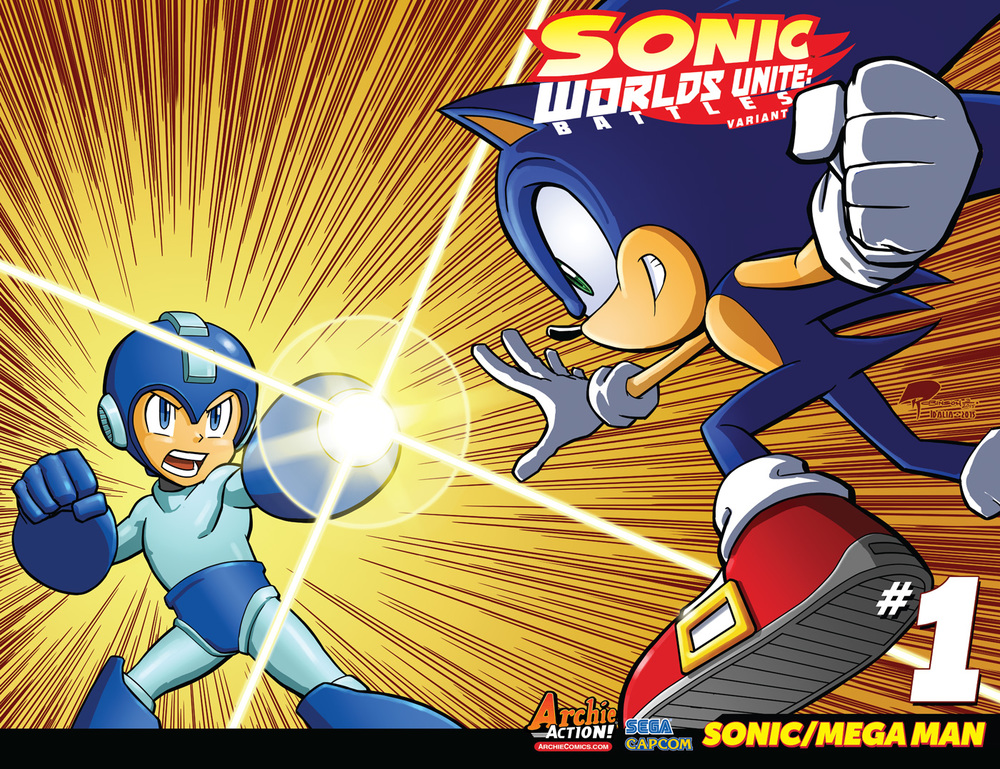 Inside The Pages: Sonic Worlds Unite Battles #1
We have another Worlds Unite preview, courtesy of Comic Book Resources, to share with you.
It is time to see just what happened with a few battles that took place in Sonic's world that we didn't see in the main chapters with Sonic Worlds Unite Battles #1 , including how he was captured in the first act of the crossover. You can check out the sneak peek and text solicitation below.
Sonic: Worlds Unite Battles #1
ALL-NEW DIRECT MARKET-EXCLUSIVE special! There are so many epic battles in the SONIC/MEGA MAN crossover event that the biggest brawls of the bunch have exploded into their very own book! Twelve issues just isn't enough to contain all the frantic action of "Worlds Unite!" The action spills over into this second special stand-alone issue where an all-star cast of creators bring you an extraordinary all-action issue! Watch as Sonic battles the Deadly Six, Knuckles throws down with Break Man, and Sticks… goes after Roll?! LET'S GET READY TO RUMBLE! Also featuring variant cover art from Roger and Idalia Robinson, and a special wrap-around sketch variant by Sonic and Mega Man superstars Evan Stanley & Jamal Peppers!
STORY BY: Joel Enos, Ryan Jampole, Aleah Baker
ART BY: Tracy Yardley, Ryan Jampole, Diana Skelly, Rick Bryant , Terry Austin , Rachel Deering , Elaina Unger
COVER BY: Evan Stanley, Jamal Peppers, Phyllis Novin, Ben Hunzeker , Roger Robinson , Idalia Robinson
PUBLISHER: Archie Comics
COVER PRICE: $3.99
RELEASE DATE: Jul 15th, 2015
This post was originally written by the author for TSSZ News, images were replaced and expanded by LMC in 2020.