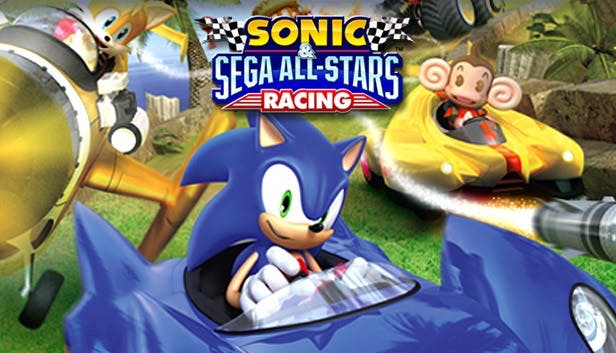 All-Star Racing – Avatar Items Available Today (or How To Create Really Cool Stuff For Everyone)
Hopefully at this very moment over on the Sonic City Blognik a full list of avatar stuff going up today for Sonic & SEGA All-Stars Racing plus descriptions has just gone live. What I'm going to do here is run through everything briefly and then tell you some behind the scenes details, because very excitedly a heck of a lot of the franchise specific avatar stuff was actually dreamt up by me.
Here's the list – if you want descriptions go to the Blognik as I said! 🙂
Ryo Hazuki Jacket (160pts)
Dr.Eggman Glasses (80pts)
Crabmeat Prop (240pts)
Sonic Car Prop (240pts)
Tails Tornado Prop (240pts)
SEGA T-Shirt (80pts)
Billy Hatcher Helmet (80pts)
Beat Glasses (80pts)
Samba De Amigo Sombrero (80pts)
AiAi T-Shirt (80pts)
AiAi Monkey Ball Prop (240pts)
SEGA helmet (160pts)
Sonic and SEGA All-Stars Racing Helmet (160pts)
Sonic and SEGA All-Stars Racesuit (160pts)
Sonic and SEGA All-Star Racing T-Shirt (80pts)
Sonic and SEGA All-Star Racing Cap (80pts)
Sonic and SEGA All-Star Racing Beanie (80pts)
So yes, a pretty good selection there… I was delighted to be able to finally get us a SEGA logo t-shirt up on there (note you should be able to choose its colour in your wardrobe settings) – its well over due and I made 100% sure the Ryo Hazuki jacket was in. But yes the story goes a while back I was asked to come up with a list of potential avatar items for DLC which as you can imagine was a bit like a kid in a candy store for me. We're having this, this and this! And the responses were generally awesome, that looks great, oh yes great idea! Sadly not everything got through , there was a lot more Sonic stuff originally but ultimately the powers that be said no to a lot of it which is a shame. For instance There was also going to be a Jacky Bryant hairstyle and a glorious Dr. Eggman moustache – this was actually modeled and all I can say is it looked awesome. Alas it turns out you can't sell custom hair designs on the Marketplace. (Monkey) KHAN!
A couple of other items bit the dust like Beat's skates, I even had it down in my plan that your avatar action would become the little victory jig he does, but alas again the skates fell foul of the bounding box of the avatars, you can't elevate the Avatar itself and neither can you have things going through the floor. You may notice the Amigo sombrero isn't as wide as Amigo's normally is, this is for the same reason. There's a couple more that didn't make it I may tell you at another point in time, one day you might even see the images of the items that never were… but for now back to the stuff that is there.
I will say this now, if you buy a prop… buy the Crabmeat. This is not to say that the other props are bad, no, in fact buy them all but I am HIDEOUSLY biased about the Crabmeat prop because I litterally forced this item to go through, absoluetly insisted. I've actually got a picture of it somewhere in action I can put up later, but the Crabmeat you summon as a remote control item… you then lose control over it and it nips at your feet! You may notice that the Crabmeat looks a little different to the Crabmeat actually in All-Stars Racing, err, yes, it is actually based off of the in game model but I kinda got it tweaked so it looked more like a traditional Crabmeat. Sorry S0L! 😉
AiAi's t-shirt does come complete with backback as far as I'm aware. Beat's glasses proved a bit of a tricky point. He's always wearing the hat so…. do they have arms or not? In the end we decided not as thats somehow much cooler. Billy Hatcher's chicken hat was such a no-brainer, honestly its a chicken hat what more can you say? Actually I also helped compose all the descriptions for XBL and I think thats what we went with in the end. As you've no doubt guessed the Sonic Car Prop was indeed the item I cunningly teased a while back on the Blognik, this was (part) of the original sketch done by the SEGA Technologies Institute who fashioned all the DLC to describe the car's movement. Sadly I wasn't able to put up the second part, but I'll put up the full image as well as the one for the Tails prop here at another date. The Tails prop flies all around you, does a barrel roll and loop-de-loop if I remember correctly.
Thats all for now, I'm not in work today owing to a doctor's appointment so if I post on the SEGA blogs later you'll know its on timer.
Oh by the way, before the chorus of "Where's the PS3 stuff! Why do SEGA hate the PS3?!" SEGA don't hate the PS3, there are further DLC items coming relevant to the PS3 and there's something Sony related (but not ASR related) hopefully being announced later today, so yes I'm afraid you're going to have to pay attention to the Blognik again. Maybe 4pm/5pm time? Hint hint.
We're not done yet with Sonic & SEGA All-Stars Racing, oh no.