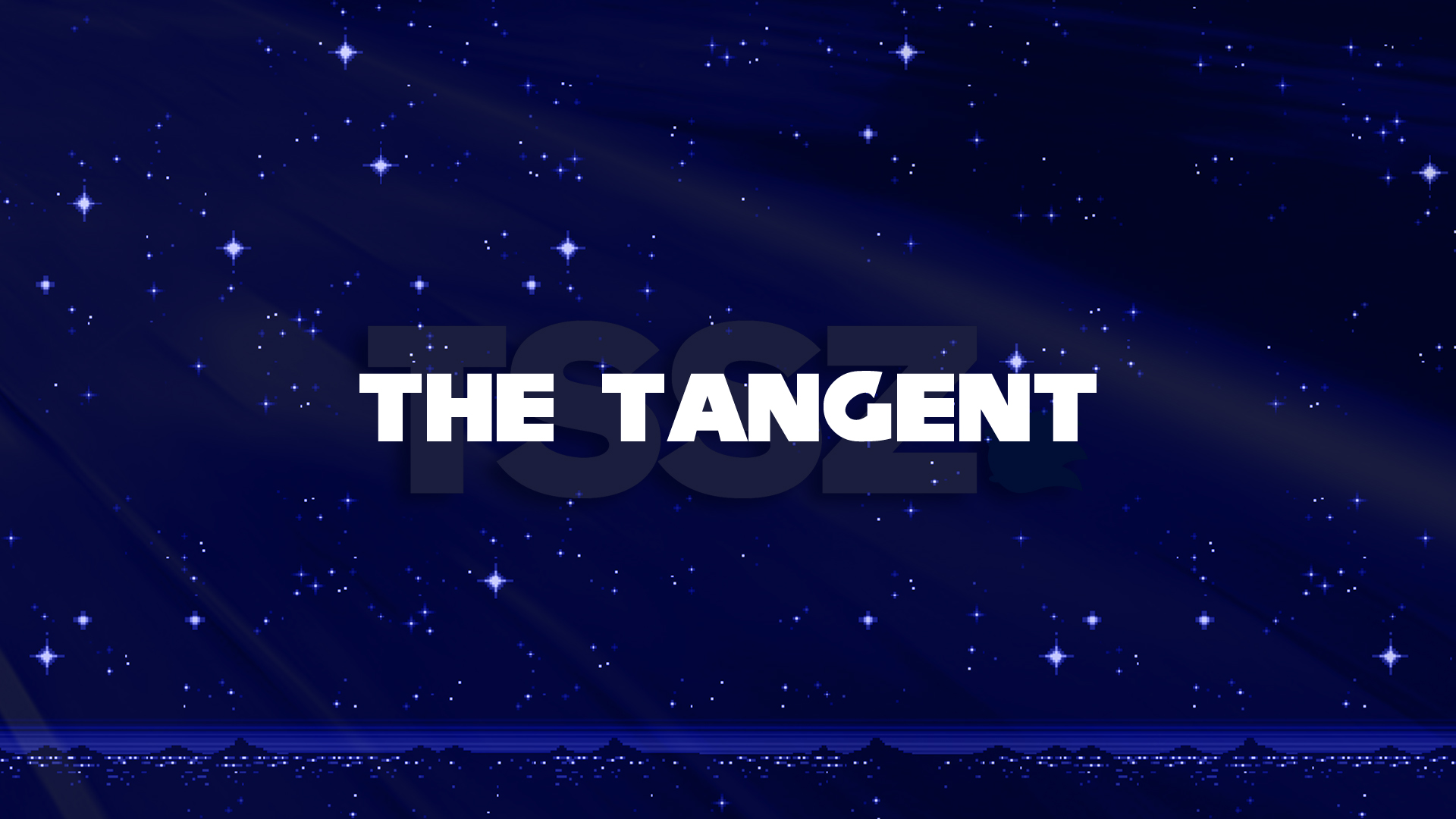 The Tangent: Permanence Lost
Note that this article discusses elements that could be considered spoilers for the game Portal, focusing on the ending sequence. Most spoilers will be kept to a necessary minimum, but if you haven't devoted the three hours to your adventures with GLaDOS, do so first before reading this. Trust me, there's much more to the game than cake jokes.
Nearly three and a half years after the release of Portal, the first major content update hit the PC.
Changed radio transmission frequency to comply with federal and state spectrum management regulations
Players were confused by the strange notification, along with a new achievement, "Transmission Received", with only "..?" as the description, and an icon of a radio. Previously window-dressing in the game, radios now sported a sharp red light on them, in contrast to the original blue, and increased their numbers to appear hidden at a higher frequency throughout the game. Carrying around the radios led the player to discover interference until they found a clear signal, in Morse code or audio-based data files. The data files formed images that led to people discovering a Valve-owned BBS, an old method of connecting to other people online where viewers would direct-dial numbers with their modems. The BBS fed into the ARG, Alternate Reality Game, with additional content and fake uplinks to Aperture Science data, including more clues, logs of the notes and mad rantings of the founder Cave Johnson, and a progress bar with very arbitrary Estimated Time Remaining listings, such as "EARLY DECEMBER, FURONGIAN EPOCH" and "4781 MILLENNIA." This ARG was very entertaining to follow, even if most people were left out in the cold due to the skills and equipment required, not to mention the insistence by some that only their chosen members should be dialing in and that all others were just choking the lines for them. But along the same time as the introduction of the progress bar, the next Portal update hit:
Added valuable asset retrieval
This is the subject of the article, because it does something nearly no after-market patch has done before, and it raises some unique issues to think about. We're about to talk directly about the ending to Portal, so this is your last warning.
With the original culmination of Portal, GLaDOS is destroyed in a whirling typhoon, and everything goes to blank white, before fading in to a view of the Aperture Science lot at ground level, birds chirping, pieces of GLaDOS clattering to the ground. Chell (we assume) is laying on her side, her fate unknown, but you do know that if even just for the moment, you've escaped. After a fade to black, the game then swoops your view back into the dark tunnels of the facility, to a room full of cores like the ones you threw into the incinerator. GLaDOS then sings her infamous song, "Still Alive." So you know GLaDOS is still around in some form, but you don't know what will happen to Chell. It's left up in the air, but in a positive way.
This patch makes one small change that really alters the tone. As you wake up on the ground and see the outside, you stay with Chell for a moment longer, then you hear a voice behind you, "Thank you for assuming the party escort submission position." Your viewpoint is then clearly dragged off by the robot as it fades to black.
This was a mind-blowing change to many, and several have praised it as a clever way to tie into the newly-announced sequel, by giving us an extended view of the ending. To be truthful, while I appreciate the unique approach, I'm not so positive about the change. While it doesn't directly contradict any content in the game before, and there is a specific logic to it, it twists the ending to be darker, because even without the lead-in of the sequel, we already know Chell hasn't really escaped from her captors, at least initially. The original ending was simple and left you on a high note, not to mention a nice cap to being trapped in a lab and office and industrial setting for the whole of the game. That's been spoiled in a way now, and there's no choice to go back to the original, and no point when we know this is supposed to be the "true" ending now. The strange thing is, if you told someone to play through Portal today, their experience wouldn't be the same as yours was when the game first released. That's how the game is now, and you can't really go back to the way it was, at least on the PC. There is a loophole in that the console versions of Portal don't yet contain these updates, but that has more to do with Valve's disagreement with Microsoft's patching policies and their lack of involvement with the PS3 version than any intentional alternative.
This is a unique issue we now face in this digital distribution age: our games can change pretty significantly over time, and there's nothing we can do to stop it. Nearly all patches, particularly for online-focused releases, are required before the game will launch to keep people on equal footing. Drastic changes to the game's mechanics can be fun to freshen things up, but they can really change the feel of the game as well. Another Valve title, Team Fortress 2, has so drastically altered and added to itself over time you might as well call it Team Fortress 3 by now. Play it on the Xbox 360 or PS3, and you're playing a radically simpler, more focused game, with some predictable flaws people plan around and count on. In a way, some people may appreciate that focus on the basics, when PC players now have dozens of unlockable weapons and items each affecting gameplay in unique ways. But short of heavy mod work, constantly reacting to changes Valve makes to player mechanics, you can't have that back again. What the game was three years ago has been patched out of your PC, and while most would see the changes as improvements, the classic game is gone under the wave of Jarate and Chocolate. Mmm, Jaracolate.
Another one to think about is the game subject to a central server shutdown in January, Chromehounds for the 360. This was a sleeper hit people discovered over time: a mech simulation title set in a persistent world, where player changes and shifts in power would stay in play even after disconnecting, for other players to cope with and assault. However, a little over half a year after the game's release, developer From Software put out a patch attempting to balance weapons and other aspects of the game, but ended up changing the strategy and mechanics of the world too drastically by accident. For some, the changes destroyed the game's enjoyability, requiring a later patch that still didn't address all of the issues. Either way, the game they purchased that played one way before was radically modified up to six months after they put cash down for it, and they had no choice in the matter. Today, the game has certain aspects that simply don't function due to the lack of a centralized server, and because Xbox Live is restricted as a closed system, private servers can't be set up. Game servers closing shop is no new thing, but it is an increasing issue as parts or all of the games we buy gain a Dead By date.
Some games even build themselves around a plan of development evolution. Anyone looking at a game like World of Warcraft as a start-to-finish RPG is playing it wrong. Anyone starting to play it now will have missed out on all sorts of plot events in the game, and anyone who quits it will miss out on the new developments. The game's lore and quests evolve with the players as time progresses, events happening for set periods as part of the plot, not to repeat themselves again. It was only in December that the Wrath of the Lich King expansion story could be truly completed, despite a release date ten months prior. This was not in the game before, you couldn't get to it. That's the nature of the game, because it was a new part of the story for a huge number of people to experience all at once, not ten minutes or two weeks after the game's release, but staggered out over time in events, changing reactions and quests from NPCs, the appearance of new locations and dungeons, and other things happening that will never happen again in the game. The Scourge Invasion, The Gates of Ahn'Qiraj, The Zombie Infestation, don't expect to see these events in the game anymore, at least not in their original forms. But for a time these changes were something that happened bit-by-bit in a developing world, something everyone playing was following and enjoying, but that also altered their game permanently. There are people who beg for the ability to raid classic dungeons with the old gear standards, because as time has passed, Blizzard has introduced new and more powerful gear for the lower levels, increased stats and abilities, even adding mounts to levels as low as 20, when they used to be a prize for the highest levels, only gained after huge amounts of work and in-game currency. Or perhaps very little work and lots of out-of-game currency, in a few cases. Either way, there are some ways to limit yourself to try to recreate these situations, but that game that they want to play again is gone.
This is only a trend that's going to continue, and it's going to get worse as developers get patch-happier on consoles. In these cases, most of the changes are positive, but there's very few developers you could put on the tier of Valve and Blizzard, and that's certainly not going to stop the less adept from attempting the same things, for the wrong reasons. How about patching out a licensed character they only paid to use for the launch period of the game? Or that run-and-gun title going from a solemn, ironic ending to an open-ended cliffhanger to accommodate the sequel they decided to make? In some cases, it puts a time limit on the experience a game provides, and if you don't like the changes they make, you can't get your money back. What's there left to do? Why, the single most-mocked thing a gamer can do, complain on the internet and swear off buying the sequel. We love to pick on these people who seem to complain about the little things, but this is literally the only course of action left to them. Their money has been taken, the game they bought has been changed without their approval, and they're told to deal with it. It's always easy to pick on the people who make these complaints until there's a drastic change in the game you enjoy most. Then what do you do? You shut up and deal with it, because your money's already spent and your purchase is meaningless now. How would you enjoy that as a response to your frustration?
This post was originally written by the author for TSSZ News.