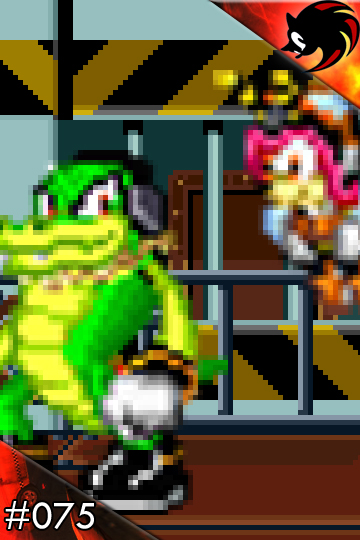 #075 – The Maltese Chameleon

COMIC NOTES
"The Maltese Chameleon" was completed on 27/10/2007.
The subtitle is a reference to the film "The Maltese Falcon"
This comic is storyline, despite what the disclaimer might infer and is the first to feature the Chaotix for a long time indeed. It is also the (one of if not) the first to directly mention the absence of Espio from the comic in storyline.
Fans of Espio eagar for his inclusion won't be pleased this seems to give reason for his absence.
That Espio might have gone willingly, is as you can see from the asterisk a reference to Radio Redux episode "The Chameleonic Show" (#024). During which Echo Hawk (referencing her appearance in the comics as traitor "Hawk") talked with Espio about the benefits she gets for being a part of the Robot Legion – interesting the impoverished Chameleon.
HAS he joined the Robot Legion? Who can say…
The yellow asterik section is reference to Archie's Sonic The Hedgehog comic which is increasingly making reference notes to previous comic.
Charmy and Vector's discussions about a female bee are a reference to Charmy's girlfriend Saffron in the Archie series.
Emerald Coast's "Just In Time" comic series celebrated its 150th issue by author Vger revealing a mysterious shadowy character was – in perhaps a reference to hit series "The Prisoner" (ask Emerald Coast)- the author Vger himself. The resultant two Vger-paradox caused the comic to fall apart.
Hedgehog character Brian the Hedgehog then appeared dismissing the whole thing as ridiculous and wondering whether or not Sonic Wrecks "were hiring".
Brian's appearance in this comic (including CV clearly saying JIT 150) are a receipt of that reference.
The Wescin Rocks logo appeared at the end of 2006 til the beginning of 2007 as a placeholder until the new version of Sonic Wrecks came online.
Storyline comics have been building to Wescin Rocks for some months – hence Charmy's confusion as to why its first appearance in the comics is given away so cheaply. Heh.
Wescin Rocks is of course an anagram of Sonic Wrecks. The logo is a take off of the logo of the Torchwood Institution from the series Torchwood.
Canon and Hewlett Packard both make printers of course.
The description of Sonic Wrecks is a reference to Morrissey song "First Of The Gang".
At the time of writing, AAUK had just had a playtest of Mario & Sonic At The Olympic Games and was indeed undefeated.