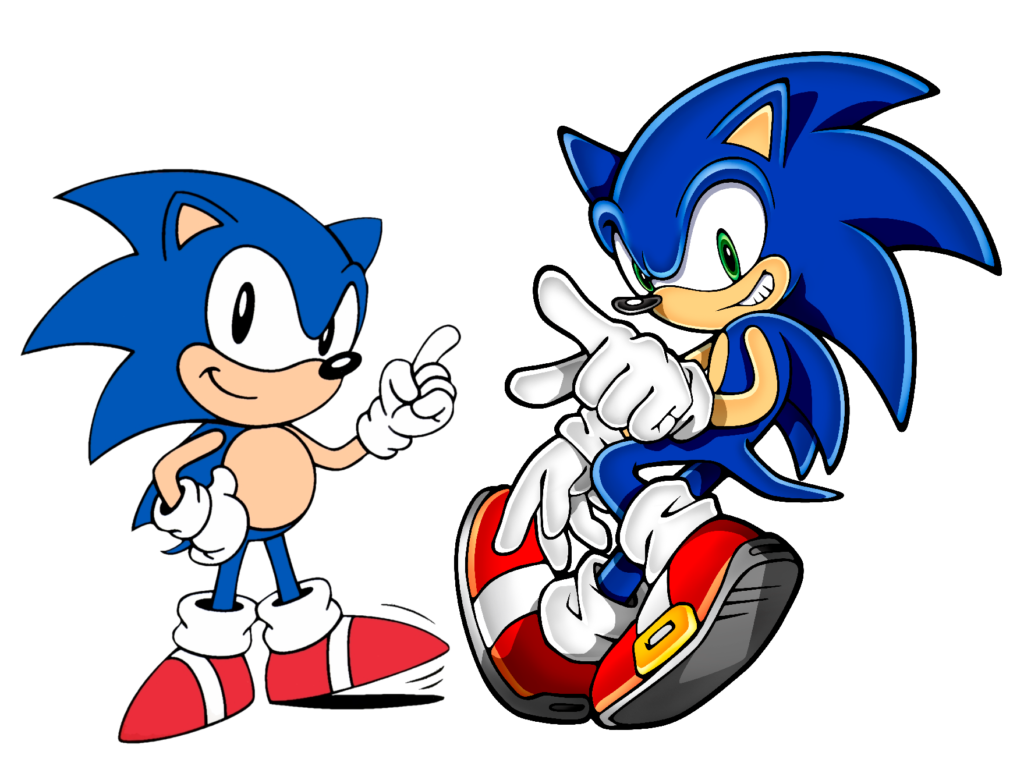 The Tangent: Classic Confusion
Ah, I love the smell of giant banners in the morning. As you've hopefully noticed already, TSSZ recently got a brand new makeover, with new logos and plenty of Web 2.0 trimmings. So on Hedgehog Day, and as Sega ramps up promotion of Sonic's 20th anniversary, an impressive accomplishment for a character who's only 15 I might add, it only makes sense to reflect on a fairly unique image crisis they've had brewing for some time now.
In 1991, Sonic's roly-poly form blurred across TV screens of multiple nations. In all regions, Sonic's trademark `tude was in show on the box as he waved his finger at the buyer, or perhaps he was pointing you toward a copy of Flicky on the shelf above, who can say for sure. But America's depiction of Sonic had a slightly different look to him than the Japanese one. You could argue it was just a difference in the artist's style, but that doesn't change the fact that Sonic's design was "Americanized" during the development of the original Sonic the Hedgehog, and this causes some big battles between Sega of Japan and America. I won't bog the article down repeating what a lot of you already know, so if you haven't seen it, watch this GameTap retrospective, it details a side of the Sonic development process Sega doesn't usually talk about.
Even as Sega of Japan grew to tolerate the alterations, a design dilemma was slowly coming to a head. Drawn from certain controlled poses, Sonic's classic design looks fine. The same goes for the in-game sprite work: certain visual cheats are used to make them look good, even at angles where they shouldn't. When Sonic made the jump to 3D, the techniques to translate these visual cheats to polygons hadn't yet been developed, so after a few early attempts, Sega was forced to alter Sonic's design to better suit 3D and a user-controlled camera. From here, Sega decided to go all-out with a new visual style, complete with "Keep on Truckin'" Sonic with longer quills and limbs, a less-tubby torso, and bright green eyes so he can see where he dropped his rings in the dark. Other characters saw varying amounts of changes, like Amy stealing Claris' Christmas outfit, and the good doctor donning his goggles. That do nothing.
And that's how they've appeared since, barring a few tweaks and tucks. Even in and on products that focus on a classic Sonic experience, in any new art necessary for title screens or packaging materials, Sonic is drawn with his post-Adventure stylings, with one notable (not recycled clip-art) exception present in the US only, very recently. As stated in this Nintendo Power interview about Sonic 4, when quizzed about the possibility of a retro Sonic skin, Takashi Iizuka replied, "all Sonic character designs were changed in 1998, and since then, all new titles have those new designs." For some reason they will still reference the old sprite work, even inside of games like Sonic 4, but in any large-form artwork or new development, Sonic is to have his new design. At least they're being consistent, right?
Marketing apparently wasn't listening, however, and has sent some mixed signals to consumers. There is a big audience for nostalgia in the US and Europe, and some people who dislike the new designs have found themselves increasingly catered to in recent years. This goes beyond a random Hot Topic shirt or two; chess sets, retro plushies, $160 statues, with more potentially on the way, that and more focused on a look the series hasn't sported in almost 13 years, despite still being active. Even the licensed Archie comics add to this, with new Sonic Archives adorned with freshly-drawn covers mimicking the classic Japanese artwork. Now, this isn't the only license to have multiple marketed eras, you could perhaps relate it to pop stars who have particularly iconic moments in their careers, and there is the overwhelming desire in marketing to milk people's nostalgia for a series they may no longer follow, or "long for the old days." Yet it's strange that Sega would approve of all this marketing, when it creates expectations for the games they, so far, have had no intention of fulfilling.
Not too long ago we saw the release of Sonic the Hedgehog 4, billed as a direct sequel to Sonic 3, even in story. But if you had any distinct memories of Sonic 3, or played it via one of the many download services or compilation titles available, you'd be blind not to notice the differences in character design. Sega had an opportunity to retroactively, smoothly transition Sonic's design from the classic look to the current one over the series of episodes, in some ways bridging a gap that they had before expected everyone to jump over. But no, Sonic was there exactly as he appeared in Unleashed, and someone within Sega adamantly refused to even include a retro Sonic skin optionally, despite the large number of requests for it even before the delay. In some ways, I think this added to the "classic pretender" feel of Sonic 4 many expressed, claiming it was a direct sequel, but refusing to take that extra step and possibly dilute Sonic's brand image for even a moment to do it justice. Between this and the inclusion of things like the homing attack and boosters, it gave some the feeling that someone at Sega wasn't really prepared to commit to a "true" sequel, even if this was the original intention of the development group.
Yet, so soon after Sonic 4, there's this feeling that something's shifted within Sega. Sonic Colors hit the market just a month after the delayed Sonic 4, and it's hard to pin it down, but the combination of the writing and structure of the game was somehow a better throwback to "Classic Sonic" than Sonic 4 turned out to be. With a new voice cast and writers, it feels they want to take a different approach to the series, perhaps re-evaluate some of the decisions that were set in stone before. Iizuka expressed his work with the Mario & Sonic titles to be a real eye-opener, and stated that as an influence on the design of Colors, for example.
Then at the start of the year, Sega opened the Sonic 20th Anniversary Site, and with it, this artwork was released. Not Sonic posing by himself like anniversaries before, but posing with his classic image redrawn, if even just a trace. I know it doesn't sound that impressive ("It's just a picture"), but this is an image they've basically washed their hands of for over a decade now. New Sonic was The Sonic. Looking at the toys I linked above, the prototype Jazwares are branded with the 20th Anniversary seal, and actively note their reflection on the hedgehog's history. Is it possible that with Sonic's platinum anniversary, that we'll see a true embrace of past and present both within the brand? It's probably too much to hope for, given prior history, but it would make an interesting change if so. Even the most recent Sega blog update may suggest a direct comparison in the cards. You'll also note that months after the release of Sonic 4's first episode, there's been no word or image of the second. Episodes are traditionally developed ahead of time, or with a significantly overlapping schedule, so they can actually be released at a reasonably-paced schedule, and avoid the Half-Life trap. Assuming, hoping, they didn't wait until the very moment Episode 1 went live to start work on Episode 2, that might suggest some significant changes or additions to the title. Either way, further new Sonic title sit unannounced; once those are brought to light, we'll have a better idea of how Sega's approaching this anniversary, and their history. Hopefully there's a little of this in their plans.