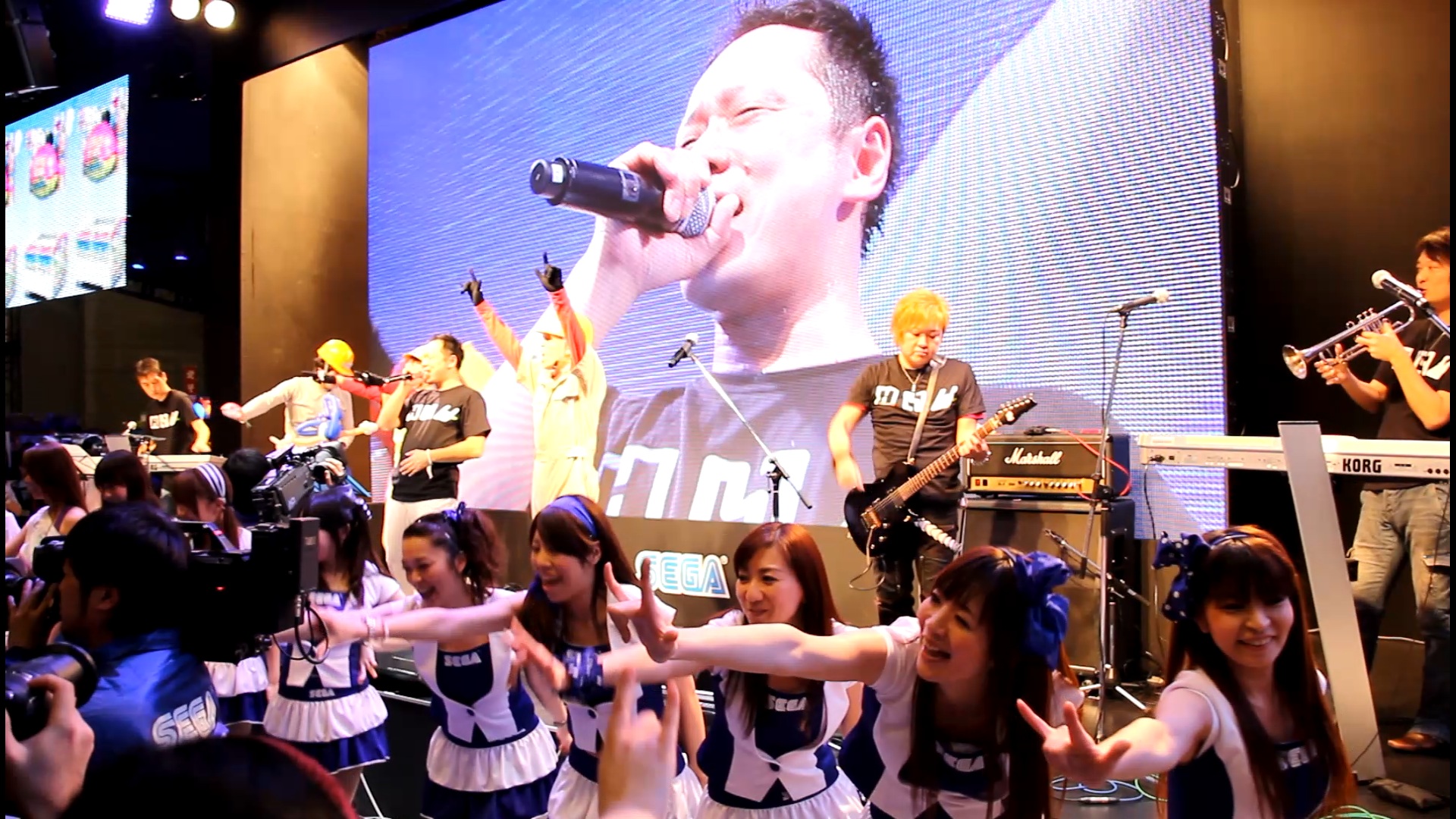 On the 17th and 18th of February SEGA attended this year's AOU arcade trade show alongside Konami and Namco-Bandai. While SEGA had the largest amount of floor space they didn't have many new games on offer. In fact, most of the titles on the show floor overall were revisions or updates to already available games.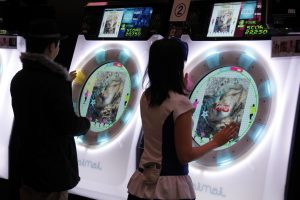 On the video game front, SEGA's new flagship title for arcades was maimai. This new rhythm game can be played in two-player co-op and versus modes. All the action takes place on a circular screen with eight buttons around the rim. Circles and stars come out from the centre of the screen and need to be hit in time with the beat as they reach the outer edge. In the case of a star, a slide mechanic comes into play where the player hits the button on the outer rim, then slides his or her hand diagonally across the screen. The soundtrack was somewhat limited in this version, but a couple of VOCALOID songs alongside a very odd dancing cat song were proving to be the most popular tracks. Those who played the game received official maimai playing gloves and a plastic folder.
Under Night In-Birth, spiritual successor to Melty Blood, was playable on two cabinets on the show floor. Its crisp graphics and fluid characters drew in a small, but dedicated crowd to get to grips with the new characters and game mechanics.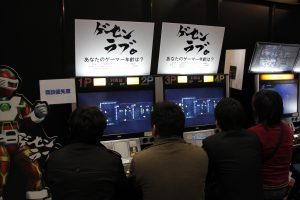 Gēsen Rabu ("GameCenter" / Arcade Love) harks back to '80s and '90s arcade games with its distinctive shooting and action modes. Up to four players can compete in increasingly wacky minigames in the action mode. Some examples include running a marathon as the screen orientation keeps changing from horizontal to vertical, ringing a doorbell hundreds of times before running away and Frogger-esque log-jumping hi-jinks. The shooting modes were a little more straightforward, although they also included moments where the screen orientation would change to mix things up a little.
Shining Force Cross Illusion and Border Break Air Burst Ver. 2.7 both proved very popular amongst their fans despite being slightly updated versions of the games they were already so familiar with. Virtua Fighter 5 Final Showdown was also present as usual for the yearly VF5 competition.
Videos of Sengoku Taisen 15XX Gokishichidou no Yuu, Sega Network Taisen Mahjong MJ5 and Guilty Gear XX Accent Core Plus were shown, but they were not present in any playable form.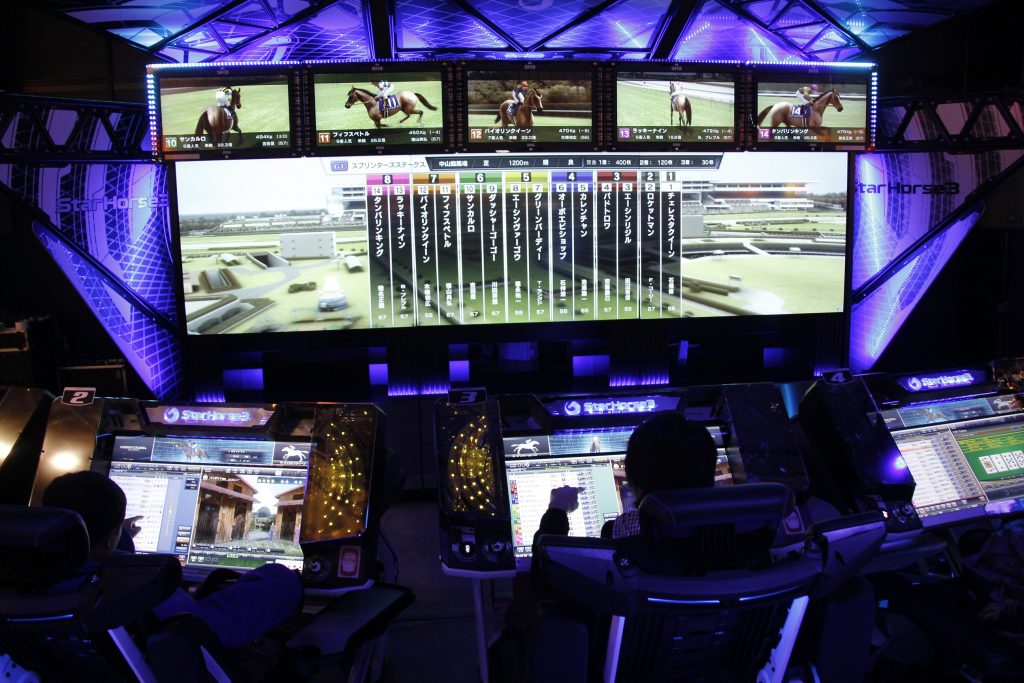 AOU is more of a trade event than a consumer event, so it is not only for new titles. Medal games prove to be quite popular in terms of making money in arcades, so there were quite a few of them playable in the SEGA area. The main one that stood out to SEGA videogame fans was Medal de Fantasy Zone. Aimed at children, this sit-down game requires a seemingly endless number of SEGA tokens being fed into a slot while up to four players play a simplified version of Fantasy Zone on a large table screen.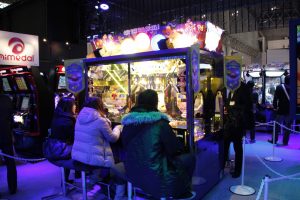 The other gambling / medal games on the show floor were familiar sights from previous AOU shows: Mario Party Kuru Kuru! Carnival, Bingo Drop, 100 & Medal HYOZAAAN !!, 100 & Medal Geki KAZAAAN !!, StarHorse3, StarBoat, THAT'S PARADiCE, LADY LUCK, Arabian Jewel and Hako Emaki Manpuku Suizokukan.
Several other machines are a little bit harder to categorise, Sore Ike! Anpanman Popcorn Kōji Yō 3 is a popcorn dispenser with popular Japanese children's character, Anpanman, gracing its décor with his presence. Meanwhile, Darts Live 2 is an electronic version of darts not unlike those you may have seen in Shenmue over 10 years ago. Perhaps the strangest "game" on the show floor this year was Toirettsu, a set of urinal games. It was playable on the show floor with a suitably apt controllable fountain as well as a row of urinals in one of the nearby toilets. These customised urinals measured the amount of urine each "player" passed while displaying various types of markers on-screen for just how much had been passed.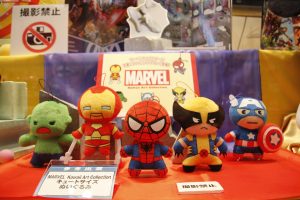 SEGA are well known in Japan for being toy and figurine producers as well as one of the biggest arcade chains. Not surprising then, that this show is used to promote their crane game machine UFO CATCHER 8 Second as well as the prizes that they will be supplying over the next year or so for these machines in the Toy Fair section of the show floor. Hatsune Miku and Marvel plushes were amongst the most eye-catching here.
There were several stage events held over the two days of the show, but most of these proved impenetrable to those unfamiliar with the machines in question. They were all quite jolly, involving dancing SEGA ladies or buff topless men – something for everyone. Official SEGA notepads, handed out to passers by who completed a questionnaire, proved very popular towards the end of the second day.
The final day ended on a high with SEGA's in-house band SEGA Sound Unit [H.] playing live. The atmosphere was incomparable. Not only because of their stage presence, but also due to their die-hard fans waiting to see them perform. Their set was shorter than previous years and sorely missing Magical Sound Shower, but no-one could really be mad at them after opening with Burning Hearts. They promoted their debut CD, but it seemed that everyone present had already ordered theirs. After the performance, Sonic and… a person that could only be called "Sega Saturn Man" showed up to officially end the day with some photo opportunities.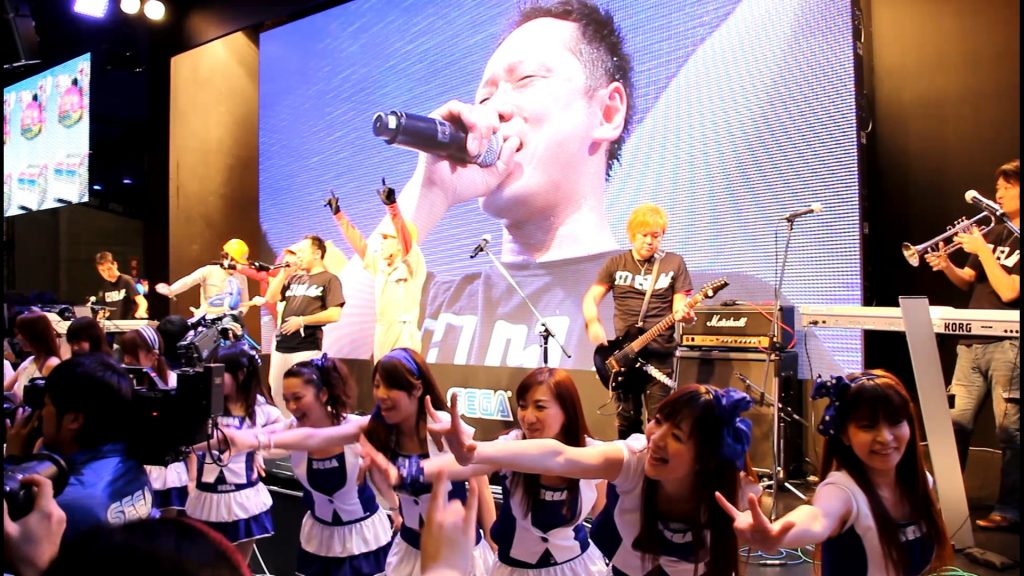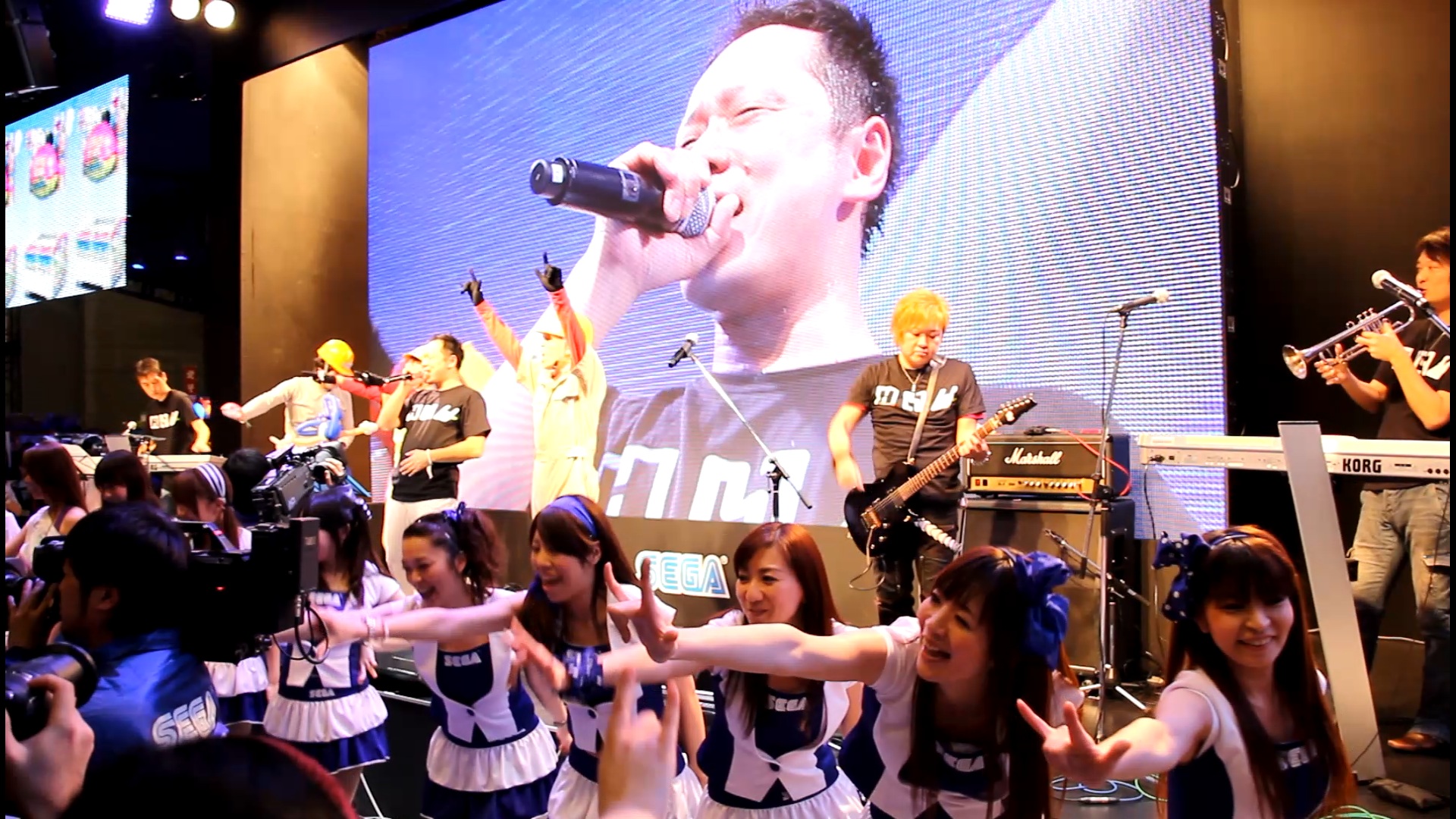 While almost all of the titles mentioned here will never make it over to the West, keep an eye out for downloadable versions of Virtua Fighter 5 Final Showdown and Guilty Gear XX Accent Core Plus on XBLA and PSN later this year.
This post was originally written by the author for TSSZ News.