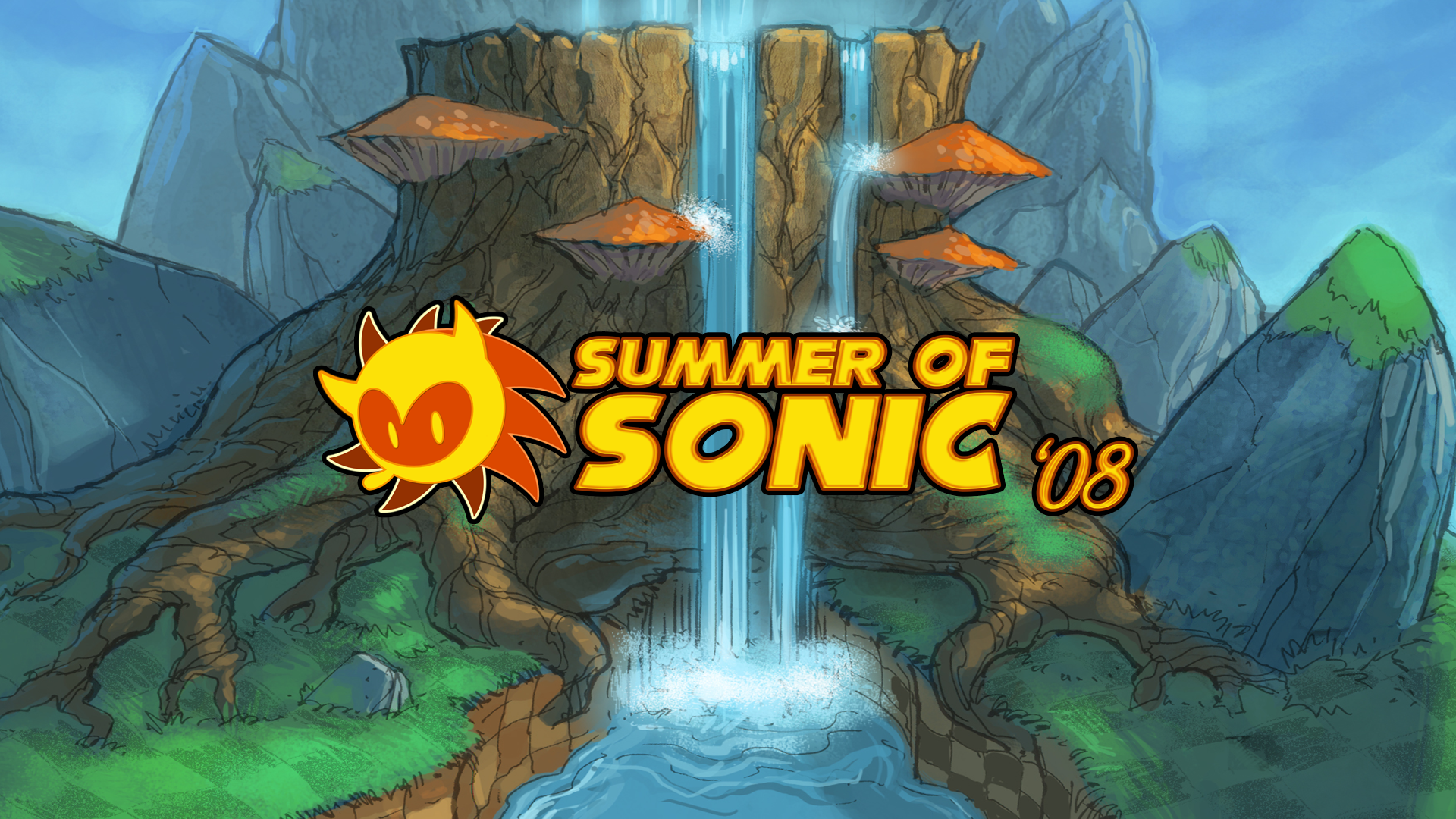 Review: Summer Of Sonic 2008
I've got to get this off my chest first of all; Summer of Sonic 2008 was a fantastic event and one I'll remember for a long time to come. A huge thanks go out to Sega, Sonic Stadium and anyone else who was involved with organizing it. I don't know of a single person having a bad time and I know I had huge amounts of fun. Thank you very much.
That's out of the way, it's time to write some news!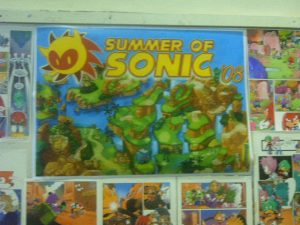 Dragon Hall, the place hosting the Summer of Sonic was a mere five minutes walk from Holborn Tube Station in London. Far from heat and brilliant sunshine Saturday was very typical of a British summers day by being cloudy and raining a lot. The unofficial tag line of the event; "Can You Feel The Sunshine" had a very ironic twist to it as I was drenched by rain to and from the Summer of Sonic. Fortunately the weather was about the worst thing to happen on the day. Arriving at Dragon Hall at 11pm I had a ten minute wait to get inside thanks to the place already being packed. Inside I could hear various Sonic songs being played to the room and once I got inside the fun began.
The hall, predictably was already full of people. I had problems of finding somewhere out of the way to stand as people were trying to navigate their way around the place.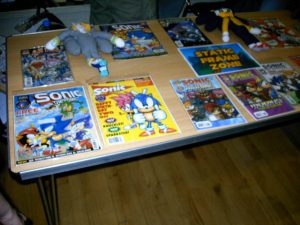 After managing to politely manoeuvre around several people I first made it to the Comics Zone. Cited on the far wall of the room the area had a number of issues of the UK Sonic The Comic and even some Archie Sonic Comics as well. All could be read and some of the covers brought back strong feeling of nostalgia from me.
I collected Sonic The Comic starting as a young lad of 8 years old. I'm 23 now and I'd not seen any of the comics for many years. I'll really have to dig mine out soon. Anyway, on the wall behind the table were a great number of prints from STC. Some featured Knuckles in a story drawn by Nigel Dobbyn. Others compared the line drawing of a scene with a fully coloured one. Later on in the day Nigel Kitching was sat in the Comics Zone signing a huge number of things brought from a large number of fans, but more about him some other time…
Further round the room was a large cabinet featuring enough rare Sonic Merchandise to bring any Sonic fan to their knees. It included such things as games (Sonic Blast for Master System, only released in Brazil!) figures (A limited edition 10th anniversary 3D crystal figure and a limited edition 17th anniversary figure to name a few), CD's and clothes (A Sonic & Knuckles branded jacket and Sonic Rush shoes). One special item had been donated by Sonic himself. I'll leave you to look at the pictures and try to figure out exactly what that item of clothing was though it shouldn't be hard to figure out as Sonic doesn't really wear too many…
Sega had brought a many number of things to the event. As well as the Sonic Chronicles Demo was a Wii Pod with Sonic and the Secret Rings. It had two remotes and saw many people playing the main game by themselves and then a few party games with a second person. Almost more excitingly was the amount of concept art that had been put up beside the pod including some face sketches of the Erazor Djin, another enemy design and some early drafts of a Secret Rings magazine advert showing it's evolution to the final printed product.
The Guinness World Record Team were at the show timing people through the first act of the Emerald Hill Zone for Sonic 2. Played on an actual Mega Drive and not a 'Sonic Collection' meant that unlike some other Sonic based world record attempts (like the fastest times through Sonic 2… taken from X-Box Live) this would be as authentic as possible. Competition was tense throughout the day. The fastest times were around the 27 second mark which was good. At the end of the competition two people were tied with 21 seconds and literally just as the winners were about to be announced a crowd of people (myself included) whooped and hollered as someone blasted through the level in 20 seconds! They were awarded a prize and an entry in the Guinness Book Of World Records: Gamer Edition 2009.
Other areas included the Art Zone where people were asked to draw and the top few would be showcased with the winner receiving a Nintendo DS. The artwork that was shown was of such a high quality I could barely believe it. It was mentioned that the talent of some Sonic fans is overwhelming. The DS though went to a young child who couldn't have been any older than 7 and while it wasn't the best looking picture shown it was easily the most impressive, especially from a child at such a young age.
Finally was an area dedicated to Sonic Fansites. Sonic Wrecks did a great job of gathering a vast number of websites and writing a positive yet truthful small piece about them. Even TSSZ News was part of the line-up which was great to see as I didn't know such an area of Summer of Sonic was going to exist in the first place and I, myself didn't ask for this site to be put up there.
There's a lot more to talk about regarding Summer of Sonic. Over the next few days I'll be posting more about the show including my impressions of Sonic Chronicles, an interview with Nigel Kitching and an overview of some of the events that happened on the Main Stage. None of this is First@TSSZ News but all of it is with thanks from myself, a huge Sonic fan who had a fantastic time along with hundreds of likeminded people.
This post was originally written by the author for TSSZ News, a minor correction was made in 2021 by LMC as the website profiles were originally erroneously credited to The Sonic Stadium.