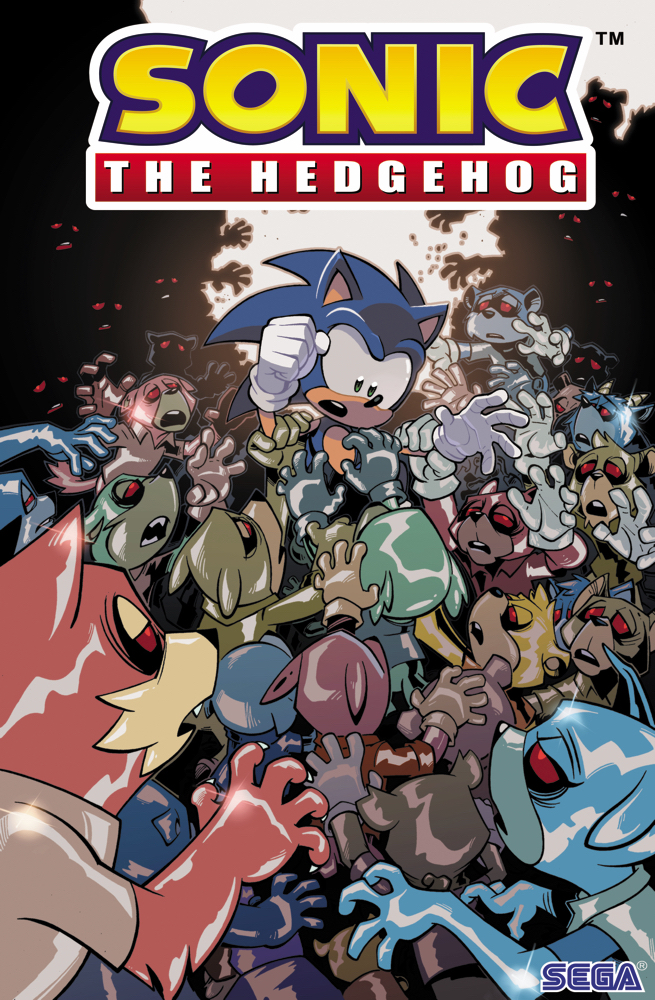 IDW Sonic the Hedgehog Issue #20 Review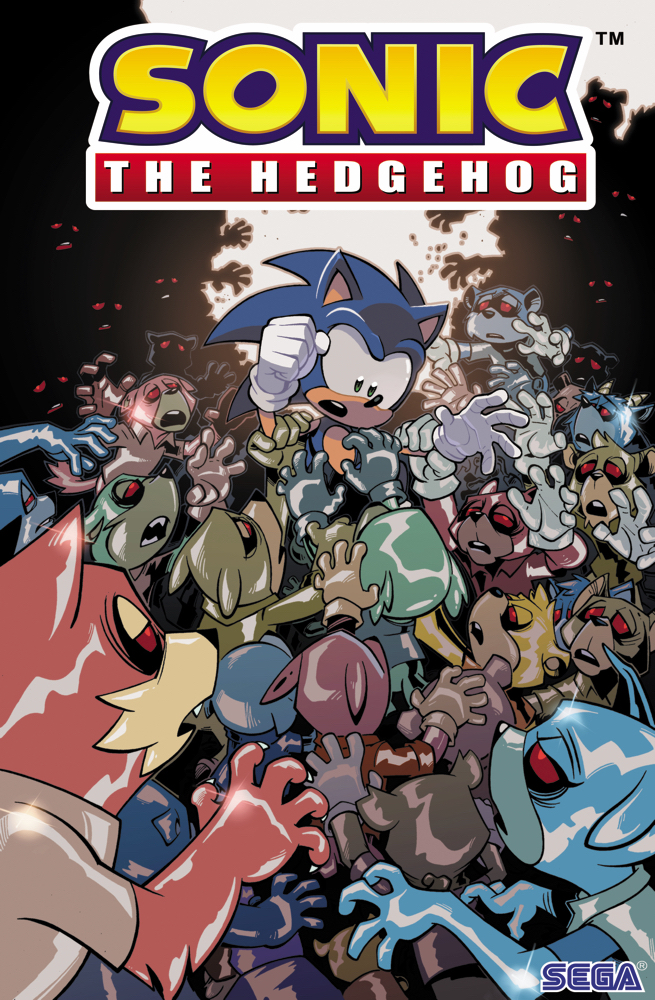 Issue 20 picks up exactly where issue 19 left off, where Infected Shadow has Sonic pinned down and Sonic realizes Shadow has made a grave mistake in not listening to his advice.
Let's recap today's issue.
Infected Shadow has our hero, Sonic, pinned against a G.U.N truck that will be used to transport refugees from Sunset City to Restoration Headquarters. Sonic is able to escape from Shadow's grasp and the two wrestle, during which time Sonic compares Infected Shadow to the Virus Free Shadow, noting that Virus Free Shadow would have been able to fight Sonic more accurately than his infected personality can. Meanwhile, Sonic's infection is spreading rapidly as Shadow and the surrounding Zombots fight him.
Sonic realizes he can't fight the Zombots and protect the refugees while his infection is spreading as rapidly as it is. He tells Rouge to leave with the refugees and he will take care of the Zombots and Lee them from following. Rouge complies, leaving Sonic to handle things here. Only Omega leaps into the fray, because of course, the Zombots are an Eggman creation and Omega can't leave them without destroying them. As the two take on the mass of Zombots, Sonic notices Infected Shadow chasing after the G.U.N truck, (although he's doing so incredibly clumsily and slowly compared to Virus Free Shadow, as Infected Shadow has no idea how his hover skates work). Sonic is able to turn Shadow around and back to the horde of Zombots.
Omega notes that Sonic's infection is spreading at a dangerous and rapid rate. Sonic doesn't want to leave Omega to fend for himself while he goes on a treatment run. Omega refuses to let Sonic stay, but is attacked by Shadow and ultimately torn to pieces, (don't worry; he's still alive. His head still functions. He just doesn't have a body anymore). Just when all hope is lost, Tails and Silver show up to save the day. Silver grabs the Zombot mass, (Shadow included), giving Sonic the chance to go for a run and Tails a chance to save Omega's head before he is completely lost.
Flash forward, the group arrives at Restoration HQ where Sonic meets up with Cream. Cream is helping the refugees by doing her best to keep her spirits up, but nightmares about Cheese and Chocola's fates haunt her, making sleep hard to come by. Sonic comforts her and is able to go and meet up with Rouge. Rouge asks Sonic about Shadow, and he is forced to tell Rouge of Shadow's fate. In a brief moment of visible pain, Rouge angrily says Shadow should have listened to them and storms off. (Just saying, this scene physically hurt to read. Team Dark seldom shows emotion towards each other, but they're arguably closer than even Team Sonic is, so when their leading member is lost and we see Rouge's reaction here, it made me very sad).
Sonic heads over to Amy to say hi. She's obviously happy to see he's alive and somewhat well. During the conversation, she receives an urgent message and is torn away from the conversation. Sonic leaves her to do her work, bumping into the Chaotix, who are still mourning the recent loss of Charmy. The Chaotix discuss their next mission, hopeful that along the way they find their lost friend. They say goodbye, and Sonic morosely turns and walks away to meet up with Tails and Silver.
Tails describes a sensor that will allow him to read Sonic's vitals while he runs off his infection, hoping that this will lead to the key to curing the virus. The three devise a plan to read the data at Tails' lab in Central City. This certainly seems the best plan of attack for the group.
Meanwhile, Doctor Starline is doing his own research on the Metal Virus, which Doctor Eggman is currently refusing to learn to control. During his research, Starline discovers Eggman's files on the Deadly Six, and believes that he can use their electro-magnetic powers to control the Zombots. The issue ends with a final panel warning us of next month's issue: looks like Cheese and Chocola Chao found their way to Restoration HQ, putting the lives of our heroes and hundreds of refugees at stake.
Oh boy this month's comic was quite the read. I found the fight between Shadow and Sonic incredibly fun to read. The art and the movement within the panels made the scenes in each panel flow incredibly well. It felt more like watching a movie than reading a comic book. Aside from that fight, this comic was very low-key, like the calm before the storm. I enjoyed the check-in with all the characters we've met up until now and al the events we've seen in the most recent few issues. Overall I'd say the issue as a whole is a very solid read.
Let's talk a bit about the art in this issue. Jack Lawrence did the artwork in this issue and the previous issue. I really love his art style. It works incredibly well and is simple enough not to be overwhelming to the reader, (which is a big factor for me when reading comics. Too often I feel like some artists try too hard to make their comics incredibly over the top detailed, so much that it makes it hard to focus on the story of the comic). Lawrence is able to compliment Flynn's stories and tell them with a depth that I feel like in some areas need no words. Like Rouge's pained face when she learns Shadow's fate. Overall, the art in this issue is top notch. Lawrence and Curry deserve their kudos.
Flynn continues to deliver the story in well timed chunks so as not to over tell the story and not to sell the story short. So far this story arc has been my favorite. It's dark, putting the characters in situations they never dreamed they'd be in, the situation seems like it can't be won, yet still our heroes press on because they believe things will get better. I can always tell how much effort Flynn puts into the writing because it always feels like I'm not actually reading a comic book; it feels like I'm playing a Sonic game or watching a Sonic cartoon. Flynn is an incredibly talented writer in all rights, and as I mentioned recently in my last review, he knows the characters well. He adds little interactions that make you feel either really good or really bad. As an example, he wrote that Sonic would put on a brave face for the Restoration, despite the fact he lost another friend to the plague and he's absolutely and utterly exhausted. He wrote that Rouge would turn away, and react out of anger rather than sadness upon learning of Shadow's fate. He wrote that Shadow would attack Omega and almost destroy him entirely. These small details in the story are what makes Flynn an incredible writer. I honestly enjoyed the writing in this issue and Flynn continues to not disappoint.
This is an issue that I recommend thoroughly, and if you haven't gotten into the IDW Sonic Comics, I recommend you do so now. These comics are going somewhere special. As for the next issue, obviously I predict we see the Restoration go into panic mode because Cheese has found his way inside. I think we will see a big interaction between Cream, Sonic, and Cheese. Maybe Cream will be infected because she believes she can save Cheese. Or, even worse, maybe Cheese manages to infect Amy and Sonic isn't able to save her. In any case, I am very excited for September's Issue.