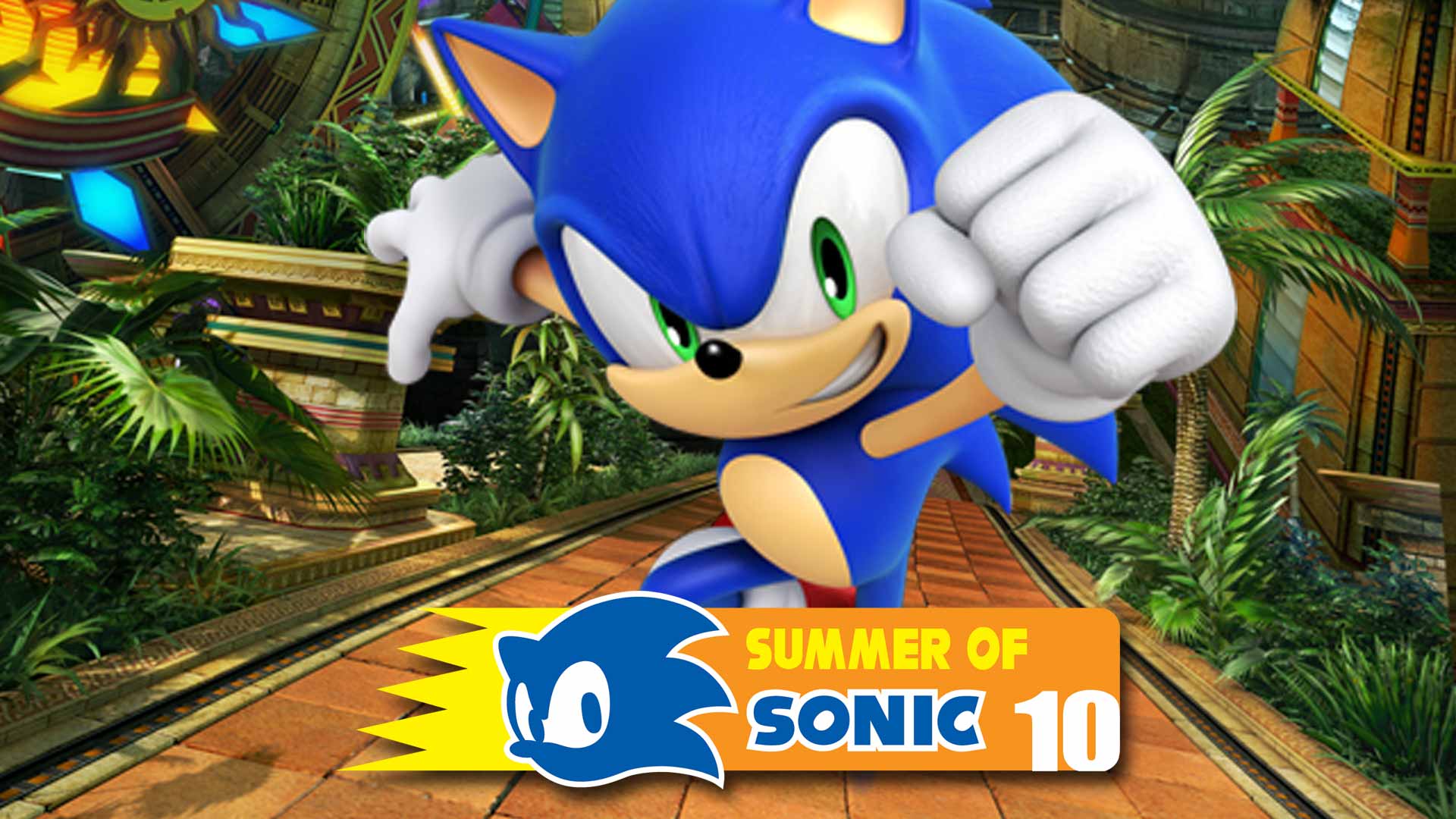 Summer of Sonic 2010 – Saturday 7th August 2010
Wow, I was hoping to go at the same time as Dreadknux with the announcement on TSS but boy did I get blindsided by a load of work today (or yesterday by the time this goes up), so what's going on with Summer of Sonic 2010? Well first thing I should do is officially confirm they'll actually be a Summer of Sonic 2010! Yes, the world's Sonic The Hedgehog convention returns in 2010.

Though I'd like at this point to say, as we approach the fourth Summer of Sonic how DEEPLY disappointed I am with the entire thing. I know we've not really revealed anything yet, but I mean look at the logo, Sonic's eyes there are blatantly blue – neither black nor green. Disgraceful(!)
After the initial 2006 celebrations and two conventions, and it is a major convention now folks make no bones about it – I think the guys who run this shebang with me actually realised what a damn bind it is for me personally to juggle all the balls and try and balance the "wow we must have that" with the "yeah, do you realise how much that'll cost" so one of the things I insisted (with my big SSMB whacking stick) was we got a bit of a committee together to actually plan the damn thing a bit further in advance. Plus I'm sure Echo Hawk doesn't want to see me half-kill myself AGAIN for this thing.
So here's item number one – namely that we wanted to lock down the date early. We were already discussing it when a fan rang up SEGA Europe from America last week and shocked our secretary by asking when Summer of Sonic 2010 was. I was unfortunately VERY busy and wasn't able to take the call myself so gave some feedback for her on the fly, whilst trying to do an incredibly important presentation. The fact they then asked for me specifically was surprising and I'm very sorry I wasn't able to speak to them personally. Turns out they wanted to book flights early SPECIFICALLY for Summer of Sonic, it was a bit of an "Oh…OH…" moment and I said to call back in 2 weeks. Well hopefully they'll be able to do just that now and book their flights. Let me clarify the date again.
Summer of Sonic 2010
Saturday, 7th August 2010
That's all that's definite at the moment. Thankfully I'm not getting married this year (phew), so we were able to pick a date that is also not on a Bank Holiday weekend which will help people somewhat. So, is it going to be in London again? Mayyyybe, believe me though the fact I've actually had someone professionally try and get me to bring Summer of Sonic to their city is quite something! Will it be at the Truman Bewery? Hell no! The reason we weren't able to announce the location until so late on was a whole truckload of pain. We're in discussions now about locking the potential location down, but nothing is confirmed until myself and Dreadknux confirm it, the only official statements will come out from Sonic Wrecks, The Sonic Stadium and the forthcoming Summer of Sonic website – the Blognik too.
Who'll be there this year? Wait and see.
One of the things we have to confirm at this time, its likely we'll be making a small charge this year in order to help do all that we want. I think people are a bit surprised we'd not done so yet… but SoS 09 cost a lot and we need to make sure things are covered this year and to expand it as we all would like. We'll reveal more in the months ahead.
So AAUK have you got anything up your sleeve? I may… I may… in fact if you knew what I'm trying to conjour up you'd think I was absolutely insane.
Keep watching the skiiiiiiiiiiiiiiies!
– AAUK –