Shooty Fruity Hits Store Shelves, Jumps Off Shelves To Try And Kill You
Beef, pork, lamb, chicken… there's a lot of people out there who love their meat. There's also a lot of people out there who will happily consume any of the above at the expense of fruit or vegetables. Well, if you're the type of person who has a thing against eating the green stuff then nDreams might just have the virtual reality video game for you.
Fruit is very good for you. Mutant fruit trying to murder you, less so. In nDreams' Shooty Fruity you take on the role of a supermarket staff member whose 9 to 5 job would be perfectly fine were it not for the parade of warmongering watermelons, lethal lemons and rather rude raspberries looking to off you. You need to survive your shift, either behind the till or behind the scenes in the warehouse, complete the challenges and get back to the staff room where you'll be able to load back up with new weapons, Do what you must in order to get through another day. Even if you've got to make a fruit salad.
And you thought the customers were going to be the most troubling thing you'd have to deal with.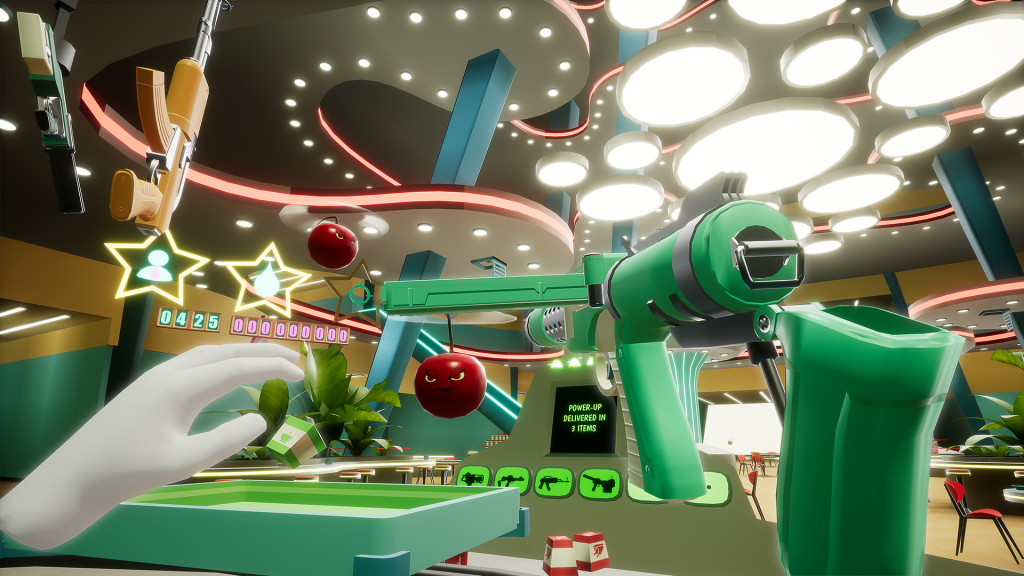 In a-peel-ing news the title is now out, and can be purchased for €19.99 (EUR), $19.99 (USD) or £15.99 (GBP) respectively. It's available with support for both the Oculus Rift and HTC Vive on PC and on PlayStation 4 with support for the PlayStation VR. Shooty Fruity was designed from the ground up to be a VR title which used motion controls.
"I must admit," Commented nDreams's CEO/Store Manager Patrick O'Luanaigh, "Nothing is more satisfying after braving the holiday crowds and queues than playing Shooty Fruity and unleashing my rocket launchers on bags of mutant fruit, splatting their overripe assets all over the place. We can't wait to see what new Shooty Fruity employees make of its unique blend of multi-tasking VR-only gameplay".
You can see a launch trailer for Shooty Fruity here.
This story was originally written by the author for VRFocus.