Phantasy Star Portable 2 Slated for Domestic Release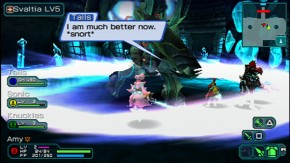 With the Release Come Some Screenshots
The latest portable edition of the franchise Sonic Team made relevant again a decade ago will get a chance to shine in both the United States and Europe this Fall.
Phantasy Star Portable 2, the latest in the Alfa System developed series for PlayStation Portable, will be released domestically this Autumn, according to a release made by Sega today.  Features like character customization and 4 person ad-hoc online play will be carried over to the domestic release.  But other features, such as DLC or the ability to port data over from the original Phantasy Star Portable, were not addressed in the release, and questions have risen on whether Sega will support such options.  That is to be determined, and we'll keep you informed on anything we hear.
The press release is below.  Following that are four screenshots Sega released as part of today's announcement.  You can find those in the gallery.
LONDON & SAN FRANCISCO (21st May 2010) – SEGA® Europe Ltd. and SEGA® of America Inc. today announced that Phantasy Star™ Portable 2, the sci-fi role-playing game exclusively for the PSP® (PlayStation® Portable) system is coming to North America and Europe. Explore the universe of SEGA's critically acclaimed and best selling RPG franchise in this second installment of the Phantasy Star™ portable series. The game returns to its roots by offering an online multiplayer component in addition to its robust single-player action adventure. Now gamers can meet other players, strike up alliances and embark on a huge variety of online quests in Phantasy Star™ Portable 2 anywhere, anytime.

"The Phantasy Star franchise is famous for its online pedigree, so we are pleased to deliver this functionality to gamers on the move with Phantasy Star Portable 2," said Gary Knight, European Marketing Director, SEGA Europe Ltd. "The extensive online multiplayer offering will allow gamers to expand and share their experiences with other players around the world."

Phantasy Star Portable 2 takes place three years after the exciting Phantasy Star Universe saga. With the great menace of the Seed now defeated, the people of the Gurhal System are confronted with dwindling resources. Returning the game to its online roots, Phantasy Star Portable 2 connects up to 4 players online via Ad-Hoc and Infrastructure mode, allowing gamers and fans to play with their friends via the internet wherever they are. In addition to the online capabilities, Phantasy Star Portable 2 offers a new in-depth storyline, enhanced combat system, new weapons and character customisation options that combine to form one of the most extensive RPGs ever created for the Playstation® Portable.
Phantasy Star™ Portable 2 will be available in Autumn 2010 exclusively for the PSP® (PlayStation® Portable) system.