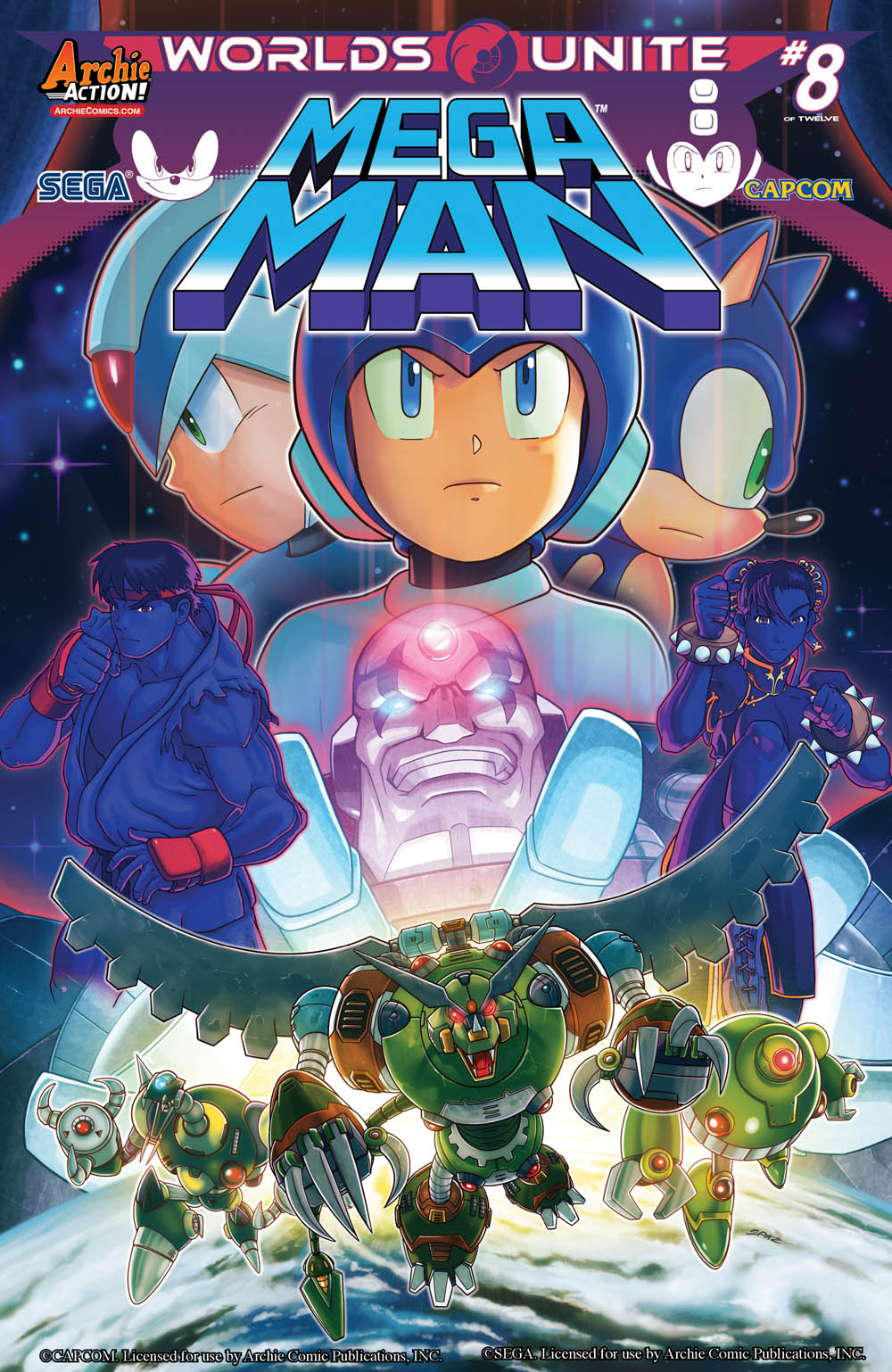 Inside The Pages: Worlds Unite Chapter 8
We have another Comics Alliance Worlds Unite preview to share with you as the third and final act of the crossover begins. As for the interview that was included there was a couple of interesting tidbits that were included in relation to what is occurring with the Boom universe at this time.
CA: With Sonic Boom coming to a close just after "Worlds Unite" finishes, are we ever going to see Sticks' absence addressed with the rest of the Sonic Boom characters, or even see what they've been up to since the event started?

VL: There will definitely be a resolution for Sticks' journey. They know that she's gone, and towards the end of "Worlds Unite" you'll see the payoff. After the crossover, we still have one more issue of the monthly Sonic Boom series, and we're looking for ways to continue that franchise in other books as well. It's not the end of the Sonic Boom cast, per se, just the monthly series.

CA: We touched briefly about Mega Man going on hiatus, can you elaborate a little bit more for what that means for the characters in regards to "Worlds Unite," and if there's any update on a potential "light at the end of the tunnel" for the future of this series?

VL: Towards the end of "Worlds Unite," Mega Man is pretty much picking up where he left off from his last adventure. We are building up to something, and you're definitely going to see the stage set. As for Mega Man #55, we're going in a little bit of a different direction. I don't want to give anything away just yet, as it's kind of super secret right now.

As far as what we're doing with that series, we're still planning things out. We might be able to do a little bit more than what we had been doing.
As for the plot solicitation and sneak preview you can check out both down below.
MEGA MAN #51
Script: Ian Flynn
Art: Edwin Huang, Gary Martin, John Workman and Gabriel Cassata
Mega Man #51 CVR A Reg: Patrick "SPAZ" Spaziante
Mega Man #51 CVR B Variant: Diana Skelly, Rick Bryant and Gabriel Cassata
Covers Unite Variant (pt 8 of 12): Ben Bates

IS ALL LOST?! The evil Sigma unleashes an unstoppable army in "Worlds Unite" Part Eight: Sonic, Mega Man and X lead the unified army against Sigma's horde of resurrected Mavericks! Sigma has now taken command of the Genesis Portals, threatening to fuse together even MORE worlds! With our heroes' time and strength running out, Sticks returns with reinforcements—and you'll never believe who she recruited! Featuring cover art from the legendary Patrick "SPAZ" Spaziante, and variant cover art from Sonic rising star Diana Skelly and part 8 of the epic 12-part connecting variant cover series by artist Ben Bates!
On Sale Date: 7/15 | 32-page, full color comic | $3.99 U.S
This post was originally written by the author for TSSZ News, images were replaced and expanded by LMC in 2020.