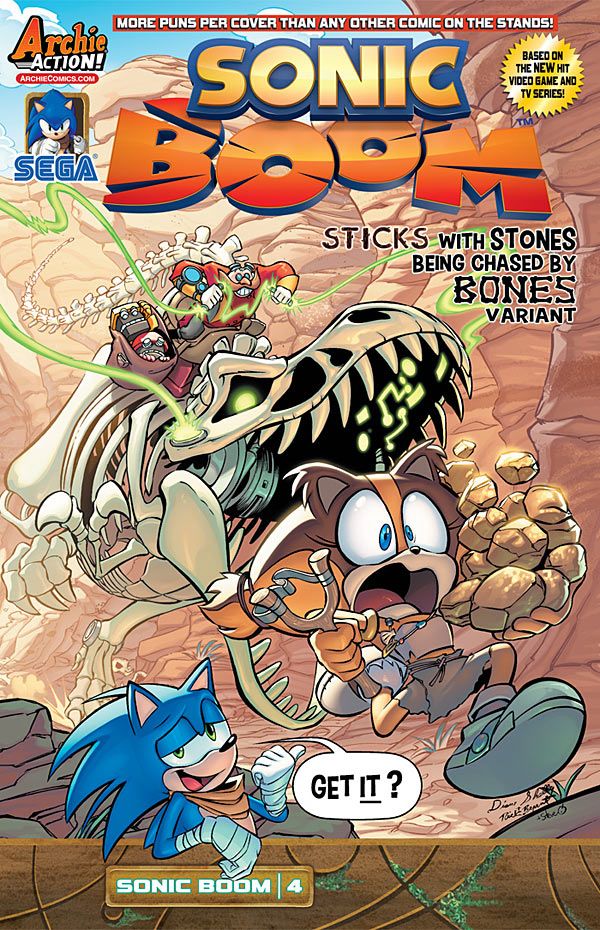 Inside the Pages: Sonic Boom #4
Another comic preview, this one from Comic Book Resources, and plot summary has been revealed. In a few days the fourth issue of the Sonic Boom comics from Archie will release. This time it looks like Sticks will be thrust into the spotlight:
SONIC Boom #4

The NEW ONGOING SONIC COMIC BOOK SERIES from Archie Comics keeps on BOOMIN' with Sonic Boom #4: Sticks and Stones! Dr. Eggman's Big Boy mech has been refined into its final, deadly form. Sonic and his friends are on the ropes—but have no fear! Sticks has brought her secret weapon! It's a… wait, seriously? This thinks THAT's going to help?! Find out what her secret weapon is in the weird and wacky conclusion to the first story arc of the brand-new series SONIC BOOM! Featuring cover art from Sonic art guru Tracy Yardley and an all-new "Sticks-with-stones-being-chased-by-bones" variant cover from rising Sonic star Diana Skelly!

Story: Ian Flynn
Art: Ryan Jampole, Jennifer Hernandez, Rick Bryant
Colors: Matt Herms
Letters: Jack Morelli
Cover: Tracy Yardley, Rick Bryant, Matt Herms
Publisher: Archie Comics
Cover Price:$3.99
Release Date: Wed, January 28th, 2015
You can see the five-page preview that includes both covers down below.
This post was originally written by the author for TSSZ News.