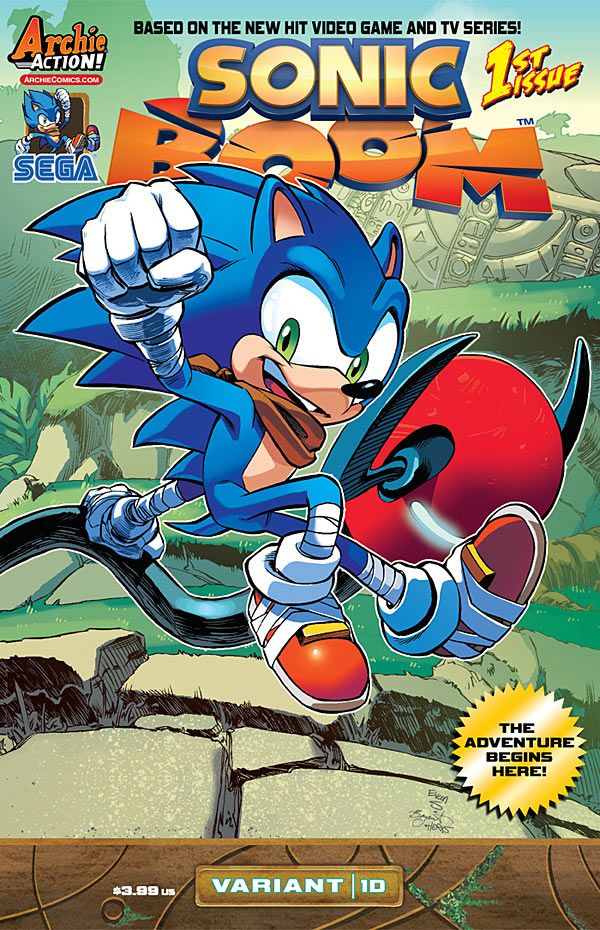 Inside The Pages: Sonic Boom #1
Tomorrow will see the first Sonic Boom related material released: the first issue to the brand new Archie Comics Sonic Boom adaptation. Comic Book Resources has put up a summary along with the many variant covers and an eight page preview of the comic, both of which can be seen below.
SONIC Boom #1

Story by: Ian Flynn


Art by: Evan Stanley, Rick Bryant, Jack Morell, Matt Herms

Cover by: Patrick Spaziante
, Evan Stanley, Rick Bryant, Matt Herms

Cover Price: $3.99

Release Date: 10/29/2014
Here comes the BOOM! FIRST ISSUE in an ALL-NEW ONGOING SONIC COMIC BOOK SERIES! Based on the new hit TV and video game comes SONIC BOOM #1—a new Sonic the Hedgehog comic book series from Archie Comics! Sonic the Hedgehog and his friends are back and ready to do battle with the evil DR. EGGMAN and his diabolical death-machines! This ground-breaking new chapter in the Sonic the Hedgehog franchise puts a new "spin" on all your favorite heroes and villains—plus new faces and hilarious new stories chock-full of action—and it's all brought to you by the folks that bring the hit series Sonic the Hedgehog and Sonic Universe to you each and every month! Featuring a stunning first issue cover by Sonic art legend Patrick "SPAZ" Spaziante, and 4-part "HERE COMES THE BOOM" collector covers from series artists Evan Stanley, Rick Bryant and Matt Herms!! Collect them all and own a piece of Sonic comic history! Get ready for the BOOM, baby!
This post was originally written by the author for TSSZ News, images were replaced and expanded by LMC in 2020.