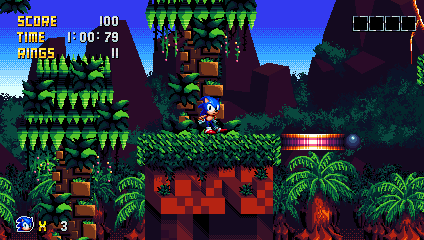 Fan Game Sonic & Knuckles: Newtrogic Panic Has New Demo
Sonic & Knuckles : Newtrogic Panic, a fan game I first reviewed at SAGE 2019, has released a new demo. While its first appearance was not without promise, this demo is basically a complete overhaul of the original and is a definite improvement.
New level layouts, new bosses, new menus, and a promising new Clickteam Fusion framework known as "CORE Framework." Let's dive in and give this baby some feedback.
INTRODUCTION
I hate to start on a negative note, but the game starts with an expected "this is not official" fan game disclaimer that has questionable word choice. That always rubs me the wrong way in a Sonic fan game. Few things reek with the stench of unprofessional more than opening your friendly Sonic the Hedgehog fan game with something outside of good ol' Rated E of Everyone. Given the child-friendly nature of this series and the age of fans that play both official and non-official games, it's near impossible to not come across as cringey when you downgrade your Sonic fan game with blood, sexual content, or language (this game having the latter). You could argue that the language is only in the disclaimer and not featured in-game, but it gives you a sloppy and negative first impression regardless.
"Whatever, Dad. Stop talking" – everyone that probably reading this.
There's a neat Sonic Fan Games HQ splash-screen that highlights members of the community, such as SFGHQ admin Carson (NeoHazard) or long-time modder/contributor Unlimited Trees. The splash screen is different every time you launch the exe, and I counted at least 6 or 7 unique variants before running into a repeat. A very nice touch, though the meme factor can get questionably strong at times.
Next is an opening cinematic of some kind that has so many quick cuts that old school MTV would be jealous. Seriously. I have no idea what I just watched. But hey, it's an aesthetic, I guess.
ACT 1
The game has an all-new art direction that was much needed. Gone is the plastic overly-beveled look of the 2019 demo, and present is a solid, cohesive art direction that fits this game's vibe very nicely. Excellent work. A number of the tile assets appear to be original, which is a rarity in fan games. The levels designs are all different and much improved as well. I found many routes and stage gimmicks on my repeated playthroughs. Wonderful. Though, the first spring at the very start of the first stage propels you straight into an enemy, which is simply a huge no-no, especially for a first act.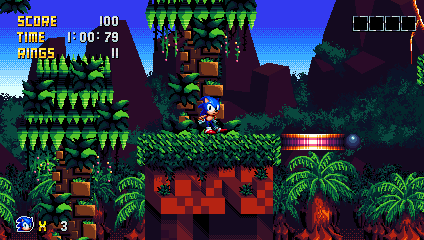 The stage's gimmicks/mechanics are quite inventive and unique, which is never easy to pull off, in my opinion. There are bouncing panel that switch sides every time you jump on them. This means you have to anticipate that switch and must manage Sonic's position in the air. You have to keep moving instead of idly bouncing.
Boss fights are hard to pull off in Sonic games, and mid-level boss of Act 1 is an example of such struggle. Oh yeah, did I mention that every act has a mid-level and end-level boss? Lots of bosses here! The first boss seems a little hard to beat without doing the classic cheese-strat of attacking the boss, tanking a hit in the process, and then grabbing that one ring that's bouncing away. Repeat as needed.
The end-level boss of act one is a very cool plane sequence that is straight out of Gunstar Heroes. Nice.
ACT 2
The second act pulls an Angel Island, and heats up the green environment to a deathly red. Eggman's air fleet is covering the background, which is good for narrative context. If you land on an air ship, an alarm sounds, causing an enforcer badnik to follow you and attack when in range. It's pretty cool.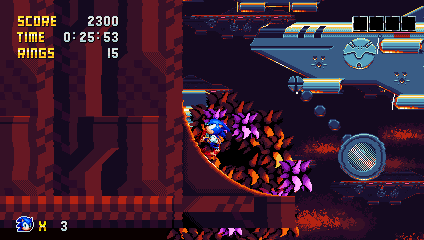 There's also a pendulum that is reminiscent of a similar gimmick from Sonic & Knuckles' Flying Battery Zone, but it's more interactive. Much like the bounce panel gimmick, the game uses it to its fullest extent by re-contextualizing the mechanic in a variety of ways, which shows a strong sense of good design from lead developer Tyson Tay.
The mid-level boss again leaves me tanking hits and juggling dropped rings. Feels near impossible to tell when the boss' attack hitbox is active. The end level boss is more clearly telegraphed but the reaction time required to dodge the attacks is inappropriately precise for a boss fight this early in the game (and perhaps even for a final boss). Overall, the boss fights have a arcadey hardcoreness that might be a little too aggressive for its own good.
MUSIC
Speaking of aggressive, the music is equally in-your-face and bombastic but in a good way. There's a healthy amount of electric guitar present, which is always a good thing if you know me. It's largely made of music from other games, Devil's Engine, Thunderforce, for example. Much like Sonic BTS, I hope they find composers to make original music for the game.
OVERALL
The game wraps up with a theatrical level transition that solidifies the promise of what could easily become one of the most note-worthy Sonic fan games to ever be completed. That is, of course, if it gets completed. If this is what Tyson and team are capable of, I see great things ahead. I encourage the team to keep working and improving. And I encourage you, dear reader, to give the demo a play-through. As of the time of writing, you can play the demo right now over at SFGHQ.
This post was originally written by the author for TSSZ News.