Win A Sonic Classic Collection Collectors Tin!
It don't mean a thing if you ain't got that tin, doo-wop-do-wop doo-wop-do-wop do waaaaa.
Yes, the Sonic Classic Collection limited edition tin, so limited its only available in Spain and Australia… and here! Yes, indeed, Sonic Wrecks is once again offering you a superb opportunity to win some Sonic goodies. We've got our hands on one Classic Collection tin (an Australian one if you're interested) containing the tiny First4Figures Sonic figurine and 5 glossy art cards and a PEGI version of the collection on DS to give away.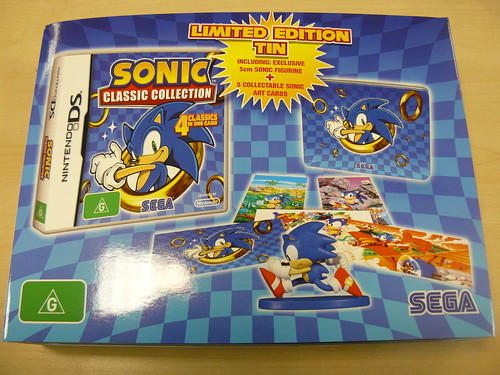 "Sonic Classic Collection™ allows fans both old and new to speed through the much loved zones of the four original Mega Drive adventures, in a bid to collect the chaos emeralds and save the world. Optimised to take full advantage of the Nintendo DS™ system, Sonic Classic Collection will feature a new save anywhere feature, a first in this original series, meaning that the games can be enjoyed anywhere, anytime!"
THE TASK
Sonic Classic Collection brings the classic quintet of Sonic's original Mega Drive outings to the Nintendo DS for the first time, but what we want to know is something completely bogus. That's right, I want your best entirely ficticious Sonic The Hedgehog "facts"! The best one wins… simples!
"WHAT CAN I WIN, AAUK?"
I'm sorry Timmy, but this is a one shot prize!
1st Prize – An Australian limited edition Sonic Classic Collection tin (minus game) along with an English PEGI version of Sonic Classic Collection on Nintendo DS.
HOW TO ENTER
Simply leave your fake factoid in a comment which you can write at the bottom of this page if you're reading the article seperately or simply click on comments at the top of the post – hey why not sign up for a user account on SW while you're at it and set your own avatar and other details. Please note: Comments are moderated so will not appear immediately, this does not mean your entry has not been recieved.
THE RULES
Entries must be received before 12:00 UK Time on March 26th.
The contest is open Worldwide, yes even Puerto Rico and Quebec.
One entry per person.
Entrants must include their email address in the required comment field. (NB: You've GOT to do this for the comment to even be allowed, so don't panic if you think you forgot it.)
All decisions are final.
Abusive comments will not be approved and your entry will be invalidated. Sonic Wrecks retains the right to refuse any entry.
Winners will be individually contacted by email and asked to supply name and address for postage, refusal to supply or failure to reply to the email will result in the prize not being sent.
Good luck!