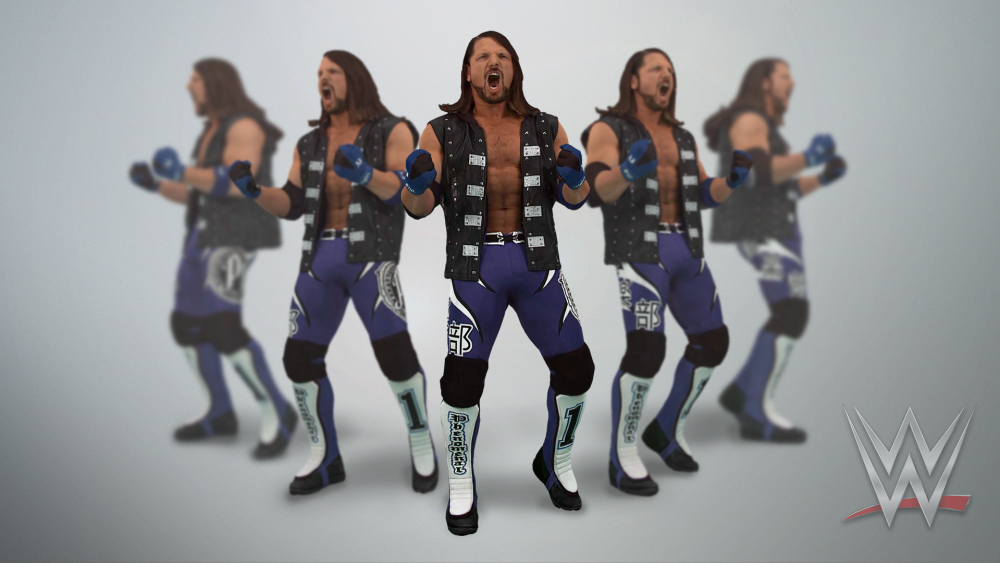 VR vs. The Showcase Of The Immersives
As I am writing this I can tell you I am pretty damn tired. That's because, being the wrestling fan that I am, I was up most of the night watching WrestleMania. The show of shows. The granddaddy of them all. The showcase of the immortals. Mr McMahon's Punchy Kicky Jamboree. As mentioned previously here, and it's usually me doing it for whatever reason, how World Wrestling Entertainment (WWE) has been investigating and 'testing out' immersive technologies for some considerable time, as far back as 2015. It would be nearly a full eleven months before we would see their first efforts on the stage of virtual reality (VR) thanks to some 360 degree highlights of a couple of matches from their 2015 SummerSlam and NXT Takeover Brooklyn pay-per-view (PPV) events.
Last night was the 34th WrestleMania event – though if you asked WWE they would tell you it was the 34th anniversary of WrestleMania. Because, as we've known since WrestleMania 25, they apparently don't know how words and numbers work.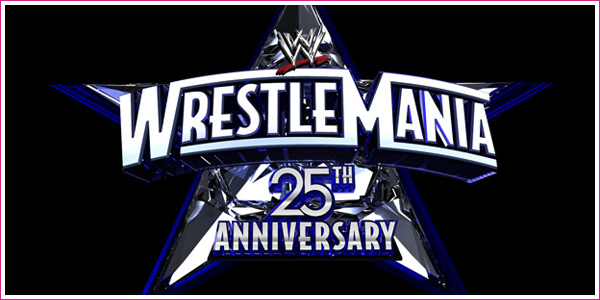 In any case, the build-up for their use of VR has been relatively long, but they've seemingly been growing in confidence over the years. The message has been consistently positive, when an executive has commented on the potential uses of VR it has always been positive. Always being a matter of when, and not if. Whilst previous WrestleMania's have resulted in 360 degree videos, that usually find their way into post-Mania Life in 360° posts – and no doubt will again if they are released. (Like I say, wrestling fan.) WrestleMania 34 will go down as first time VR was truly a part of the broadcast.
We knew back in January that the company the company was finally taking the next big step as it announced a partnership with NextVR, NextVR's Vice President of content Danny Keens describing it as "a match made in heaven" and trials done by the company as "by far the most compelling VR content I've seen". Which, as I mentioned at the time, was a pretty bold statement when you consider just how much content NextVR have been involved in. Well, Sunday night NextVR and watching VR were actually given a call out during the opening of one of the main events of the night, the WWE Championship match between Shinsuke Nakamura and AJ Styles. Their coverage of everything starts this Thursday incidentally, and I'll be interested to see how it plays out on such a big stage. I have some thoughts about sport and VR I'd like to get into a later date but being highlights this'll be interesting.
However, it wasn't just VR recording that WWE had going, it also went full tilt into augmented reality (AR) too. Beyond what had been revealed initially – that the company had partnered with Snapchat, was releasing a new 3D Bitmoji lens that brought a cartoon John Cena to life on your desk or car dashboard, or wherever, and that it had teamed with Microsoft's Mixed Reality capture studio and Littlstar to create an AR precursor to the same Nakamura/Styles match. A video about which you can see below, incidentally.
The broadcaster also (for the first time so far as I am aware) brought AR into the WrestleMania presentation itself with some 3D graphics, and in the majority of instances boy did it look bad.
At a time where AR is still riding high in the public awareness thanks to the likes of Pokémon GO, the first time it is used predominantly at a major, internationally watched event such as WrestleMania it looked at best cheesy and at worst… Well, it looked as though the technology was primitive. Giving the impression that the whole thing would appear dated even before the end of the broadcast. We had angled graphics at the beginning and a cloud of floating buzzwords for when The Miz came out, which probably looked the best of the bunch since they more 'traditional' uses of AR in a sporting context. Then there was The New Day coming out between two stacks of poorly rendered AR pancakes (long story), and Asuka emerging from the back surrounded by giant floating 3D masks and strange solid laser beam effects that looked ripped straight out of the early 1990's.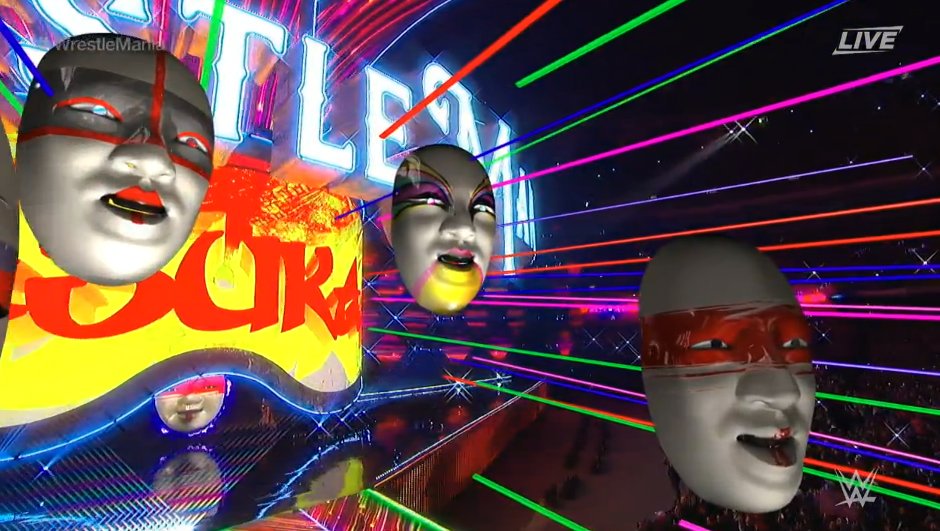 It actually looks better as a static image, which isn't much of a compliment. The whole scene looked as though Reboot's Hexadecimal was coming out to challenge for the title. The irony being the series which began in 1994 (and don't get me or Rebecca started on The Guardian Code, incidentally) looked a darn slight better than what was on show.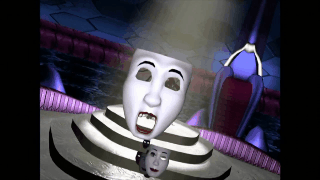 The audience response was, to be generous, split – at least based on the responses I was immediately tracking on Twitter. Some people thought it was pretty amazing, others thought it looked clunky and as I mentioned, dated. Perhaps the most concise summary came from a friend of mine who I do a wrestling related show with. When you compare what was shown to what was presented by Riot Games during the League of Legends Worlds event last year; which had an Elder Dragon come swooping in to the arena before landing on stage and getting kind of pissed at everyone in attendance. There's really no comparison.
Yes, that was more of an elaborate piece that took more time to create – but it was 100 times more effective and wowed the crowd. WWE have one of the best video and graphics production houses in the world. That's both on a technical and quality point. Unfortunately, this first public dalliance with introducing elements from this part of immersive technology remains really didn't help AR. What should've been a talking point was for the wrong reasons, and the resulting quality wasn't up to the level the company usually produces in such things. More people were turned off from AR that on to it.
I hope WWE do stick with it and am intrigued where they are going to go with it but if there was an immersive report card they'd be receiving a note which would say 'must try harder'.
This article was originally written by the author for VRFocus.