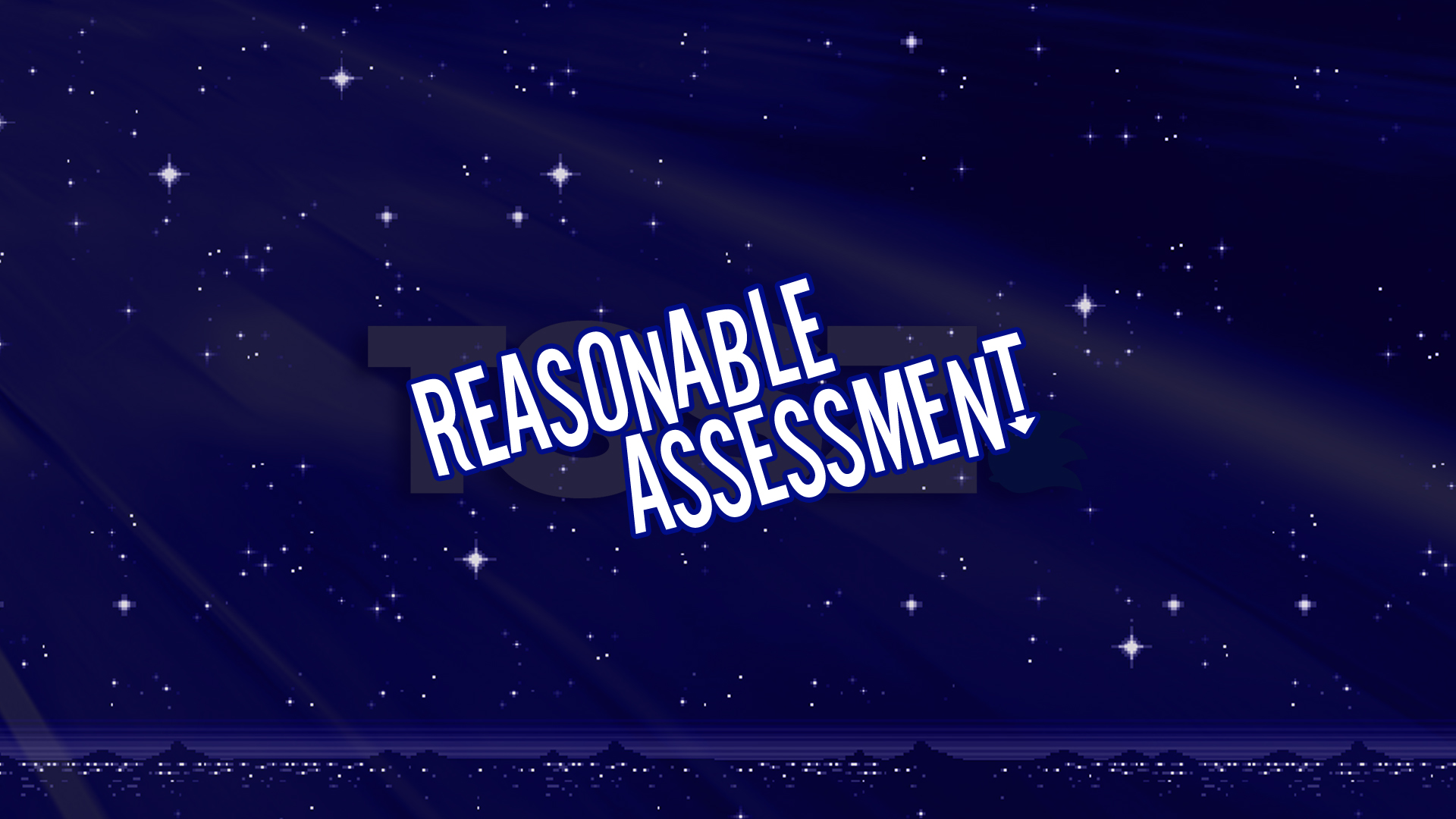 There Is No Sonic Adventure Remake
You ever get that feeling? Where it's like you are watching a puppy run towards oncoming traffic? And there's little you can do?
That's the feeling I'm getting every time I see people insisting that a Sonic Adventure remake is an inevitable certainty and that it will be undoubtedly announced at Sonic's assumed "not-SXSW" digital briefing. For starters, who knows how or if a SXSW-alternative will pan out for Sonic's community/marketing team. After Nintendo promised no annual Nintendo Direct this June due to work-from-home complications, we can't be so entitled to expect any sort of new briefing any time soon in the midst of a global pandemic. It's either not happening, or happening much later than you'd want, so set your expectations accordingly.
In psychology, there's a concept called confirmation bias. It is defined by Oxford Dictionary as the following:
Confirmation basis is the tendency to interpret new evidence as confirmation of one's existing beliefs or theories.
When people want an idea to be real bad enough, they end up believing it's real and can no longer view circumstances objectively. I don't care how bad you or I want a Sonic Adventure remake. There is simply no evidence to support its existence unless you are viewing reality through the flattering lens of a wishful confirmation bias.
"Evidence" 1: "They made the Chao In Space animation! SA Remake Confirmed!"
The US marketing teams and contractors hired by them (like Heese) are allowed to acknowledge and celebrate the history of the series they are promoting, without it necessarily being a direct signpost of what game dev studios are doing in Japan or elsewhere.
"Evidence" 2: "They released a Station Square remix! SA Remake Confirmed!"
They also released a Sonic R remix and a Sonic 2 (8-bit version) remix.
"Evidence" 3: "Team Sonic Racing pays homage to Sonic Heroes. SA Remake Confirmed!"
What the heck does Heroes have to do with an Adventure remake? Sure, the game was released during the so-called "Adventure era," but how desperate do we have to be to make that stretch? Also, dividing characters into three classes is not strictly a staple of Sonic Heroes. See: the Sonic Riders series and Sonic Runners.
"Evidence" 4: "Iizuka said he'd want a remake. SA Remake Confirmed!"
Yes, Sonic series producer Taskashi Iizuka did say he'd like to do an Adventure remake. This is the only bit of "evidence" that's not entirely blind, but it is weak at best. As if an offhand comment of a single individual interview should automatically translate into the will of Sega? There's a big difference between the man saying "this makes me want to do this" and "we've pitched the project and it's been approved for production." If you look through past interviews, you'll find examples of Iizuka (and other people of Sonic Team) expressing a personal desire for a particular outcome, but said desire not actualizing itself into reality. Desire does not equal a promise. And that's good. Individuals are allowed to have their own thoughts.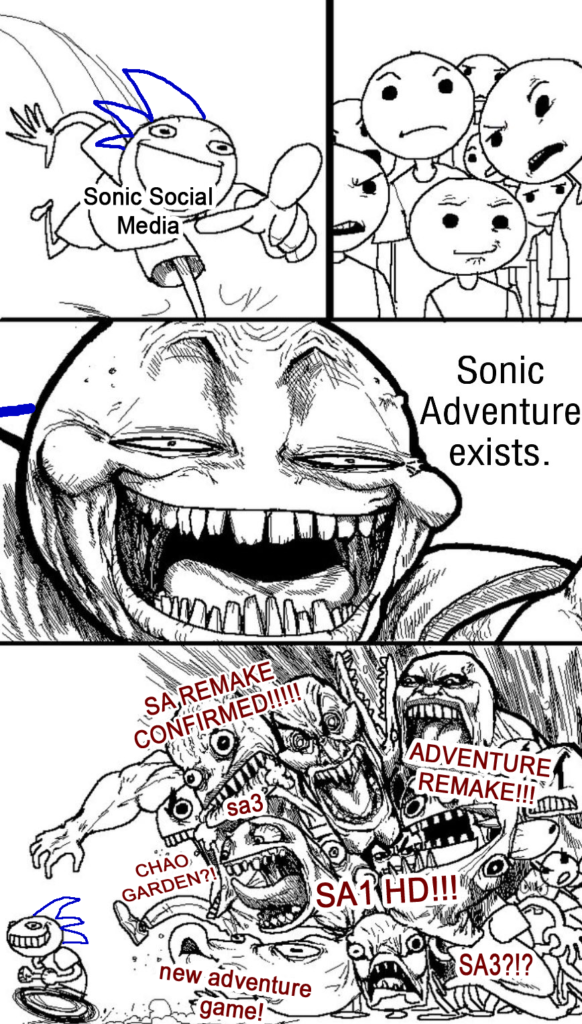 What I AM saying:
-There is no strong evidence supporting the existence of an SA1 remake.
-There is no need to expect an SA1 remake announcement.
-It is unhealthy to expect such an announcement with any certainty. You'll be disappointed.
What I am NOT saying:
-Wanting a SA1 remake is bad (I'd love this more than anything).
-Being a fan of Adventure era fan is bad (You know, I'm something of an Adventure fan myself).
And yes, on the 2% chance that a remake of SA does show up sometime later, I have to preemptively address the knuckleheads that will retweet this article with such unoriginal comments as, "lol this article sure aged well huh." I'm not saying an Adventure remake is impossible; I'm saying that you as far you know, there is no Sonic Adventure remake. You can't just have tunnel-vision and then expect the world to morph itself to fit your narrow field of view. If anything, by not presuming, you are allowing yourself to be pleasantly surprised on the off-chance that it happens.
I get it, you really want something like a new Adventure game or remake. That's fine. Me too. You can keep desiring that a SA remake comes soon, but you should absolutely not expect one. If you have read this article, but still go into the next few months expecting a Sonic Adventure remake, despite no evidence that it exists, you are willfully choosing to be disappointed. And why in the world would you do that?
---
Reasonable Assessment is commentary series written by Noah Copeland, a somewhat interesting human. Noah makes music, games, and films, and stands at exactly average height. You can follow him on Twitter @NoahCopeland. This post was originally written by the author for TSSZ News.