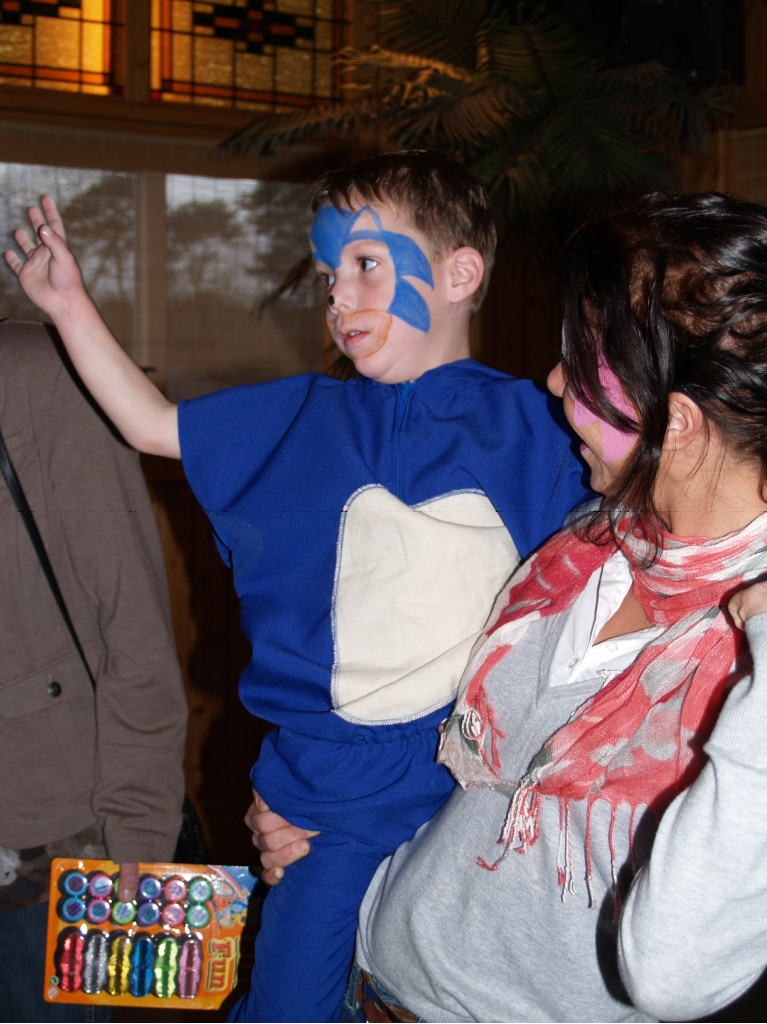 Make-A-Wish Turns A Birthday Sonic Blue!
Looking for a little Sonic-y pick me up?
Here's a very sweet, feel good story about a lovely kid and his wish to spend his day with our favourite pal Sonic. A wish made true thanks to the actions of SEGA and the Make-A-Wish Foundation.
You're invited to check out his story and some pictures from the event posted on the Sonic City Blognik.
Enjoy!
EDIT: Since the death of the Blognik, you can find the full story below.
It's always nice to be able to tell you about the good Sonic can do, a lot of good goes on in the community that can go unnoticed due to one thing or another. For instance, at the moment the now annual "Sonic Relief" fundraiser is currently underway. Why not shove a blue nose on your avatar and channel some creativity to raise some funds for a good cause?
Find out more about that here.
However the story I'm going to recount here is nothing to do with this, but more an organisation I will imagine you are familiar with – The Make-A-Wish Foundation. Since as far back as 1980, the Foundation has been on a mission to help fulfill the dreams of children with life-threatening medical conditions. In thirty years some 197,000 children have had their lives enriched by Make-A-Wish and our story starts in the Netherlands with a little boy called J-Jay.
J-Jay sadly has a lifethreatening illness, but he is a BIG fan of Sonic and his wish was to be able to eat a piece of birthday cake with his hero to make his birthday truly unforgettable. Make-A-Wish got in contact with the SEGA Benelux office and they via Johan, one of our European team out in Holland, helped out with a special Sonic birthday party whilst simultaneously (secretly) they got word to Sonic to see if he could attend and fulfill this little boy's request fully.
Thankfully Dr. Eggman's latest schemes were thwarted with super sonic speed and Sonic RSVP'd that he'd be delighted to attend. I'll leave the rest of this story in the hands of Nicole Peel, Wishmaker at the Make-A-Wish Foundation.
J-Jay's Story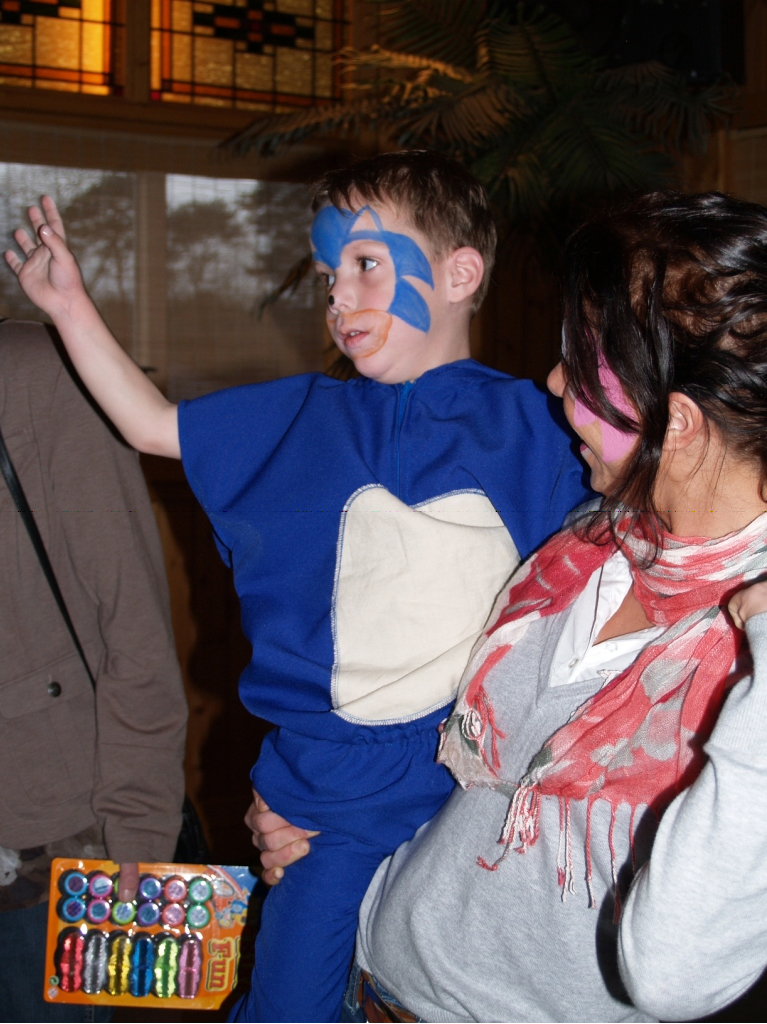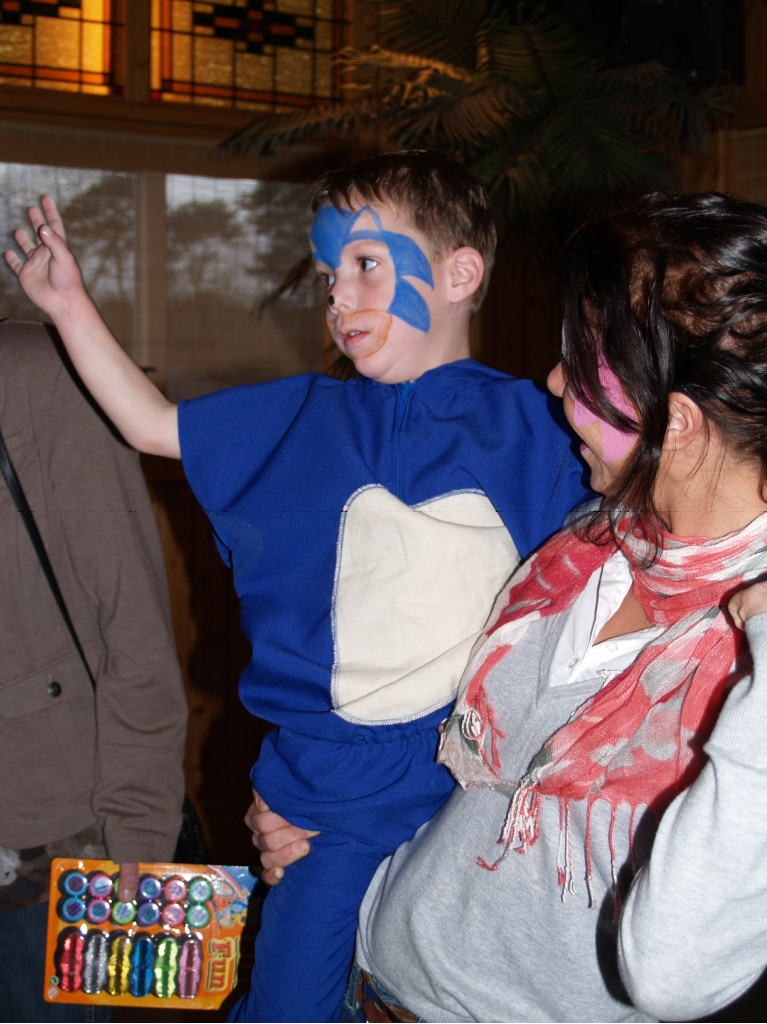 Hi everyone!
The day started around 9:30am with J-Jay's family gathering at his house ready for the party to begin. J-Jay is turning 4 years old and is a huge fan of Sonic.
The first present of the day was a Sonic costume crafted especially for J-Jay that he could wear over his normal clothes. It was a while before he'd put his hero's attire on though as he was running up and down the room much like Sonic himself, he was so excited already.
All of a sudden a special party bus pulled up in front of the house, decorated with all sorts of fun Sonic stickers on the outside. As soon as he sees them, J-Jay ran outside and is in the bus. Everyone followed him onboard and soon the whole party is on the move towards a very special venue with J-Jay sitting up at the front of the bus next to the driver.
The whole group were going to "Dippie Doe", a Family Park near Ekkersweijer where a separate area was waiting and decorated with bunting. There were Sonic hats and a special Sonic/J-Jay poster. The kids were so excited and were off like a shot exploring the area. Sylvia (one of the Make-A-Wish helpers) then set about painting each smiling face one-by-one like a tiny Sonic or Amy.
Even the adults find they cannot resist becoming hedgehogs and soon everyone from Grandpa to the bus driver are having their faces painted too!
J-Jay snuck off at this point with his Aunt, to put on his special Sonic suit where he was presented with a letter from Sonic with Birthday Wishes and the notice that the real Sonic was indeed going to be coming to his birthday party!
Though J-Jay would have to do a short scavenger hunt in order to track the blue blur down. In a separate upstairs area Sonic was hiding with a special Sonic/J-Jay cake and J-Jay sat with him, had a few photos taken and was given Sonic Colours and a Sonic Chess set for presents. Having a blast J-Jay declared he wanted to go running with Sonic as well as boxing and ice-skating!

Sadly time seems to go as fast as Sonic does when you're having fun and with pain in our hearts we were soon saying goodbye to our friend Sonic. The kids played on a little bit before everyone started to get hungry and we all ate pancakes and chips!
After dinner there's more play for the kids before its time to go back home on the bus. When we arrived at J-Jay's house, yet more people arrived as a surprise and the party continued.
I'm told J-Jay doesn't want to take off his outfit anymore – the next morning he wanted to wear it again! It was an amazing day. On behalf of J-Jay's family I would like to thank everybody who helped to make this happen.
Kind Regards,
Nicole Peels
You can see a gallery of pictures from J-Jay's party below. If you would like make a donation to Make-A-Wish please check the Make-A-Wish website relevant to your own country. UK users can donate by clicking the banner to help a child's dream come true.
Originally posted by in the Community section of the Official Sonic City Blognik on Feb 01, 2011