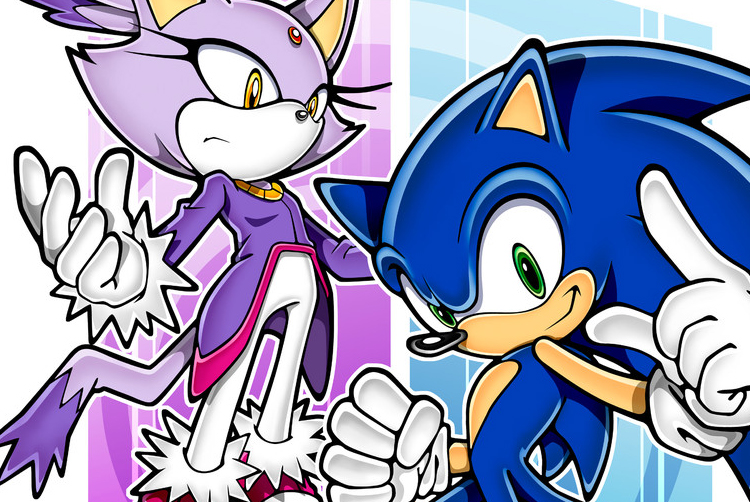 LMC's Sonic Rush – E3 2005 Build Released
Earlier in the year as part of a reorganisation of resources, stored media and other things, I rediscovered a number of old build discs.
These had been rescued from an industrial skip, many years ago. Thrown away by an individual as part of a "clean out" of cupboard space. This was despite the fact they'd expressly been told not to do so the previous day, given that no one knew what was actually in that pile of discs in the first place.
And all for the short-term convenience of hiding how many boxes of The Golden Compass were still languishing around the office.
Anyhow, after diving in to the horrible mess in suit trousers to rescue what discs I could, and – oh no – having done the worst thing by actually being successful, those who had previously agreed with me that mayyyyybe throwing blindly away archive materials was a bloody stupid idea, had promptly changed their mind.

This was at the same time the Creative Services team were tearing their hair out, over how mismanaged the archive library had become. Part of the reason they'd begun to utilise Sonic Wrecks' Shadow Depository section for assets and had even started making requests to me for new additions to the site.
As you can imagine, this was all somewhat frustrating. Particularly when you're standing shin deep in goodness knows what, and had just sifted through it all with your bare hands.
I said I would take care of them if they didn't want them. I'd go through them in my own time, if I had the chance, to see if there was anything that was worth saving.
"Yeah sure, do whatever you want with them. We don't need them, they're worthless anyway."
I mean. Okay.
If you're sure.
I didn't really look through them that much at the time, either during the search or after. Pretty much anything that said 'SEGA' or 'Hedgehog' on it was quickly picked out of the mess in a race against time before security came out of the gloom and dragged me from the skip for my own safety.
Of course, these discs were promptly put in a box and, though not entirely forgotten about, they did get lost in a bunch of other personal effects, merch and materials. Buried at the bottom of a box placed into storage and in a post-SEGA life their importance unsurprisingly dwindled.
Recovering them recently when sorting out the office and also trying to recover some files from the old Sonic Wrecks PC, I for the first time got the chance to look through these discs. I found that along with some random videos, I'd inadvertently saved from the literal scrapheap a bunch of early Alpha, Beta and Release Candidate (RC) builds, for several titles across multiple platforms.
They were Sonic Gems, Shadow the Hedgehog, SEGA Classics Collection (the 2005 PS2 one) and a PC build of Billy Hatcher.
There was also a Nintendo DS development stick. A long thin, wobbly bit of circuitry sticking out of a DS cart. Despite appearances it's perfectly usable in a regular Nintendo DS – or even 3DS, depending upon the cart. I'd greatly confused people on my London commute back in the day by playing an early build of Sonic Chronicles on the train using such a stick.

Imagine my surprise when I turned it over and discovered it was the E3 2005 build of Sonic Rush.
Sharing these rediscoveries online, there was a lot of excitement among the archive community. Particularly when it came to the aforementioned E3 demos of Sonic Rush and of Shadow the Hedgehog. The latter of which to everyone's collective knowledge is not currently something the community has.
People begged us to dump it.
We responded that isn't something we've done before.
"But it's EASY!" some scoffed, ignoring the fact we didn't have the kit, or the knowledge, or that maybe we didn't want to mess about with our lovely Legend of Zelda 3DS, thanks awfully.
I began conversing with a number of people, sites and organisations. Both publicly and privately. Some offered help, some offered very helpful suggestions, others requested consideration for museums and other organisations. Some thought through us merely glancing at them we were going to destroy them and to stop at once! Some even demanded we hand over all the material to them immediately, as we clearly weren't "the right people" and "I deserve it more than you".
Yeah, alright Karen, keep your r/entitledwig on.
We responded to… most of these. There was no denying the passion and enthusiasm people have. We had some good conversations with the likes of Hidden Palace – the conservationist people, not Skyblaze's excellent RadioSEGA show, though I will be on that at some point again later this year – and made some tentative plans to come back to the discussion, but only when I have time to do so.
I recently explained the need for me to actually have time to devote to such projects, and that things need to be on my timetable to someone in my DMs asking when the Shadow build was coming out. They responded that I "have all the leverage"; and yes, I do. But I'm not holding the damn things hostage. I do, however, need to be involved in the process. LMC folks will tell you how astonishingly busy I am as a rule. So we will get to things, but y'know, patience.

First however, we wanted to get the Rush build dumped. We'd played it, complete with Sonic endlessly going "YES!" on what felt like every single action. So knew it worked. But for that we wanted to turn to someone we knew and trusted, at least for this first item.
Along came our good friend TheGreenViper8, collaborator on a number of projects and someone we trust implicitly. He offered to do the dump for us with his kit, and guess what? I was going to see him at a meetup in a couple of weeks anyway!
So, it was sorted.
We've got a dump.
And it's now up.
This dump was produced by Viper using GodMode9 running under Luma3DS on a hacked retail Nintendo 2DS.
On checking things, Viper came to the conclusion that, on an initial appraisal, our card is indeed a one-to-one match with the currently existing 2007 dump released by Hidden Palace. This was supported by hex editing and browsing the file structure. Though there may well be some undetected differences. In any case we're still releasing the build. As Viper put it in his notes "in the name of preservation and pleasing the community who have rallied around".
So there you go. It hasn't changed everything we know about Sonic Rush, but at least we now have two builds from two different sources.
It's up now on the Internet Archive at https://archive.org/details/sonic-rush-e3-2005-demo for you to have a look at and try it out for yourselves. And who knows, maybe you can go into things with a fine-toothed comb just in case there are any changes.
My thanks to Viper, check out his weekly radio show Viper's VGMture on the KNGI Network or his Pick n' Mix show on RadioSEGA.
We'll have other updates in the future, but, in our own time. Look out for more updates to The Vault and the podcast archive coming very soon.