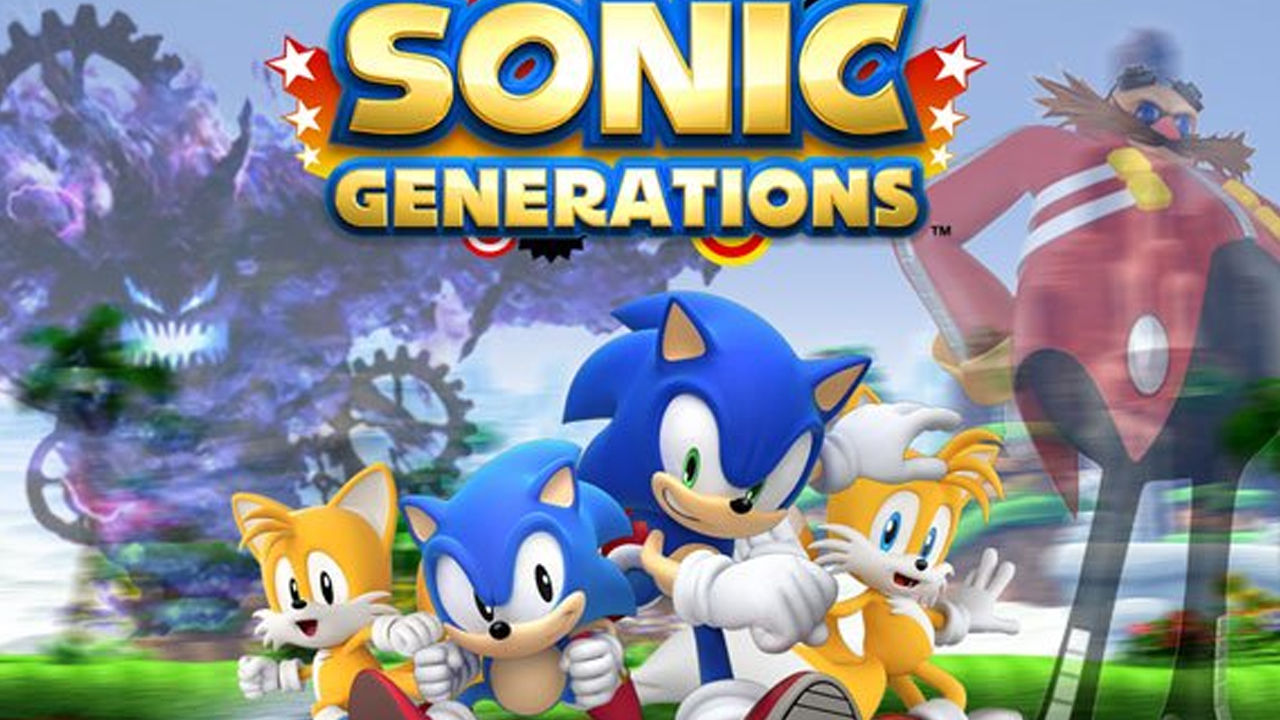 Review: Sonic Generations (3DS)
My expectations for the 3DS version of Generations weren't the highest. I had seen some of the trade show videos, heard the early feedback, and was steeled for a trainwreck of a title. After a tour through the adventure and several missions, however, I found many of my fears were unfounded. All the same, there were several shortcomings that can't be ignored.
For those unaware, Sonic Generations for the 3DS features a selection of stages and bosses unique from the console version, excluding the shared first stage. So while the PS3, Xbox 360, and PC versions venture from Green Hill, to Chemical Plant, to Sky Sanctuary, then have you face down the Death Egg Robot from Sonic 2, the 3DS version takes you from Green Hill to Casino Night, then Mushroom Hill, ending the era with a battle against Big Arm from Sonic 3. In the console stages, even Classic levels actually used new layouts, with memorable architecture and items mixed in, sometimes from other stages that missed the cut. In the portable version, layouts were cribbed from existing 2D games when possible, sometimes completely. Out of 14 main acts, 4, arguably 5 fall into this range, mostly for Classic Sonic. To be honest, this is what some originally expected Generations to be like, when it was first announced. In some ways it's positive, since you're playing through a level that's already seen polish and care, revitalized in 3D. On the other hand, about a third of the main levels being rehashed layouts does little to excuse the game's short length. As I said, in the game's main campaign, you have just 14 main acts, 7 special stages, 3 rival races, 3 classic bosses, and the final boss. Missions are not a requirement to play through the game, and you probably won't unlock that many to begin with, even after a full trip through the main adventure.
Once the game stops lifting layouts from the Genesis titles for Classic Sonic, the first thing it does is teach him a Homing Attack. This becomes a permanent addition to your ability set, and unlike the console version where it served as an extra, optional reward skill that only made the game easier, it's integrated into the 3DS version's level design, requiring its use to reach certain routes and shortcuts. And even with this aside, the Classic stages become a shadow of the Genesis format they first mimic, losing much of their depth and branching for more linear, sometimes clumsy layouts, with strange design choices such as offering useless rings just a few steps before the end-of-level signpost. The true shame is that these original levels fail to showcase the extremely faithful physics of Classic Sonic, outperforming the console version's accuracy in many regards. Ramps, rolling, jumping, they'll feel like second nature very quickly. They made a terrific Classic Sonic, and they stuck him in some of the most boring, heavy-handed stages they could think of.
Modern Sonic I feel differently about. On the whole he's similar to the console version during 2D play, even lacking a roll except when he runs over a dash panel, in lieu of a sliding kick. This made sense for keeping the controls consistent between 2D and 3D play on the console, but 3DS Modern Sonic stages are entirely 2D gameplay, save for one or two very brief end-of-stage moments. The game seems to think tilting the viewpoint to "dynamic" angles will disguise this, when it just makes judging certain jumps trickier. At first I wanted to excuse the game for simplifying Modern Sonic to 2D play because of the power of the system, but then I remembered that I wasn't dealing with a DS game. The 3DS version could have come much closer to replicating modern console gameplay. Without 3D gameplay, and with Classic Sonic earning a Homing Attack early on, the difference between the two comes down to the Boost. And this game is crazy about Boost. While the console version punished blind boosting, the portable version seems to expect it for the most part, your weakest moments being when you've drained the meter dry. It particularly encourages Air Boosting (a jump and then a boost), which launches you great distances and will generally let you ignore large sections of a level while staying on the high path. Modern Sonic's levels feel longer and perhaps richer with alternate routes, but you'll be tearing through most of them on even your first attempt, and the few times something trips you up, you'll probably feel more cheated than challenged.
Other control quirks reared their head as I played. Directional inputs seemed to be misinterpreted occasionally, and certain stage gimmicks, such as running on the ceiling or the spiral in Radical Highway, expect you to keep holding right even when Sonic's flipped to moving left from the camera's perspective. I also lost several lives and opportunities as both Sonics by accidentally doing a quick jump-dash after a spring or similar launcher, which completely kills your existing momentum. Strangely, for both Sonics, pressing the L Button at any playable point during the game elicits a buzzer noise. This is not explained in the manual or in-game, and has not changed even after completing the game with all emeralds and collecting the traditional 50 rings. This move will probably activate Super Sonic once a certain criteria is fulfilled (S-Ranks, all missions completed, it's not yet known as of this review), but the buzz was an unnecessary, confusing addition, when a silent fail would have sufficed. You can even trigger this noise the same way during the final boss fight. The only place where it performs an action is the Profile Cards, where it uselessly hides player details so you can see the card background better.
The Special Stages are patterned after the Sonic Heroes emerald chases, with new layouts, additional gimmicks like octagonal electrified gates, and better controls. These 3DS levels are some of the easiest Sonic special stages you will ever play, and they're freely selectable from the hub the moment you complete Act 1 and 2 of a stage. Rival races have unique layouts, but reuse existing stage assets, which means Metal Sonic and Silver challenge you in stages they had nothing to do with. Each race features them attacking you in some way, and stealing rings if you let them get ahead or knock you down. Metal and Shadow run a pretty fair race, but Silver just snaps near you no matter how far ahead you get, making only the final straightaway matter. The first actual boss is heavily altered from the original design, but still a pushover. The second and third bosses are perhaps too similar to the originals, with one of them being a boss Sonic never faced, at least not in that form. This would be less cringe-worthy if Sonic didn't immediately say after the fight that he had fought it before. It's almost like they put that line in there to make nerds rage.
The only thing left in the main adventure is the final boss. I won't spoil the details, but I will say if you know the console version, it's the same idea, and yet nothing like that. It's so much more rewarding and interesting to play, and somehow it even controls better than its console big brother. Yes, even during 3D gameplay. It's ok, you can actually look forward to this fight.
From there, you can play through the missions you've unlocked, earning new ones via unexplained requirements, StreetPass or paying Play Coins at the hefty cost of 5 per mission. 5 more if you just want to buy the reward instead of beating the mission for it. The missions tend to section you off in a level, and give you a time to beat, or a certain number of objects to collect or destroy. They offer no option to warp back to the beginning of the area without restarting, so it is possible to become stuck unable to complete a mission without dying. They do use alternate music similar to the console version, including one hilarious choice for a mission set during the final boss. But all too quickly I ran out of available Missions to play, so I've only unlocked a little bit of the bonus content. Concept art unique to this version is included, but the examples I unlocked were all limited to the low 3DS screen resolution, with no ability to zoom in to examine details. Music will be touched on shortly, and you can also unlock 18 3D models to spin around and view at your leisure.
Graphically, the battlecry of the 3DS still holds true: screenshots do not do it justice. With the possible exception of the brand new Mario, I've never seen a 3DS game pop this well in 3D mode, and I noticed no framerate difference switching between 3D and 2D mode. In fact, I think the visuals suffer a little in 2D, the colors becoming slightly muddied, and your eye drawn more toward the boxy layouts and occasionally weaker texturing. You should absolutely crank up the 3D slider, because it's a sight to behold, a showcase for the platform's namesake feature. Cutscenes feature surprisingly-detailed models, who animate some actions and expressions very carefully, yet "run" across the screen in a hilarious slide. The only backgrounds you'll see during these cutscenes are the white hub, and a single shot of the picnic area, which characters float in front of rather than stand on. And strangely enough, sometimes they resort to a simple thumbnail picture of what they're trying to show, floating in the middle between the characters. This happens a lot for Time Eater appearances, and it looks silly when other aspects of the cutscenes look so good.
Audio is a strange topic. Unlike the console version, which remixed the original stage theme two different ways, the 3DS version outright lifts the original tracks when possible, and even recycles the Casino Night remix from the console DLC as its Modern track. Most of the unique tracks are fine, but the Radical Highway Modern remix stands out as purely awful. And unless it's a feature that has to be unlocked, there's no way of changing the level music for each stage, so the 50 unlockable tracks can only be sampled in the Collection menu. What I have unlocked has been a mix of pure recordings, and some of the more peculiar "remixes" found in the console version, including the Genesis tracks with odd-sounding instruments. The audio is high quality for a portable game, and I'm impressed by at least the implied amount of content. What doesn't impress me is the sound effects. This game chooses some of the strangest, often clashing, sound effects for very familiar actions and items, even botching the sound of Classic Sonic rolling, and getting doubly annoying when button icons pop on screen, or enemies start being alerted to your presence. It also replicates the "humming" ambient noise flying enemies make in recent Sonic games, overpowering the stage music for a needless detail. There's a surprising amount of voice samples uniquely used in this version, including a snicker-worthy "Why HELLO there!" by Eggman.
There's not much else to cover. Time Trial times can be posted to online rankings, which are a bit of a chore to look through, and only list the top five times and the four times surrounding your own. Multiplayer includes races through any of the game's main acts, including special stages, both locally and over the internet. The framerate takes a serious hit during online gameplay, while your opponent is still only represented by a floating arrow icon on your screen. You earn points toward your online ranking, and separate points that go toward unlockables, such as extra lives and additional backgrounds for your Profile Card, a silly-but-fun addition that lets you list how long you've been a Sonic fan, your favourite game and character, and your Generations stats. These cards get traded when you play against someone or pass them with StreetPass. It appears that you might have to update your StreetPass stats manually each time; the single-page manual does nothing to clarify this one way or the other.
I've left the story for last, because clearly they did too. For starters, if you fear friends, this version is for you. Outside of the three Rivals, unlockable artwork and your Profile Card, the other characters only appear for one still image during the credits. You do not talk to them, you do not play as them, and according to the story in this version, Sonic actually beat them to the party. That's another interesting aspect; while certain lines of dialogue are copied word-for-word from the console dialogue, there are a few noticeable differences and additions, and on the whole the writing feels a little more characterized, even if they're still not discussing that much of import. Classic Sonic speaks in exclamation points, question marks and musical notes, again highlighting how strange it is for him not to talk, instead of working around it. And since he already knows the Homing Attack now, the ending was altered to him learning a different move. One befitting a Dimps game.
Is Sonic Generations 3DS worth the full retail price? With such a short main adventure, a third of the content borrowed too closely from familiar sources, I'd have to say no. The unique levels don't share the same design depth of the console version, and even if you were prepared to play extra Mission content, you'll find most of it locked away even after a trip through all the stages. It disappoints me to say this, because Dimps built the closest thing to a Classic Sonic engine we've seen since the Genesis days, yet the levels they put it in are either recycled from other sources, or don't give it a chance to shine. Modern Sonic's levels feel more robust, but focus too much on the boosting mechanic getting you through everything, and once Classic Sonic picks up the Homing Attack, the boost becomes the only major difference between them. This is by no means a bad game, but Dimps did not step outside of their comfort zone, and they turned in too short and too simple an effort this time.

This post was originally written by the author for TSSZ News.