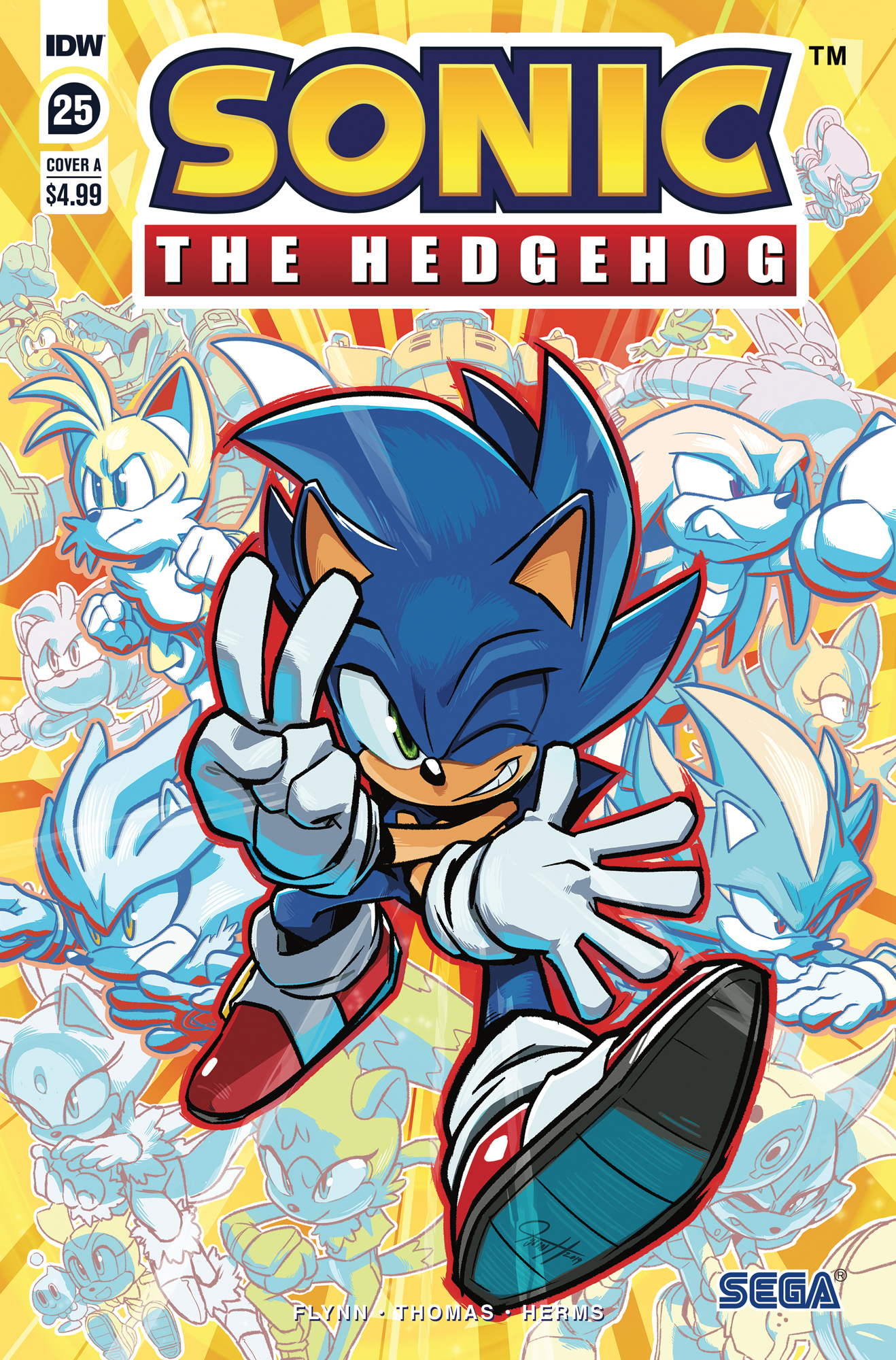 IDW Sonic the Hedgehog Issue 25 Review
Things come to a head in the Zombot story arc as Starline and Eggman are thrown out by the Deadly Six. Can everyone work together to save the world, or will the future Silver has come back to prevent come to pass?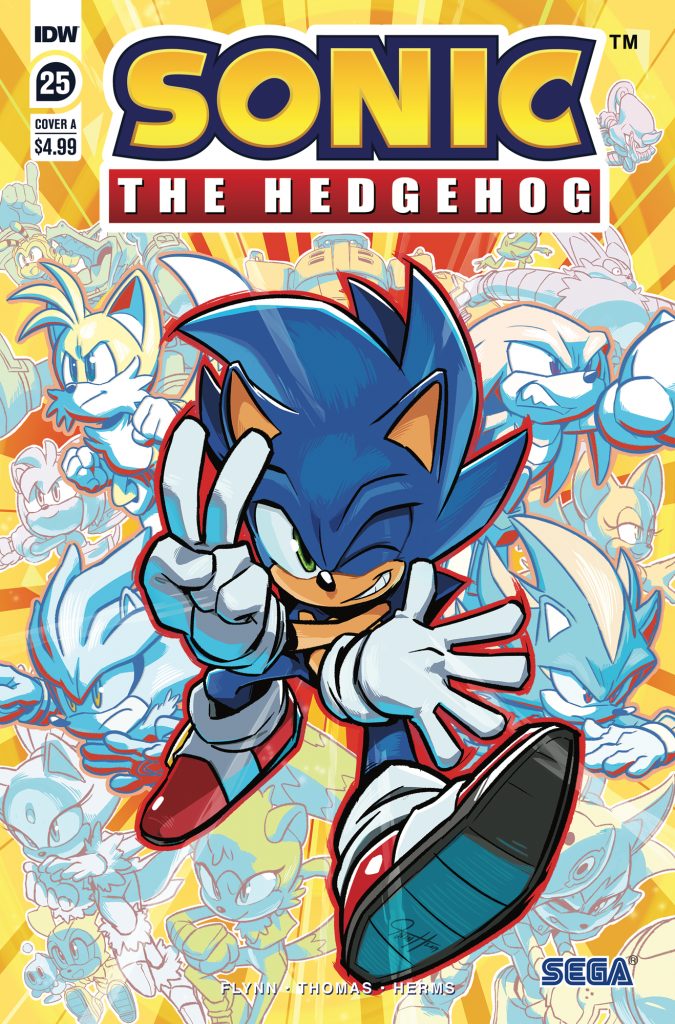 Issue 25 starts out as Sonic and the Restoration refugees land on Angel Island, where a confused Knuckles is apprised of the situation below. Meanwhile, Starline confronts Eggman with the Deadly Six as backup. Eggman sends Metal Sonic in for the attack, who's taken control of by Zavok. Starline makes an attempt to use the Conch on the Deadly Six, who take the conch from him after he runs out of breath blowing into it. Starline and Eggman escape with Metal Sonic using the Warp Topaz and find themselves on Angel Island. The Deadly Six hatch a plan to use the Chaos Emeralds Eggman has been using to power his ship to take control of the Zombots below.
Back on Angel Island, Starline and Eggman land and are confronted with some very angry Restoration members. However, an agreeement is struck to have Eggman and Starline help the Restoration members find some kind of cure for the virus. Meanwhile, Cream and Whisper have a brief back and forth where Cream tries desperately to keep Whisper from killing Eggman and Starline. She succeeds, but it's very clear Whisper has some pretty reasonable anger toward Starline and Eggman.
The group discusses multiple possibilities for how to deal with the Deadly Six, the Chaos Emeralds, and the virus. The main issue being that Sonic is quickly running out of stamina and will be overcome by the virus soon unless he's able to go Super. Finally, a coordinated plan is made to use the Warp Topaz to send the group out to each Deadly Six member and take them out, and grab the emerald they have. However, Starline objects due to the risk associated with the Warp Topaz interacting with the Chaos Emeralds. Metal Sonic grabs the gem from Starline and sends him through a portal, and Starline ceases to be around anymore.
Due to Sonic's rapidly decreasing stamina, Amy calls on the Babylon Rogues to help out grabbing the emeralds from the Deadly Six. Meanwhile, we as the readers get to see the havoc being wrought by the Deadly Six, who now have full control of the Zombots in the areas we've read of before. We're left with an ominous promise from Zavok to his master that he will have the world infected by tomorrow.
This was a pretty dense and dark issue. I had, again, remained largely spoiler free and hadn't read the issue until shortly before writing this article so I could give my opinions fully, (this was again because my life has been extremely busy between school and getting sick). I enjoyed the progression of the issue, though I still have my reservations about the Deadly Six being included in the story at all. I'm really just not a fan of them as villains and so far the comics haven't done much to sway me yet. I enjoyed the character growth we've seen through this issue as well. For example you can visible see and read how tired Sonic is getting having to run to save his life (and other's lives). I also enjoyed the mini callback to previous games where Eggman had to join forces with Sonic and his friends to save the world.
Writing wise, as I said I enjoyed the character dialogue and development. The writing and the art worked well to convey everything that was going on. The lore was well thought out and explained to the readers (specifically, when Eggman is discussing how soon the Zombots will die out and why). My only problem was that in one of the panels where Cream is talking to Whisper, Cream lists our everyone who's fallen that she wants to see again, and she lists herself: "I want to see my mother again. And Cream, and Chocola, and everyone else". I know this is a small gripe but it's a small frustration I had reading it because I was literally looking at Cream while reading it and it felt like an oversight that shouldn't have happened. Otherwise, the writing was quite good.
Art wise I have the same praises I give every comic. I love the art style in each issue, and I especially enjoyed this issue's art style as it so clearly conveyed everything that was happening without bombarding my eyes with too much detail. You can see how battered everyone is and how exhausted they are from fighting what feels like a losing fight to them, and it's beautiful to see. From the perspective of an art student, it's amazing to see the way everything is told to the reader without actually saying anything.
Overall this issue was a good instalment and I can't wait to read what happens next.
This post was originally written by the author for TSSZ News.