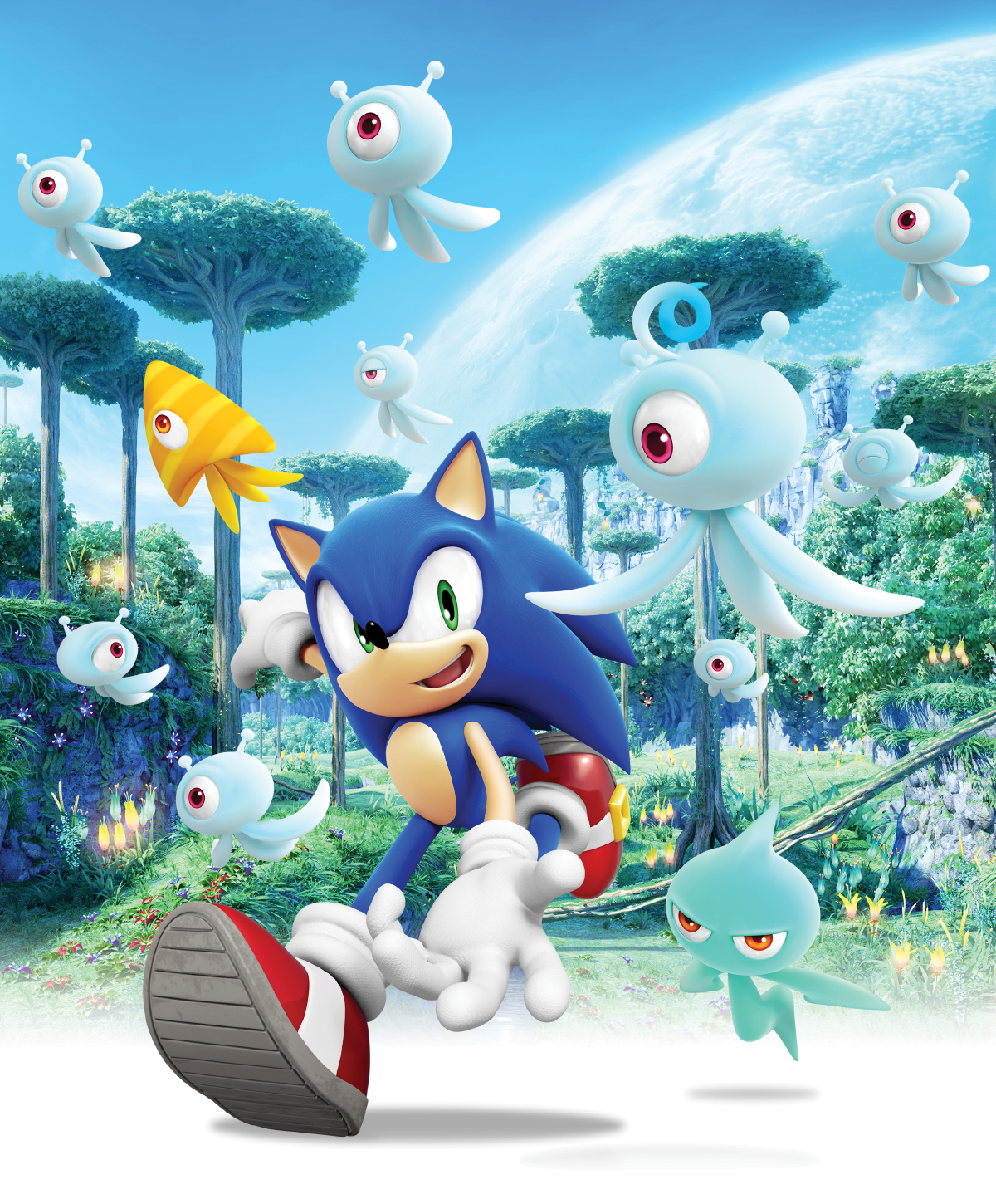 Sonic Colours: The Manic Monday Round-Up
If you missed yesterday you missed an awful lot of Sonic Colours details that came out of SEGA and the Sonic City Blognik – so from me basically. Since we didn't post on it, because frankly I was a bit fed up of posting on Sonic Colours after a solid afternoon of doing it on a deadline here's a summary.
– 22 new Wii screenshots were released, revealing new level Aquatic Park and more about the multiplayer/co-op. These have been added to the Sonic Colours Wii screenshot gallery.
– 10 new DS screens were also released and naturally can be found in the Sonic Colours DS screenshot gallery.
– The Blue Wisp was revealed, a cube shaped Wisp with three eyes:
"The Blue Wisp is next to be revealed for Sonic Colours!

When Sonic absorbs Blue Wisp, a cubic Wisp with three eyes, he can exercise the mysterious "Blue Cube" Colour Power. This mysterious power switches blue blocks and blue rings, meaning routes that were once inaccessible can now be explored. In addition, when using the Blue Cube Colour Power and landing on a ground, nearby enemies can be destroyed."
– An additional two screenshots were also revealed at this point bringing the day's total to 24, these are also in the screenshot gallery.
– Super high quality artwork of the Wisps will be coming to you very soon with the launch of the Images and Artwork section of the Depository.
– A third edition of the Sonic Colours "7 Things…" blogs was also launched revealing the following
Cubot's voice processor is broken – and stuck on "cowboy mode".
If you run out of Wisp power when underground in Drill mode you WILL die.
FOXY FACT: Tails isn't as keen on high speeds as you might think…
Pits of death DO exist, however when you approach a section where this isn't immediately obvious a hazard warning triangle will appear at the bottom of your screen so you do get some warning.
FOXY FACT II: Tails' toolbox is painted like the blue Tornado paint scheme, and even has his two-tail logo on it.
Destroying all enemies in a built up area using a Wisp power or dash will get you a "SLAM" bonus.
Starlight, star bright – is that a Motobug? Alright!
– The SonicGames Twitter account then revealed a Sonic Colours quote for its usual daily Sonic quote – "Experience has taught me to investigate anything that glows." – Sonic, Sonic Colours
– A final piece of Colours trivia was left on Sonic Retro as well: "Speaking of Motobug, you remember that Sonic Short with the Motobug kid with stabilisers? Colours has what could be termed a Daddy Motobug…"
Tuesday Details
As for today then? The SonicGames Twitter this morning went out with the following tweet: "Hasta la bye-bye, suckers!" – Dr. Eggman, Sonic Colours
And since SW was a bit slow here's an exclusive Sonic Colours quote for SW!
"Ouch! I think I gloated so hard I pulled a muscle!" – Dr. Eggman, Sonic Colours