Sonic 4 Episode I Hits GAME As Purchasable DLC Card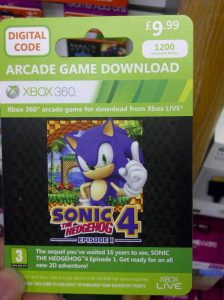 Retailer GAME in the UK have been doing game specific digital download cards for a while now, however on a jaunt over to one store near me an hour or so ago I was surprised to see listed under "New Releases" Sonic The Hedgehog 4 Episode I. Feedback from user DarrenIndeed on Twitter indicates these have been about for a few weeks, but I've certainly not seen them on display before today.
For direct sale at £9.99 and 1200 points. The only other digital download new release was actually another SEGA title (and much more recent) in the form of Renegade Ops. It is unclear as to how any Marketplace offers would affect the price of these cards, but presumably they would still be at full price in retail stores.