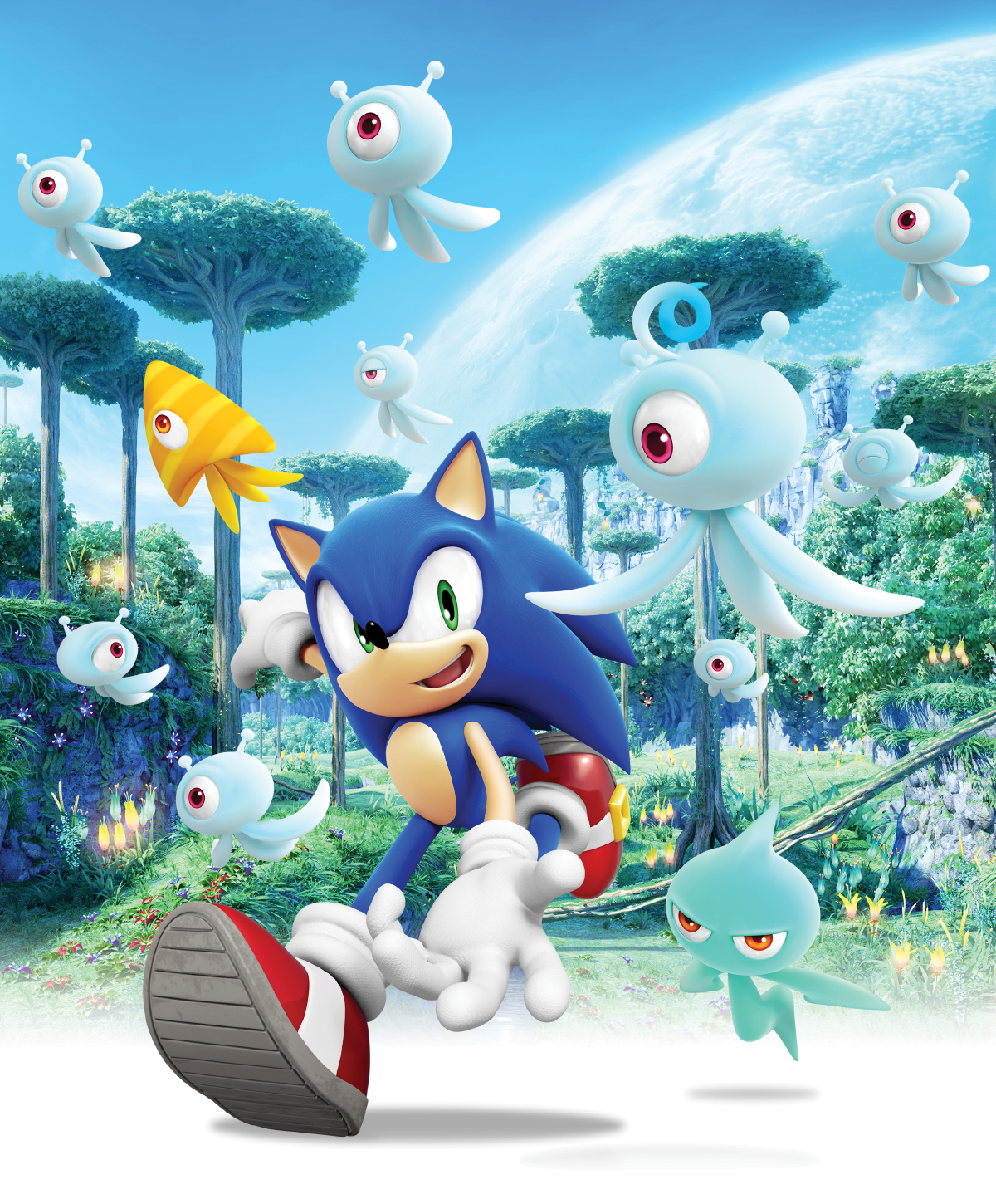 Sega Games On The Cheap: Sonic Colours/Colors
That's right folks it's time for another SEGA Games on the Cheap and today's/nights game sees you joining the one and only Sonic The Hedgehog running around a humongous amusement park (no it's not Alton Towers), rescuing cute little aliens called "Wisps" that have mystical powers that can help Sonic in his AMAZING adventure, I am of course talking about none other than "Sonic Colours" (or Colors for are US followers).
Released late last year Sonic Colours/Colors is set in outer space as Dr. EGGMAN creates a giant amusement park as a way of saying sorry for all bad things that he has done over the years (like who's actually going to believe him), being a bit suspicious about it Sonic & Tails travel to the amusement park to have a look around to see what it's like and on there arrival, they start to see these mysterious alien like creatures (the Wisps) getting captured and being used for some reason and so, as he does best Sonic goes around the whole park at the speed of sound to find out what's really going on in EGGMAN's Incredible Interstellar Amusement Park. In Colours/Colors there is a total number of 8 Wisps (in the Wii Version & 6 in the DS Version) that have different types of powers that can help Sonic get through obstacles that he can't pass all by himself which I think is nice for the game as it's a fresh new feature to it and it's also a different way of playing as Sonic, so it's makes it sometimes more challenging but at the sometime fun as well.
Here is a Press Release from SEGA Announcing Sonic Colours/Colors in May 2010:
LONDON & SAN FRANCISCO (May 26th, 2010) – SEGA® Europe Ltd. & SEGA® America, Inc., today announced Sonic Colours™, a brand new high speed action adventure in which Sonic the Hedgehog races through incredible theme park inspired worlds to rescue a colourful alien race from the clutches of DrEggman. Sonic Colours will be available on the home video game system Wii™ and the Nintendo DS™ system late in 2010.

An extraordinary amusement park has been seen orbiting around the home planet of Sonic the Hedgehog, and rumours are spreading that an alien race of Wisps, who have a unique colourful energy, are being held captive there by the evil Dr Eggman. Soon after arriving at the amusement park Sonic discovers he is able to use these mysterious alien forces to help the Wisps escape! Sonic Colours for the Wii seamlessly combines both 3D and classic 2D game play perspectives, whilst the Nintendo DS version takes full advantage of the console's dual screen.

"The vibrant alien world of Sonic Colours enables players to race at top speed through incredible looking planets, each with their own unique visual style." commented Gary Knight, Senior Vice President of Marketing, SEGA. "In addition to the classic Sonic game play style, the colourful new Wisp power ups offer a fresh new way of exploring these worlds and helps make Sonic faster than ever before!"

Sonic Colours sees Sonic accelerating to adrenaline-pumping super speeds and blasting through obstacles in ways never before seen in a Sonic game. The alien Wisps in Sonic Colours each have a unique "Colour Power" that, once freed, Sonic is able to absorb whilst speeding through the various theme park inspired planets. The Wisp energy enables Sonic to create new paths through the stages by drilling through the ground (Yellow Drill) for example, or speeding through the stage as a laser (Cyan Laser). Stringing the Wisp power ups together creates a combo that increases Sonic's boost gauge even more quickly and exclusive Wisp power ups will be available for both Wii and the Nintendo DS versions, ensuring a unique and super speedy gameplay experience for Sonic fans everywhere.

Sonic Colours will be available on the home video game system Wii™ and the Nintendo DS™ system late in 2010.

For more information please visit http://www.sega.com/soniccolours
And now for the prices (the prices are from CeX for the UK, Amazon for Europe & Gamestop for the USA). Over here in the UK Sonic Colours is going for around about £12 for the Wii Version and £15 for the DS Version at CeX, both are available on CeX's webiste at uk.webuy.com, or you can pop into your local CeX store and pick up a copy of Colours there.
For the rest of the world Colours in France is going for about 16.10 Euros for the Wii Version and 20.33 Euros for the DS which it's original price use to be 29.98 Euros, so that's 32% off they certainly are DRILLing down the prices (sorry it had to be done). Moving over to Germany now they are selling Colours for about 19.61 Euros for Wii & 19.99 Euros for the Nintendo DS, both Amazon in France & Germany still have Sonic Colours in stock so if you haven't bought it yet, nows your chance to get it very cheaply.
And finally over the pond to the good old USofA, Colors is going around for $19.99 for the Wii Brand New or $17.99 Pre-Owned, and the DS Version is selling at again $19.99 New and $17.99 Pre-Owned, unfortunately Gamestop's online store does not have the DS Version of Sonic Colors in stock so it's best to pop on into your local Gamestop store to see if they have it in stock so you can be able to buy it, if you wanner find a store near you then just head onto Gamestop.com and click onto the Store Locator to help find you the closet Gamestop store to you. (Link)
So what the heck are you waiting for, get all in a FRENZY and ROCKET your way up to your nearest gaming store or head on over to Amazon and grab yourself an AMAZING deal.