More Game Gear Titles On The Way for 3DS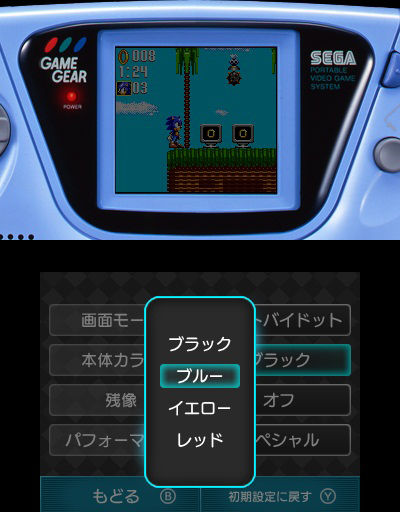 As AAUK reported on Wednesday, Sonic Triple Trouble, Shinobi, and Dragon Crystal area already slated to be coming soon to the Game Gear Virtual Console.
Well today, via Andriasang, we hear that SEGA have also announced that Sonic Drift 2 and Columns to join the list of Game Gear games coming soon to the Nintendo handheld platform.
We also see what the Game Gear Virtual Console will look like in terms of viewing ability:
If the above picture is true to form, and we have screen-ception for the GG VC, it's gonna prove hard for some people to concentrate on such a small screen.
Aside from that minor issue of mine, Andriasang is reporting about the options that can be seen in that screenshot: "The screen shows the various options you can access when playing Game Gear titles: screen mode, system colour, ghosting/after image, performance. The system color menu shows options for black, blue, yellow and red."
Source: Andriasang