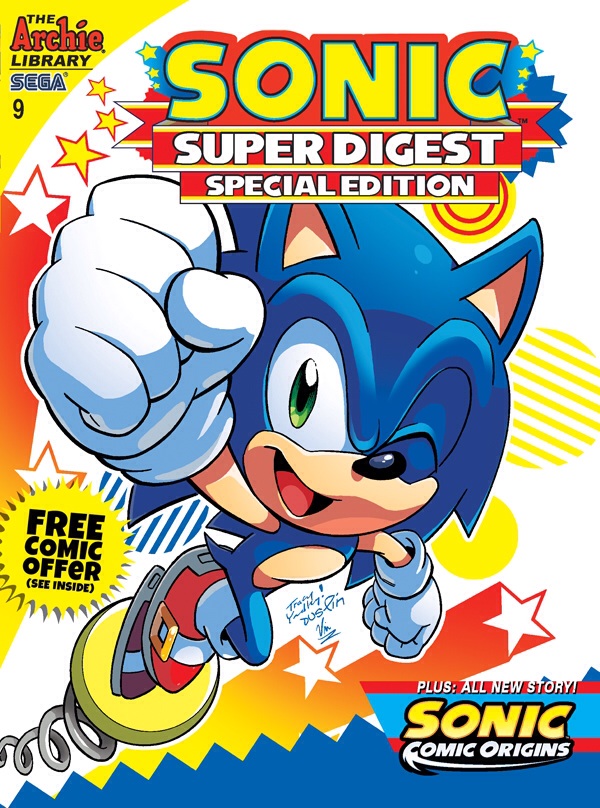 Inside The Pages: Sonic Super Digest #9
Today marks the release of another Sonic comic from Archie: issue number nine of Sonic Super Digest. Like usual a summary and preview of the comic is made available to mark the occasion. In this case Comic Book did just that. You can see it down below.
SONIC SUPER DIGEST #9

Get ready for a SUPER SPECIAL EDITION of the Sonic Super Digest! Featuring an ALL-NEW STORY continuing the hit SONIC COMIC ORIGINS mini-feature blasts into your hands as that boisterous southern belle, Bunnie Rabbot, takes center stage! Learn how everyone's favorite bunny bomber overcame her tragic disability to grow into the freedom fighting powerhouse she is today!

Then, continue the fun with more classic adventures from the Sonic comic library as well as special features focusing on the brand new Sonic Comic Universe only Archie Comics and Sonic Super Digest can bring! Featuring an all-new fifth-color cover by Sonic superstar Tracy Yardley, Terry Austin and Vincent Lovallo!

Script: Ian Flynn & Various

Art: Lamar Wells, Rick Bryant, Jack Morelli, Matt Herms & Various

Cover: Tracy Yardley, Terry Austin and Vincent Lovallo

On Sale Date: 10/29

128-page, full color comic

$4.99 U.S.
This post was originally written by the author for TSSZ News.