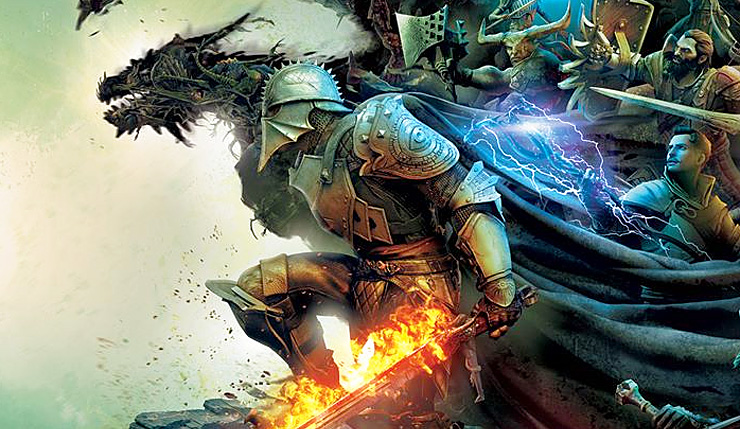 First Look: Dragon Age RPG Book Reprints
The reprints of comics and books are not just limited to Dark Horse Comics. Green Ronin Publishing is also reprinting some of their books, including some content for The Dragon Age Roleplaying Game, which Green Ronin released a decade ago.
The reprints are for the rulebook, a sourcebook, and a masters kit. They also released some solicitations for each of these reprints, so you can see all the cover art and text summaries for yourself down below.
It has been hundreds of years since the last Blight ravaged the world of Thedas. Many believe that it can never happen again, and that the Dragon Age will pass without the rise of such evil. They would be wrong. Beneath the earth, the Darkspawn stir. The nations of Thedas need a new generation of heroes, but who will answer the call? The Dragon Age Roleplaying Game brings Thedas to your tabletop! This Core Rulebook combines the rules and background of the original game under one cover for the first time, and includes a brand-new adventure. Get ready to enter a world of mages and templars, of Grey Wardens and Darkspawn, of gods and demons… the world of Dragon Age!

In Shops: Apr 14, 2021

SRP: $59.95

(W) Lisa Adams, Stephen Michael Dipesa, Justin Harris, Alyc Helms, Jack Norris, Matt Miller, Oz Mills, Ryan Schoon, Jamie Wood

Faces of Thedas lets you add a host of compelling characters from the Dragon Age video games to your campaigns. From fan-favorite companions like Alistair and Dorian to deadly antagonists like Loghain and Knight-Commander Meredith, this book gives Game Masters a memorable cast to work with, providing game statistics, backgrounds, and advice on how best to use these characters in your own Dragon Age campaigns. It also includes new rules for managing and using relationships in play, giving additional depth to rivalries, friendships, and romance. Major organizations like the Antivan Crows and the Carta are also detailed.

In Shops: Apr 14, 2021

SRP: $34.95
The Game Master's Kit is a key accessory for your DragonAge RPG campaign. It features a three-panel hardback screen that puts all the essential game info right in front you, and features a brand new 36-page adventure that takes your PCs into the Deep Roads. It also includes 4 quick reference cards that put the stunts and actions at your fingertips, and a combat tracker that you can write on with wet or dry erase markers. The Game Master's Kit will help you run your game with style.

In Shops: Apr 28, 2021

SRP: $24.95