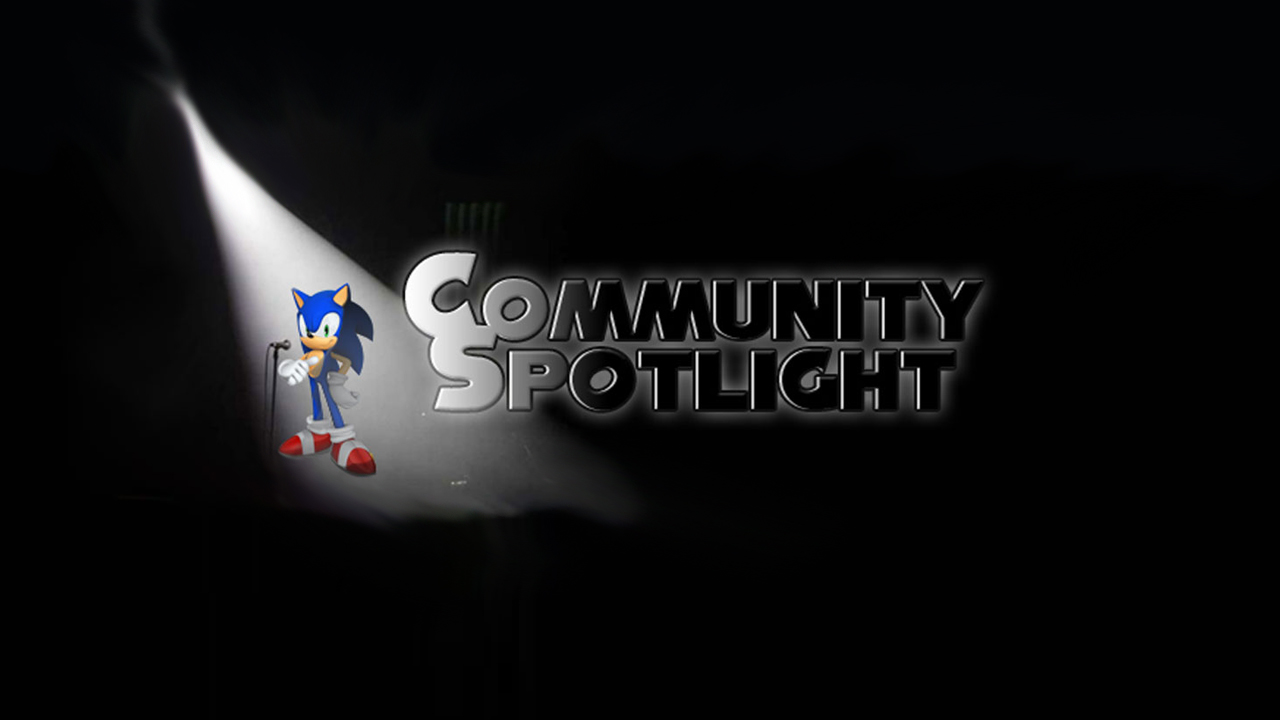 Community Spotlight: Svend "Dreadknux" Joscelyne
Welcome to the Community Spotlight, where from week to week, I will take a few moments with a member of the community and see how their art of different varieties has shaped over the course of the years, among other things.
Today, that spotlight shines brightly on Svend Joscelyne, who you'll more wildly recognise by his alias of Dreadknux.
So, sit back, relax, and enjoy what I hope will be an insight into the artistic side of some of our community.
Titans Creed: When did you first feel compelled to host and run The Sonic Stadium as well as its forum?
Dreadknux: It was a looooong time ago, back when all this here were still fields filled with corn. Mmm, corn. I launched The Sonic Stadium when I was 15 years old, back on the 24th October 2000, but I actually entered the online Sonic community about a year before then. I had been a member of a Sonic and Final Fantasy community called The Moogle Cavern (RIP), and came across it after learning of the wonder that was the Internet, when my school computer centre had just opened.
I'd always been a massive Sonic freak, but I think my fanaticism followed the same path as many others – I never had a Saturn, and you go through those years as a pre-teen where everything you liked as a kid wasn't really cool to big up anymore. So for a good time, my fanaticism was suppressed… until kids in my school started bringing Mega Drive emulators and Sonic 2 ROMs to the IT centre.
The retro fun made me all nostalgic for the old Sonic games that I used to love – and Sonic Adventure was about to be released alongside the Sega Dreamcast around this time. So out of curiosity, I searched for Sonic the Hedgheog on Yahoo one day. I wasn't expecting to find anything – after all, I'm sure I'm not the only kid who felt like he was the only one that was into Sonic – but instead saw a huge amount of fansites and forums.
That was when I learned of The Moogle Cavern. And after getting somewhat comfortable in the scene and making friends I thought that, with my knowledge of Sonic games, I could make a place where I could write about how much I knew and maybe someone would find it interesting. I don't know. One way or another, I just wanted to express my reborn fanaticism somehow. So The Sonic Stadium became it. I remember working on it on-and-off for six months using a large-print HTML tutoring book for dumbasses/high school students. It paid off.
As for the forum (SSMB), that came afterwards really. It never really took off until about 2001 though, when the main site was starting to attract attention for Sonic Adventure 2 coverage. Getting a forum off the ground was a much harder task, because you need the people and the fans to enjoy the setting you create. I went through about five different iterations of forum for TSS before I struck gold and gained momentum with SSMB – the one before SSMB took off was actually called 'Dreadknux's Dead Sonic Forum' out of sheer frustration! Those were the days. The old, pioneering, struggling days.
Titans Creed: Do you find that TSS has changed over the years? If so, how?
Dreadknux: Oh man, where do I start? TSS has changed an awful lot in many different ways over the years, yeah. When the site launched, it was simply a place for me to write about what I knew about Sonic and to make friends. From my perspective, it was also a great place for me to practice writing about video games in general. When the site gained traction, it became something of an encyclopaedia of Sonic, and my college schedule meant I could regularly update it.
We've gone from simple HTML codebases to PHP structures for the website – at one point Ian 'Bmn' Bennett and I worked on a bespoke content management system specifically for TSS. It went quite far, but due to our work schedules becoming more of an issue, I made the decision to switch to WordPress back in 2008. In terms of content (no thanks to sever crashes, sadly), I've had no real time to maintain the information side of things and TSS is best known for its blog-style news and reviews these days. I'd like to have time in a fortnight or something to really bring back all those sections though.
The most obvious way TSS has changed over the years though, has been in its site design. I'm always exploring interesting new layouts, and this has given me quite a reputation in the last ten years of never really standing still on a single design! I'm working on a new one for the site right now, actually, haha!
Titans Creed: Out of all the different layouts for TSS over the years, which one's your favourite?
That's a really hard question, because all of them have meant something to me over the years and had their purpose. Just for sheer simplicity, the very first design I had remains close to my heart. It was nothing but HTML and page-linking, and it's got a rather garish repeating background that nobody would think of using today, but it reminds me of a time when TSS was but a baby.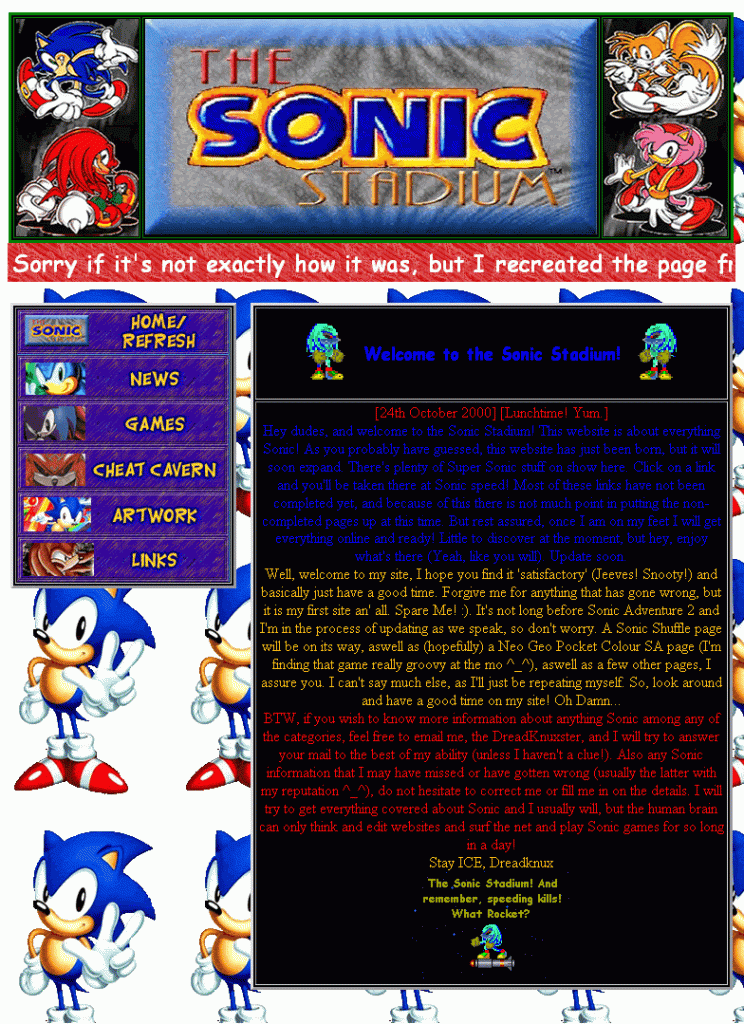 But I think the design that really hit a chord with visitors of the site – and me as well, every time I look at it – is the layout I introduced in 2006/2007, with a navigation area on the left hand side and the main content on the right. I re-introduced it last year for TSS' 10th Anniversary, and it was a big hit.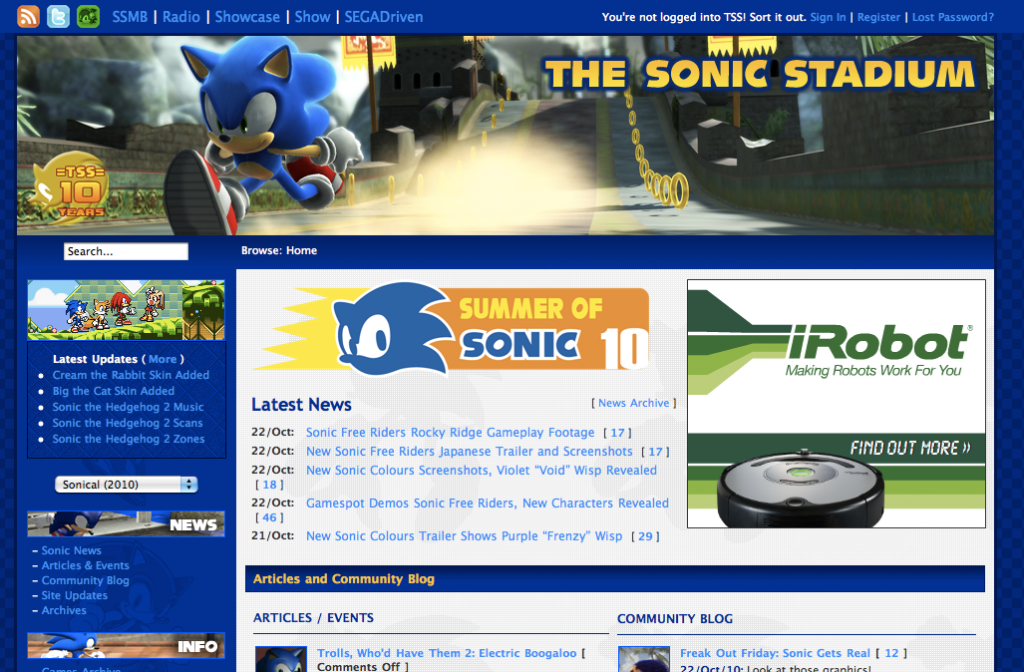 Even though I'm working on something different, I'd love to try and find a way to bring that design back again. The only problem these days is that TSS really thrives on a drop-down menu navigation system now (having a list of links down the side of the page is not really practical anymore) and as sad as it sounds, there needs to be adequate consideration for a box advert. Otherwise we cannae pay da billz. But I love how that design is so tightly packed together without cluttering any information. That's probably my favourite.
Titans Creed: Moving onto Summer of Sonic, you came up with the original idea. What was the process behind it?
Dreadknux: I think every kid has dreamed of something like Summer of Sonic, you know? I'm sure I wasn't the first and only guy to wish for a huge convention that people can come to and celebrate the Sonic franchise. But as most people who have worked with me will know, I get these crazy ideas and end up trying my best to actually follow through with it.
Summer of Sonic as we know it now – the convention that takes place every year in London – is a completely different beast to the original format. In 2006, I created a website that allowed fans from all over the world to collaborate and provide content. It was essentially a big birthday card to Sonic for his 15th Anniversary.
That specific idea actually sparked way back in 1999. It was my first website idea, pretty much. Back then though, having only just entered the community and not really having much of a name (and not having a clue what I was doing or talking about), the concept fell flat back then. Mostly because, in 1999, the collaborative website project was originally intended to just be a general Sonic fansite. These days, you might have called it something of an aggregate website, only without the linkbacks. It was a terrible idea really, and you can imagine the response of Sonic HQ and The Sonic Foundation et al when I approached them and basically said, 'Hey, I'm making a big collab website, give me your content.' Bit of a facepalm moment, that one.
I had an opportunity in 2006 to try the collab idea again, but without actually sounding like a complete idiot. It also helps when you ask for original content to support a celebratory website that's somewhat supported by SEGA. I think the original collab idea I had was really meant to be Summer of Sonic 2006, but it hadn't really evolved to the point where it was going to really work. I'm glad it was the success it became – even if it was a hellish couple of months admin-ing everything manually alongside uni, work experience and TSS!
The convention idea was something I had in mind that was completely separate from the collab website one. The idea behind it is simply to allow Sonic fans to meet up in a neutral location and make friends. We all know that it can be hard to find and meet people in your area/school/workplace who likes the same things as you. Even easier to find people that may mock you for your interests. The Summer of Sonic convention's sole purpose was – and still is – to essentially be a venue where people can come out of their shell and talk to others. What better common ground to break the ice than Sonic the Hedgehog, right?
This had obviously been brewing in my head for a long time, but I never really managed to explore the costs and logistics of the thing. What really kick-started my interest in following through on it though, was a Sonic fan meetup in May 2007. Elson 'Darkspeeds' Wong was travelling around the world, and his plan was to meet up with myself, Adam 'T-Bird' Tuff and Kevin 'AAUK' Eva. It was only meant to be a small gathering, but word got around and on the day we ended up having more than 20 people sat around tables in a pub chatting about Sonic.
That day still remains incredibly special to me – I had already met Kevin and Adam a few times before the previous year, but seeing such a large number of Sonic fans in one place really shocked me. Especially since it was a small gathering in London. I thought back on my convention idea, and decided to take the plunge and look into doing this for real.
After chatting with Kevin about my plans to hold an event like this I thought it was only appropriate to use the Summer of Sonic name again. It seemed to make sense, and really the convention and the website had pretty much the same goal – bringing people together under a common theme. I found a venue, chucked £600-odd of my own money at hiring it for a day and paid for all the equipment and bits and bobs necessary.
Titans Creed: With the help of others in the Sonic community, you've managed to escalate Summer of Sonic into a fanbase worldwide phenomenon, what are your thoughts on this?
Dreadknux: It couldn't have been done without the help of everyone who has been involved in the Summer of Sonic organisation. That's the truth. It was such a big operation, even back in 2008, that it was futile to attempt to stage the thing on my own. But I'm massively proud of what the Summer of Sonic team has achieved, and it makes me so happy to see others come to the convention and enjoy the day with us.
I think, even though there are obvious hardships in organising the event and volunteering for duties on the day, it is such a rewarding experience to host an event like this every year. The people who have helped us out in running the show really put their passion and fanaticism for Sonic into their work, and that comes across to the audience who travel from all over the world to spend the day with us. If I didn't inject that passion, and if the team didn't inject that passion, I don't believe the Summer of Sonic would be anywhere near as popular as it is today.
A large part of its success is that the event is run by fans, for fans. And the audience understands that. More importantly, they understand the whole point of SoS – to make new friends and meet familiar faces. We could just as easily hold the thing in an empty room every year and tell people to talk amongst themselves, and people would still do it. Because that's the underlying point of the show.
That's certainly not to discount the absolutely incredible support that SEGA has given us over the years. The company is treating the event like an official date in the calendar, and it is very conscious of the 'fans for fans' philosophy that we have built here. I don't think Summer of Sonic could have happened any other way, and SEGA is aware of that.
But on another level, not only is it a great opportunity for the company to engage directly with its target audience, the developers of the Sonic games are more than aware of the lengths that fans will go to in order to celebrate their favourite hedgehog at Summer of Sonic, and they've really gone out of their way to thank everyone for that fact. I am so incredibly honoured to have hosted Richard Jacques, Jun Senoue, Yuji Naka and Takashi Iizuka, as well as every celebrity and game demo we've had.
I try not to think about all that has been achieved too much, because you kind of get caught up in the sensation of it all. Every so often though, I take a few moments to sit back and think about the gravity of importance that Summer of Sonic has had on the fanbase at large. All the guests we've had, the games we've showcased, the friends that have helped make it, the countries that people have travelled from to get there… it's incredibly heartwarming and humbling. And although it's a mad time getting the event set up, the feeling on the day is one that I wouldn't trade for anything else in the world.
Titans Creed: What has been your most favourite Summer of Sonic moment to date?
So many fond memories to count! Some standout moments for me have been the woman who dared to shave her head and cosplay as Dr. Eggman in 2008, trying to peel Jun Senoue and Johnny Gioeli away from the signing queue in 2010 so that they could actually perform and Mike Pollock surprising everyone (even Takashi Iizuka!) in 2011.
On a personal level, 2011 has probably meant the most to me. The opportunity to host Yuji Naka – a man whose work I have adored since childhood – at an event that I created is a mind-scrambling thought to process. I had a few words with Naka-san and Iizuka-san at the end of the day and it was a magical moment for me. They had such kind words to say about the event and the fans.
I did get all emotional when Antony proposed to Carly on stage. I was approached about the opportunity to stage a proposal some months before the event, and I was all over it. To watch it happen was a spectacle, and I keep seeing it on YouTube every now and then. That definitely ranks up there as one of my favourite moments.
Titans Creed: TSS is yet another year old. Did you ever expect it'd last this long and be as strong when you first started?
Dreadknux: Hell no. I had no idea what I was getting myself into when I launched TSS all those years ago. To tell you the truth, I still have no idea! It's definitely harder these days to personally attend to matters on the site when you have a job and life commitments – it was the downfall of many Sonic sites before TSS – but I'm still able to keep the atmosphere and the personality to it and that's really been the reason TSS has lasted this long, I reckon. The fact that it's just some guy pratting around and getting all excited about Sonic games. Now it's multiple guys pratting around getting excited about Sonic games. I hope I'll get to do this for a long time to come yet.
Titans Creed: Is there anything in particular you wished you'd done differently with TSS?
Dreadknux: Not really. I wish I had more time these days! I wish servers didn't crash and the companies that offer them for hosting weren't such twazzocks. But in terms of how I've run it or what the site has done… no. The site has come a long way, and personally I feel it's pushed the community forward – I still remember when I approached SEGA back in 2005 and they picked my brains about the fanbase over lunch. Soon after, the company's Community department was born – so I have no regrets really. I'm happy with what the site's accomplished. I'd be quite content with TSS just being the old man in the rocking chair waggling his stick at all the young upstarts from the corner, but knowing me it probably won't get that way.
Titans Creed: What advice would you give for anyone thinking about creating their own fansite?
Dreadknux: I've had this question many times over the last eleven years. It's amazing the number of people who start building a fansite, but never actually launch it because they want to start off with more content than TSS, Retro and other established websites. Start small, build a few pages of decent content and then launch. At least you've then got a real site that people can see, give feedback and allow you to evolve. You're always going to be in limbo if you hope to launch with tonnes of content.
Something that's easier said than done as well, is to think outside of the box. When I launched TSS, I was worried about how many people were actually visiting the site. I realised that writing news and reviews on Sonic games wasn't going to draw anyone's attention if they can find the same kind of content on every other fansite. That's why I launched SEGASonic Radio and the Sonic Site Awards. By all means write the obvious content, but think of ways in which visitors can keep coming back to your site, specifically.
Thanks to Svend for taking his time out to answer these questions for us, and you can check out The Sonic Stadium and it's adjoining forum the SSMB by following the links below.