LMC @ Video Games Live London 2014
Dab-ba-da-da-daaaaa. I had been humming Guile's Theme all day, driving my companions crazy with my insistence on constantly repeating the tune out loud… All because we were about to see Video Games Live in concert. It had been six whole years since Tommy Tallarico and his video game music extravaganza had returned to the UK. Every year since 2009 they promised to return, promised to announce a tour date, promised they were working on it, and every year my hopes were dashed.
Until last weekend when Video Games Live returned to the UK in style, playing two large shows at Manchester and then London. I was sat in the crowds at the London Apollo to the many chants of STEEEEEEVEEEEEE (you had to be there). And it was spectacular.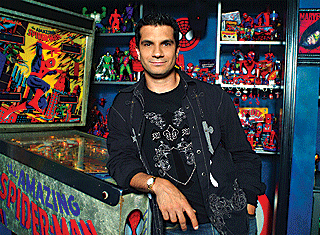 It's hard to be a video gamer and not hum tunes to your favourite video games. I've always been a huge fan of video game music. Ask me what current music is in the top charts and I wouldn't have a clue, but mention the likes of Nobuo Uematsu, Koji Kondo, Jeremy Soule, Yuzo Koshiro, Hideki Naganuma, David Wise and Richard Jacques (a personal favourite!) and I'm instantly transported to melodies that not only defined by gaming childhood, but also my very taste in music. I can't go twenty-four hours without consuming video game music of some sort and this is why I love the rising popularity of video game music concerts around the world, from Distant Worlds to the Legend of Zelda Symphony and, of course, Video Games Live.
This Video Games Live was my second, though it certainly will not be my last. At the start of Video Games Live last weekend it's host, the ever charming Tommy Tallarico, spoke of his desire to show the world how great video games are and to encourage a new generation to become involved in gaming and orchestral music. But to me he missed out a key element; to support video game music itself as an art form, not just the games behind the music. Gaming has become a massive part of our culture now, but video game music itself still has to catch up. I can't visit a record store and find my favourite game music albums on the shelf, but more and more game music albums are appearing on iTunes, thus shows like Video Games Live just prove how popular and valid video game music as a genre really is.
The one thing I love about Video Games Live is that it embraces games, embraces game music, and just runs wild with it. It's a show that is loud, proud, and encourages its audience to join in and celebrate gaming. There are so many games to choose from, but Video Games Live manages to create a varied set list from retro and modern games with a mix of beautiful orchestral music backed by a choir to rockier songs with Tommy Tallarico himself jumping on stage with his guitar in hand. For the London show, I heard music from my personal favourite games including Sonic the Hedgehog, Final Fantasy VIII, Skyrim.. And Guile's Theme from Street Fighter! Previous Video Game Live shows used to have interactive stage games such as a live game Space Invaders directed by the orchestra, but this has been replaced with equally entertaining video skits, though audience participation is still happily present with a rousing crowd rendition of Portal's Still Alive and humming the Mario Bros theme.
The London showing of Video Games Live 2014 had a few special surprises. First was the inclusion of video game music tribute band Random Encounter who played their own Zelda medley and the boss theme from Final Fantasy VII. It was great to see them supported and to hear a shout out to OC Remix, the masters of video game music tributes.
The stage was also joined by Austin Wintory, Grammy nominated composer for Journey as he conducted his own musical medley of the hauntingly beautiful Journey soundtrack. Later we were joined by British singer Riva Taylor as she debuted her Assassin's Creed single The Creed. But of course the personal highlight for me (and my SEGA obsessed companions) was Richard Jacques who jumped on the piano for music from James Bond 007: Blood Stone. All three guests stayed behind for the fan meet-and-greet and were a pleasure to speak with.
The very first time I saw Video Games Live in concert, it felt like a spiritual experience to me, and the return to UK shores did not disappoint. To hear a full orchestra performing Liberi Fatali, to hear the choir chant SEEEEGAAAAAA and to experience the power of the Dragonborn theme in a room full of hundreds of people who cheered and clapped alongside me… That's an experience like no other.
It's not too late to experience it yourself! Video Games Live returns back to the UK in 2015 with concerts at both Birmingham and Glasgow. Tickets are on sale now. Tell your family, tell your friends; Video Games Live London had a crowd made up of all kinds of faces and gaming fans, young and old. Even non-gaming fans will enjoy the variety of music because video game music is love. Video game music is life.