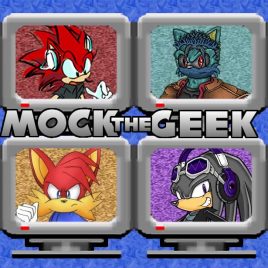 Take one highly successful satirical panel show from the UK, rip the format off shamelessly and quickly sellotape some video game posters over it.  That was pretty much the idea of Mock The Geek, and it mock-revelled in its shamelessness.
A creation of SEGA Media for RadioSEGA, Mock The Geek was fronted by FastFeet as the chairman, but two of the regulars were LMC cohorts Kevin (still AAUK at this time) and Vger with some other familiar voices also made an appearance. Mock The Geek's time was short – due in part to some of the regulars not turning up in later episodes, but it is still thought of fondly despite getting a bit immature on occasion. It is unique as a Sonic community show.
Being on mock the geek actually filled me with terror, specifically for the music round, where you had to replicate a Sonic song with your partner trying to guess. Unfortunately, when it comes to music, I am tone deaf so this part filled me with dread, I used to mute myself and pull up the music in advance to try and practice, hopefully you can't tell. Otherwise it was good fun being on with friends having some fun in a different setup… perhaps we should do a reunion show? Just as long as I can sub in someone else for the music round?
RADIO REDUX
If you're thinking of listening to the Radio Redux 'B-Show'… why not Radio Redux itself?
 Back in the 'Sonic Wrecks' days, Radio Redux was the cornerstone of SEGA/Sonic podcasts and even now it entertains with its mix of wit and cool video game music.
GUEST CONTROL
Over the years Kevin – and sometimes other members of the LMC Crew – have found their way onto other live shows and podcasts.
Guest Control wanders through the years taking in shows long gone and appearances that range from interviews and serious discussion through to absolute collections of chaos.