SteamVR Home Heads To The Beach With The Arrival Of Driftwood
The release of a brand new SteamVR Home experience by Vive's Creative Labs has been announced today. Called Driftwood it transports you an interactive and social world based on the real-life beauty of the Pacific Northwest.
SteamVR Home was conceived to be the virtual reality (VR) equivalent of your own personal base of operations, your virtual home-away-from-home in a very real sense that you can customise and identify with in the virtual world. As well as having somewhere to act as a holding area between activities.
As well as exploring the beach environment you can do other activities such as inviting friends into your own private lobby and organising the trophy representations of your in-game achievements so you can show off your accomplishments to them when they arrive. Both trophies and artwork were added to SteamVR in an update launched last month, (September 2017).
The Driftwood environment can also become your default load-in as you launch SteamVR by selecting it as your Home. It can be installed simply by heaving over to the Steam Community panel, locating 'Driftwood by HTC Vive' and hitting the subscribe button.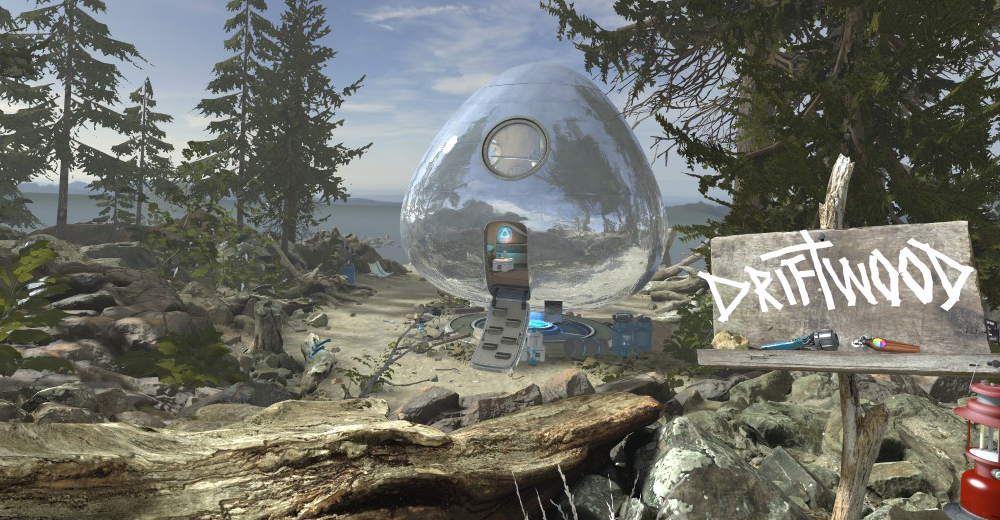 "Since SteamVR Home launched, we've wanted Vive owners to have a place to call their own," said Drew Bamford, head of Vive Creative Labs. "We've merged the remote feel of a private outpost, with a beachfront landscape that is reminiscent of our backyard in the Pacific Northwest. Over time, we'll evolve Driftwood to add new elements including quests, mini-games and other unlockables and collectables from Vive Creative Labs to share with friends."
The drive for additional locations and customisation is something that comes from consumer feedback, as mentioned by Valve's Lawrence Yang in a SteamVR news post earlier this year. "Ever since SteamVR was released last year, we've been steadily adding ways to customise the launch area (where players start when starting up SteamVR). It's been exciting to see the creativity of the community in the diverse environments and backgrounds submitted to the SteamVR Workshop so far. We've also heard loud and clear that creators want the ability to make more detailed home environments, with sound, animation, interaction, and social elements. All of these features and more are now available with the new SteamVR Home update."
HTC Vive users can no doubt expect further such updates in the future.
This post was originally written by the author for VRFocus.