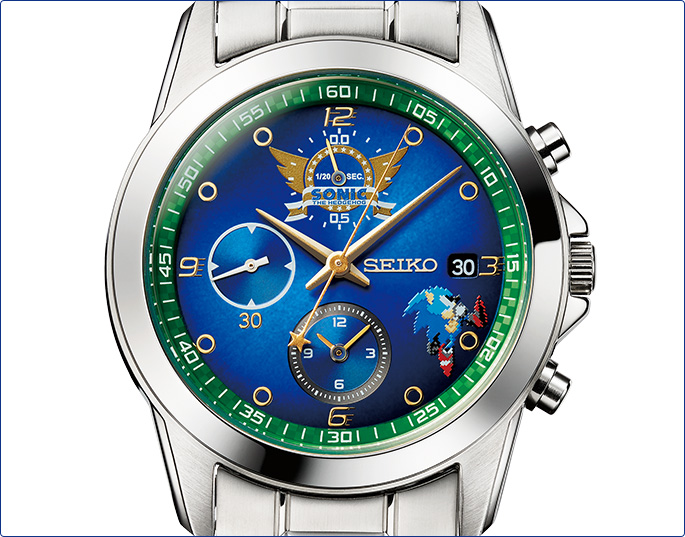 SEGA & SEIKO Team Up For Limited Edition 30th Anniversary Sonic The Hedgehog Watch
It's Sonic the Hedgehog's 30th anniversary and SEGA are coming for your money. The home of the Blue Blur might well be a bit slow on the uptake on some matters but when it comes to the idea of anniversary merchandise the branding deals keep rolling in.
The latest limited item to whet fan appetites is a watch, and not the tacky plastic kiddie sort, but rather a rather smart tie-up with watchmaker SEIKO as revealed by SEGA's official Japanese Twitter account.
https://twitter.com/SEGA_OFFICIAL/status/1398239956850528258
The "Sonic the Hedgehog 30th Anniversary Official Watch", which features Classic Sonic in sprite form appearing to run around the inside of the watch like a Green Hill Zone loop-de-loop and presented in a blue and gold presentation case is limited to only 3000 pieces. With all 3000 being shipped sequentially from mid-August.
Not only is it a strictly limited edition, at 49,800 yen (54,780 yen including tax) and a shipping fee of 700 yen (770 after tax) domestically it's not a cheap prospect either. Ignoring the shipping, which for most reading this would be a heck of a lot more, that works out to just shy of $500 (USD) / £351(GBP) / €409 (EUR). SEIKO even have the option for you to pay for the watch with an eight-part instalment plan.
You can find more information about the watch, and even buy the thing if you've got the rings available, over at https://iei.jp/50917/.