Numskull Designs Has Announced A Bunch Of Halo Merchandise
OFFICIAL HALO MERCHANDISE FROM NUMSKULL DESIGNS DROPPING IN LATER THIS YEAR!
The collection includes an array of top-quality merchandise that will be 'must-haves' for all Halo fans!
Desk/Wall Mounted Master Chief branded 3D Lamp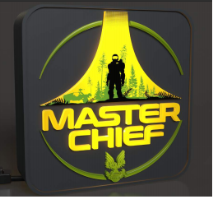 "Please don't shake the lightbulb"!
This 3D stylish moulded lamp featuring the iconic Master Chief can be sat either on your desk or mounted on your wall!
How will you display yours?
SRP: £24.99/€29.99/$29.99 (USD)
Gaming Locker – Create your own heavy games cache!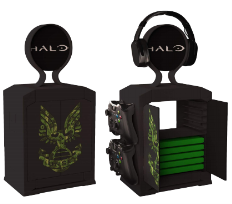 Keep your collection tidy by storing up to 10 gaming cases in this sturdy Halo branded gaming locker.
Furthermore you can hang up to four controllers on the sides, hold your gaming headset and keep cables and other items in the draw compartment.
SRP: £24.99/€29.99/$29.99 (USD)
Awesome high-quality apparel to add to your armoury

In the market for a new snapback? We have three to choose from including the Master Chief Gift Universe exclusive! With three distinct designs there is something for everyone.
Or perhaps you are planning on wrapping up warm this winter, Numskull Designs' new line of Halo gift sets will have you sorted. Jump on board with our knitted scarf and beanie gift pack or get cosy and pour yourself a coffee in a Halo branded 340ml/12oz ceramic mug accompanied by a pair of high-quality cotton socks!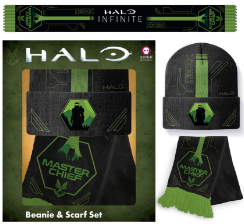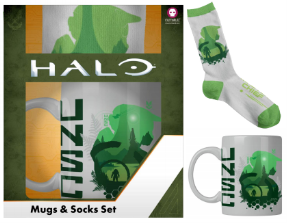 HALO 'Pin Kings' Collectible Pin Badges

A must for all fans, these official Pin sets contain two premium metal and enamel pins on a backing card. There are 3 sets to collect, with more coming in the future!
SRP: £7.99/€9.99/$9.99 (USD) per set.
LED Cable – Finish the fight by bringing the light!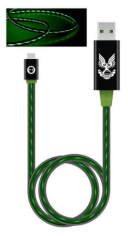 These Numskull Designs Micro USB and USB-C cables (sold separately) illuminates with LED lights flowing through it as your devices get charged up. This 1.5m/5ft cable is compatible with a range of controllers and a number of other Micro USB/USB C devices such as smart phones and tablets.
SRP: £9.99/€12.99/$12.99 (USD)
Official Halo Product.
Designed and Manufactured by Numskull Designs, in conjunction with Microsoft and 343 Industries.
Available at retailers worldwide – check the Numskull Designs website to discover your options.
Available to pre-order now!
To see the full range, go here.
Watch the video here.
Download assets here.
For further information contact neil@numskull.com