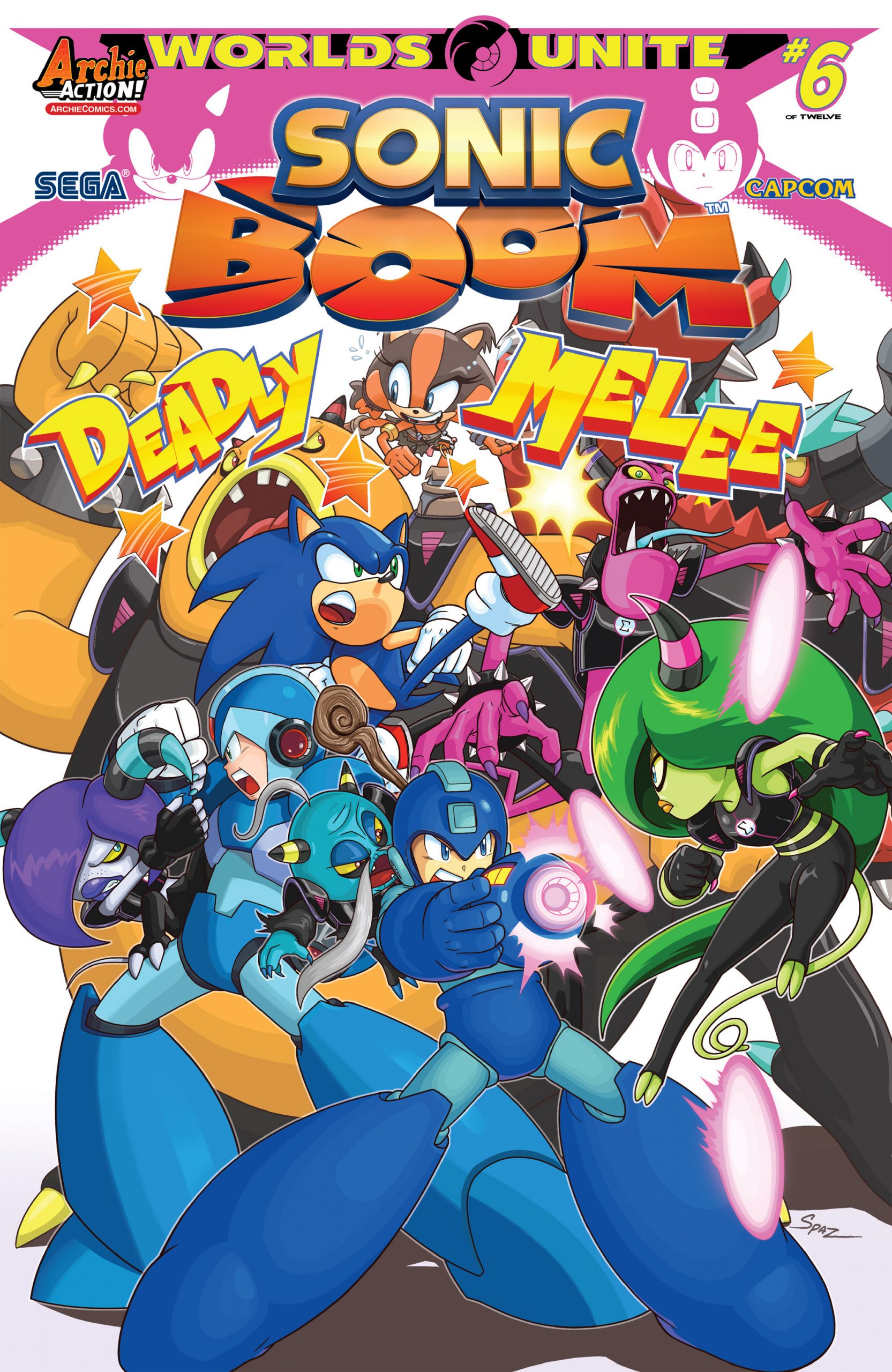 Inside The Pages: Worlds Unite Chapter 6
At this point it is safe to say that Comic Alliance is the number one stop for Worlds Unite previews. Each week is a new one as each chapter of the crossover from Archie Comics nears release. Another one has gone up with the plot solicitation and sneak preview. You can see both below.
SONIC BOOM #9
Script: Ian Flynn
Art: Edwin Huang, Gary Martin, John Workman and Gabriel Cassata
Cover: Patrick "SPAZ" Spaziante
Evil Friends Forever E.F.F. Variant Cover: Brent McCarthy
Covers Unite Variant (6 of 12): Ben Bates

The SONIC/MEGA MAN crossover event GOES BOOM! "Worlds Unite" Part Six: The war against Sigma has been waged! Sonic, Mega Man and X lead their unified friends against hordes of mechaniloids led by the armored, super-powered Deadly Six! That sounds pretty scary and exciting, and now is definitely the time for everyone to work together and pay close attention. Especially Sticks. She tends to do some distracting stuff, like falling off the Sky Patrol and landing into a Genesis Portal or something—wait? Did she really? Well, where did she land? No way! Is that – -?! You won't believe where Sticks lands, but what you BETTER believe is that this issue sports some awesome cover art by Patrick "SPAZ" Spaziante and the return of the EVIL FRIENDS FOREVER (E.F.F.) variant by Brent McCarthy! Plus part 6 of the epic 12-part connecting variant cover series by artist Ben Bates!
On Sale Date: 7/1 | 32-page, full color comic | $3.99 U.S.
This post was originally written by the author for TSSZ News, images were replaced and expanded by LMC in 2020.