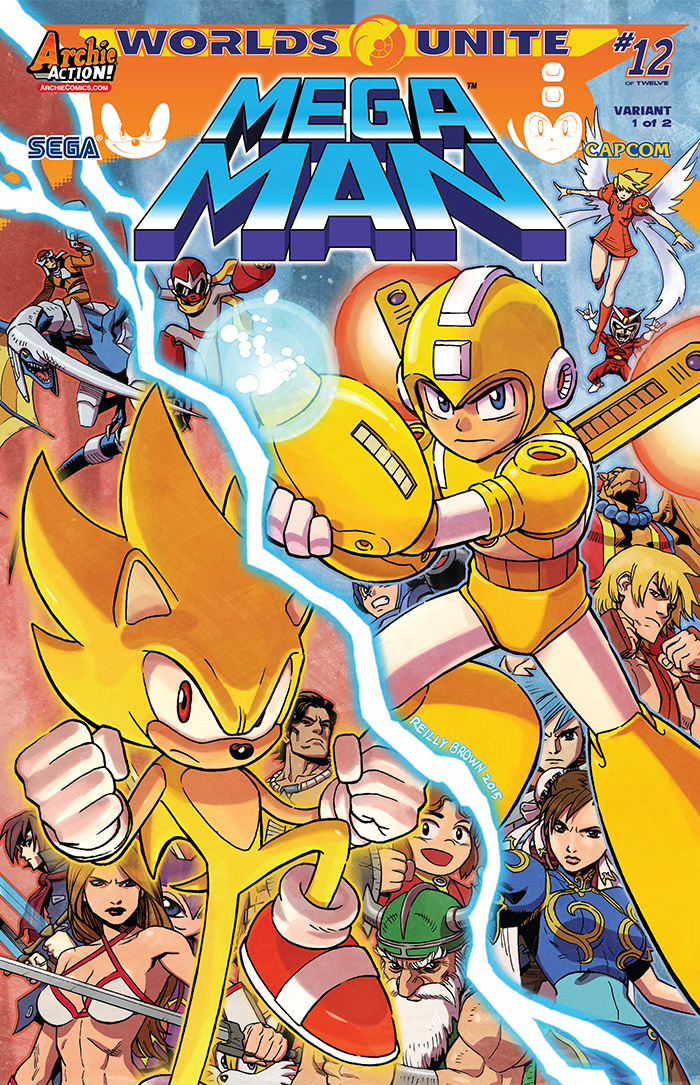 Inside The Pages: Worlds Unite Chapter 12
It all ends here. Worlds Unite has come to a close and a new preview has arrived courtesy of Comics Alliance. You can see the sneak preview and plot solicitation below.
MEGA MAN #52
Script: Ian Flynn
Art: Tyson Hesse, Jim Amash, Jack Morelli and Matt Herms
Cover: T. Rex
Variant Cover: Reilly Brown
Covers Unite Variant (12 of 12): Ben Bates
The ALL-NEW Sonic/Mega Man Crossover sequel comes to a chaotic close with "Worlds Unite" Part Twelve: The grand finale to "Worlds Unite" sees our super-powered heroes Sonic and Mega Man face off against the evil Sigma in his final, most lethal form! If that wasn't enough, the Genesis Portal-ravaged reality is falling apart and time is running out to fix it! You don't want to miss the stunning conclusion to the biggest crossover event of the year! Featuring the worlds of STREET FIGHTER, SKIES OF ARCADIA, NiGHTS INTO DREAMS, OKAMI, GHOSTS 'N' GOBLINS, ALEX KIDD and more! Featuring cover art from the legendary T.Rex, a special "SUPER-POWERED" variant by Reilly Brown and the final part of the epic 12-part connecting variant cover series by artist Ben Bates!
On Sale Date: 8/19 | 32-page, full color comic | $3.99 U.S
This post was originally written by the author for TSSZ News.