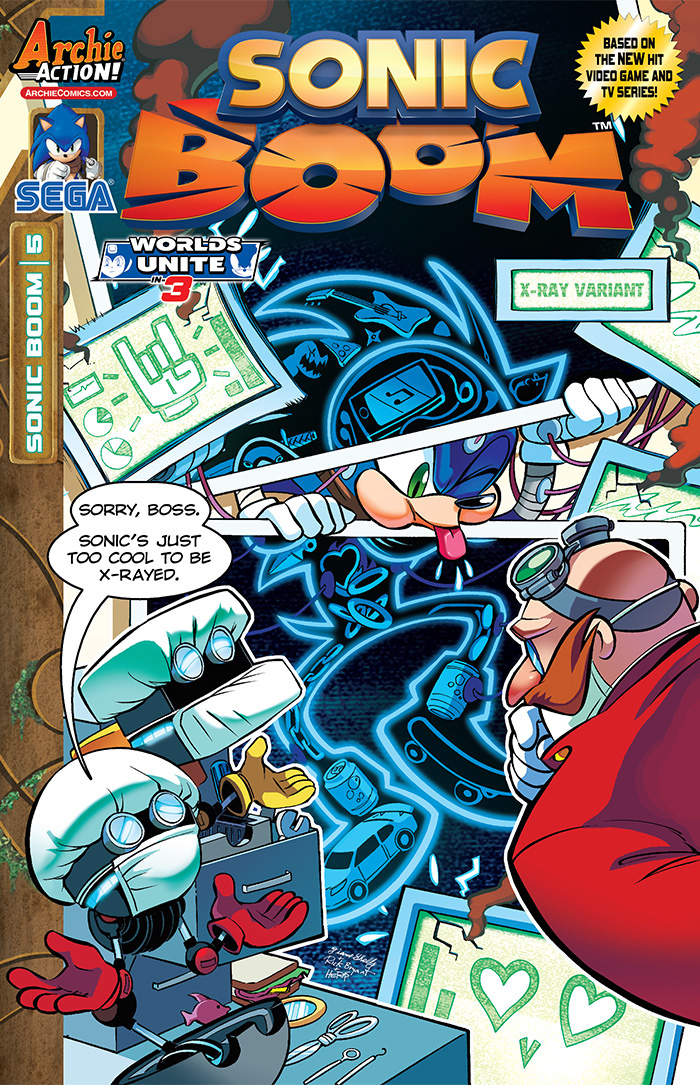 Inside The Pages: Sonic Boom #5
Comicosity has more comic previews and plot solicitation text to share but with a twist! Sonic Boom #5, which releases next week, will feature scriptwriting from Sonic Boom cartoon writer Bill Freiberger. Comicosity interviewed him and the link has been provided for you to read it. As for the text solicitation and preview you can see that below.
SONIC BOOM #5
SONIC BOOM is your antidote to comics that lack AMAZE-MA-TUDE! The NEW ONGOING SONIC COMIC BOOK SERIES keeps on BOOMIN' IT UP with Sonic Boom #5: Eggtoberfest! Dr. Eggman's sick and tired of no one trusting him! How on earth can he take advantage of people if they don't trust him to begin with?! The answer? Easy—EGGTOBERFEST! Just one small problem: the mechanical master forgot to hire ride operators for his carnivorous carnival creation! So it's Sonic to the… rescue?! If a good guy helps a bad guy, is that "helping" at all? Ponder this and other philosophical queries in the latest action-packed issue of Sonic Boom, written by Sonic Boom TV Series writer Bill Freiberger! Featuring cover art from Patrick "SPAZ" Spaziante and an X-RAY variant from the newest sonic superstar Diana Skelly!

Script: Bill Freiberger
Art: Steven Butler, Rick Bryant, Jack Morelli and Matt Herms
Cover by Patrick "SPAZ" Spaziante
X-RAY Variant Cover by Diana Skelly, Rick Bryant and Matt Herms
On Sale Date: 3/4
32-page, full color comic
$3.99 U.S.
This post was originally written by the author for TSSZ News.