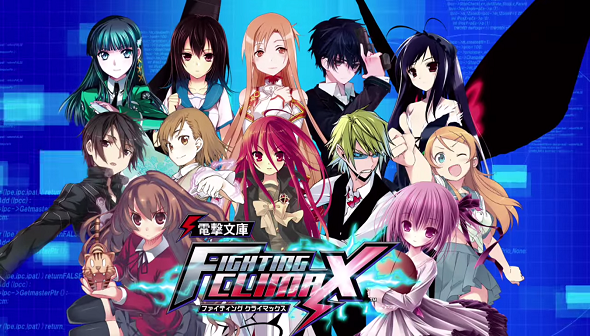 Dengeki Bunko: Fighting Climax Releases October 6th
The release date to Dengeki Bunko: Fighting Climax has been announced along with a special Limited Edition version. A press release and screenshots were published to mark the occasion and can be viewed below.
IRVINE, Calif. – July 29, 2015 – When Dengeki Bunko: Fighting Climax releases on October 6 on PlayStation®3 and PlayStation®Vita, each launch copy will include a Bonus Edition Soundtrack CD. The songs on the Bonus CD are inspired by classic SEGA titles, with contributions by notable SEGA composers such as Teruhiko Nakagawa (Shinobi), Naofumi Hataya (NiGHTS into Dreams…), Kenichi Tokoi (Sonic and the Secret Rings), Jun Senoue (Sonic Adventure series, Sonic Heroes, Sonic and the Black Knight), and others. The soundtrack will be only available for pre-orders and a limited quantity of launch edition retail games.

Dengeki Bunko: Fighting Climax is a 2D crossover fighting game featuring popular characters from Japanese novels published under the Dengeki Bunko label, and will be available this October in retail stores and digitally on PlayStation®Network. The game will be $39.99 for the PS3 version and $29.99 for the PS Vita version.

The Dengeki Bunko collection boasts a vast array of beloved characters who lend themselves flawlessly to this highly balanced, easy-to-learn, high-action 2D fighting game. In Dengeki Bunko: Fighting Climax players attack, guard, and take damage in order to build their Climax Meter, allowing them to execute moves which recreate highlight scenes from the original novels, even adding specially arranged animations for characters who do not fight in the original works. The game includes characters from numerous Dengeki Bunko works alongside several fan-favorite SEGA characters brought together in SEGA-themed environments.

Dengeki Bunko: Fighting Climax is slated for release on PlayStation®3 system, PlayStation®Vita system and via digital download on PlayStation®Network on October 6, 2015. For more information about the game, please visit www.sega.com; to download SEGA game assets, please visit www.sega-press.com.
This post was originally written by the author for TSSZ News.