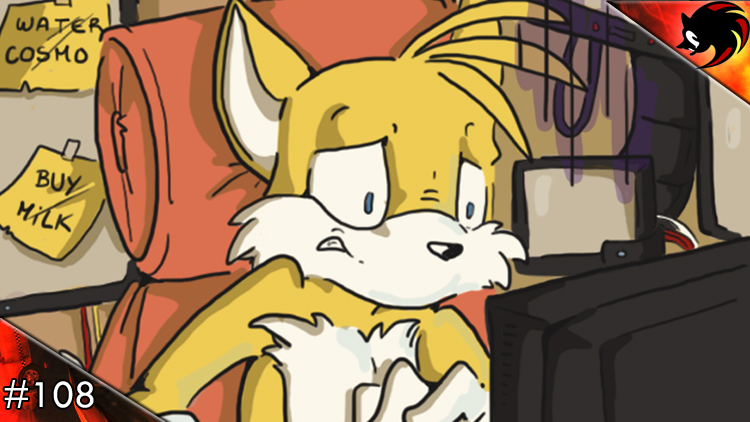 #108 – The Seventh Dimension

COMIC NOTES
Sonic Wrecks comic #108: "The Seventh Dimension" was completed on July 16th, 2012.
The comic is entirely revolving around the continual rumours of "Sonic Dimensions" from early 2012. The comic is also one of the biggest ever.
Have you ever wondered what would happen if you merged SW, TSSZ and Sonic Retro? SNWZ is your answer!
The Yoshi story is a reference to the 'Advertise! Yoshi Translator' Kevin/Ram skit from the very first season of Radio Redux.
All the characters have computer systems that match their personality. Sonic for example is in an internet café because he has no home (as such) of his own.
Rambucks Coffee: Available everywhere… in Uruguay. This was actually going to be an early piece of merchandise back in the day.
Naturally enough Tails has a ridiculous set up, the Cosmo post-it ties in with the end of Sonic X.
What on earth is that Rouge picture Shadow has? On second thoughts… don't tell me.
My Chemical Plant Zone probably have a new album coming soon.
Knuckles' frame has quite a few throwbacks in it. For a start Knuckles has a beaten up old boxy PC on which attached under the plaster is a Summer of Sonic 2011 wristband.
There's an 'Angelus' version of the First 4 Figures Knuckles statue in the background.
Knuckles has three books: Social Interaction For Dummies, Chaos Emerald Repair – A History, and a big blast from the past in the Concise Alzari Bootleg Dictionary of English all the way back from #007: Welcome To Reduxville .
The Ty style plush ("Smoochie The Frog") has an Fr tag – for Froggy, naturally(!)
Grumblr is of course a parody of Tumblr.
The disclaimer mentions several things, the song "If I Only Had A Brain" from The Wizard Of Oz, the song of the Stonecutters episode (Homer The Great) from The Simpsons and Daffy Duck character Duck Dodgers.